Travel
Jul 26th, 2019
Waterville Golf Club
You Little Beauty!
Words: GolfPunk
One of golf´s great masterpieces, severe, fascinating, beautiful and without weakness......
Continuing the theme of everything Ireland, GolfPunk looks back to one of its favourite courses south of the border, Waterville Golf Club - You Little Beauty!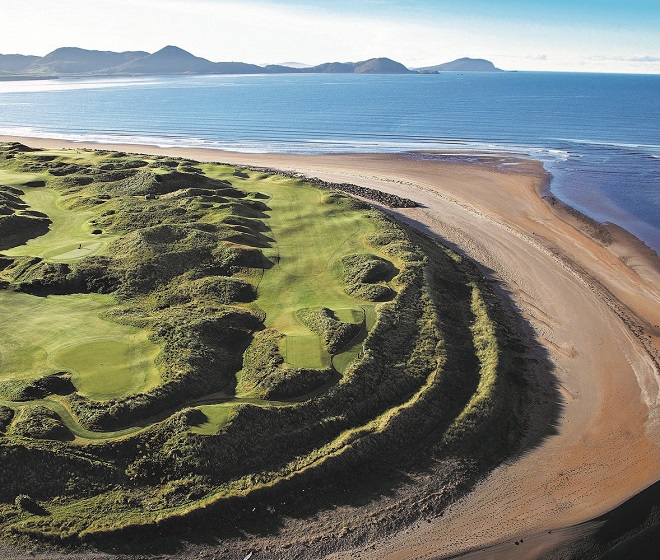 In any place where golf has a history approaching a century old, its presence is likely the result of migrating British, generally Scots, soldiers, entrepreneurs or technicians with a little time on their hands and looking for diversion. It was thus at the Dum Dum club in Calcutta, Pau in the south of France and throughout the Empire upon which the sun did not set.
Golf came to Waterville in the south-west of Ireland in the 1880s when workers at a cable station for transatlantic messaging laid out nine holes on a headland bound on one side by the sandy estuary of the River Inny and on the other by Ballinskelligs Bay. It was the first piece of land Charles Lindbergh reached on his transatlantic flight and he tipped his wing at the cable station so that the news could be dispatched to New York.
Waterville at the time was a remote, Irish-speaking hinterland, but it had a fine beach, a lake and a river full of fish and was just down the road from the oaks, red deer, waterfalls and spectacular mountain passes of the Lakes of Killarney, at which Queen Victoria marveled and which Brendan Behan said provided one of only two first experiences of anything that had not disappointed him, the other being champagne. Tourists came as the landless emigrated. Charlie Chaplin repeatedly brought his family. An American millionaire named John A. Mulcahy changed Waterville more profoundly than any force other than nature itself when he fell for it in the 1960s. He bought Lord Butler´s manor house on the bay, built a hotel beside a lake and decided he would like to transform the little nine-hole course built by the cable station workers into the greatest links in the world, commissioning Irish architect Eddie Hackett to do it. Mulcahy was a member at Winged Foot in New York and brought Claude Harmon, its pro at the time, into the deliberations. Their course opened in 1973. Afterwards, Mulcahy gave golf lessons to local children, bought paint for every family in the village to brighten their houses and collected the unemployed in his Bentley and gave them work somewhere in his small empire.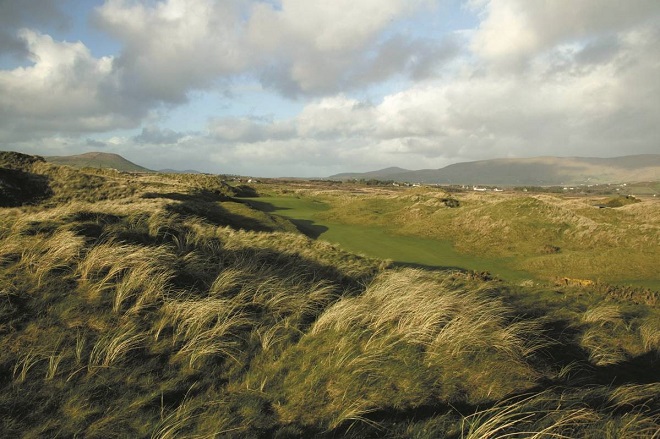 When Mulcahy was old and frail a consortium made up of friends and, it might be said, disciples of his bought the course and, thinking it weak on the front nine, commissioned Tom Fazio, who had never worked outside the United States before, to make some amendments. ¨The front nine is not as bad as you think,¨ he told them, ¨nor the back nine as strong.¨ He changed thirteen holes and built two new ones, the par three sixth and the par four seventh, both tremendous improvements on what had been there before. In 2006 he made further amendments to the third and fourth.
Waterville, one of Ireland´s finest links before, now takes your breath away. It is one of golf´s great masterpieces of editing. It is long – 7,378 yards from the back tees – severe, fascinating, beautiful and without weakness. Much more precision is now required and once you get on the greens you have to deal with increased speed and far more contouring. As course superintendent Michael Murphy has said, Fazio redesigned it from the outside in, looking at the mountains, bay and river and thinking how they might best be seen, then finding ways to frame and intensify the holes and finally considering the run of the ball on the land. His work is not only intelligent and imaginative and evidence of a superb sense of structure and of how the game is played, but he has also somehow made the same piece of land more visually glorious.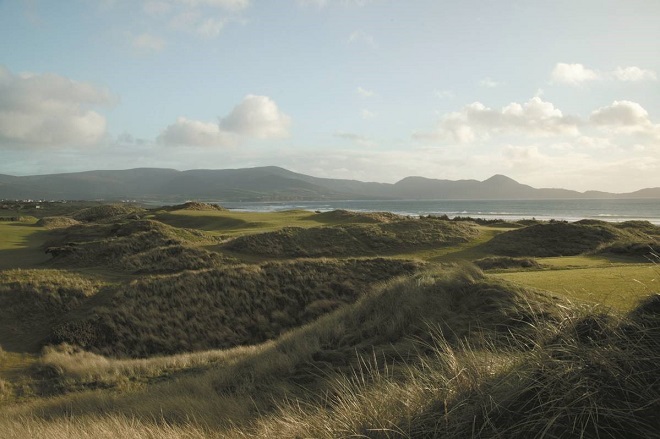 Each hole has the unity and sense of detail in texture and colour of a painting. He has even thought of the views when considering the routing of the paths from green to following tee. New dunes, which look as if they have been in formation for aeons, line and focus the fairways. There are many more pot bunkers, stalks of pale marram grass waving in the breeze above them like eyelashes. It starts with a par four which requires a mid-iron to a tight target and is audaciously called the Last Easy, and ends in a par five called O´Grady´s Beach, a fine links hole before which Fazio has somehow made look more natural through astute artificial contouring. The course has its gentler moments, but it is harder than anything I´ve played, with the possible exception of Spyglass Hill. I believe it can hold its own with any links in the world, in all categories apart from venerable age. Tiger Woods came here to prepare for the British Open with Mark O´Meara and a few other pros, including Payne Stewart, who played his harmonica into the night at the Butler Arms Hotel bar. The club made them all honorary members and when Stewart was killed they put up a memorial bronze statue of him behind the ninth green.
There is in general an openness, a freshness and a conviviality to Irish golf. It still has the feeling of being handmade. Though Waterville is owned by multi-millionaires who arrive by helicopter on the clubhouse lawn, it is without pretension. Caddies drink with members. Bets are laid, insults exchanged, songs sung and tales told. It is a stop on the Grand Tour of the Southwest that takes in Lahinch, Ballybunion, Tralee and the Old Head at Kinsale, but there is enough in Waterville to keep you fascinated for however long you stay.
And another thing...
Portstewart Golf Club - You little beauty!