Ryder Cup 2018
Sep 23rd, 2018
Ryder Cup Perfect Pairs
How Thomas Bjorn and Jim Furyk should pick their pairings in Paris
Words: GolfPunk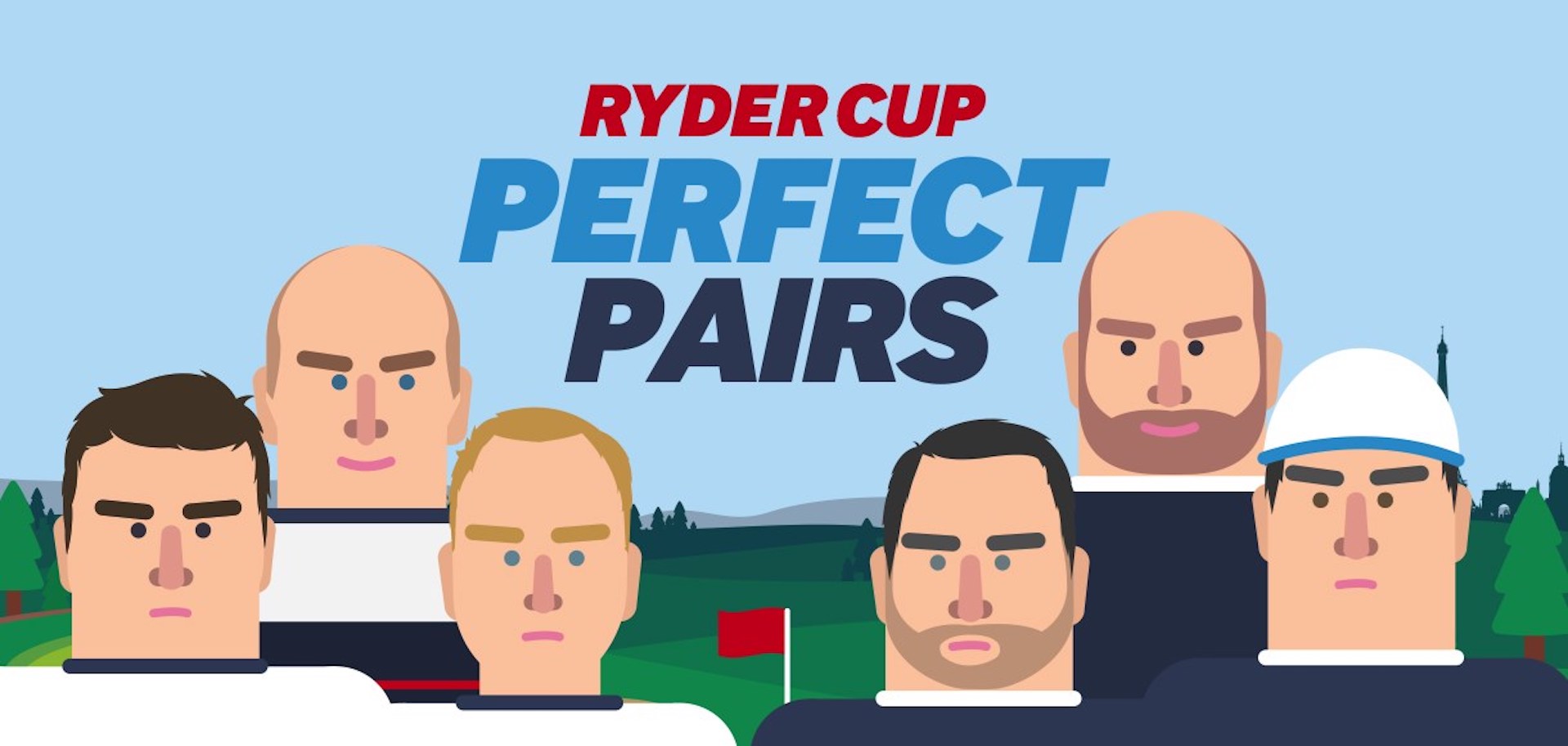 It's a Ryder Cup captain's most important job. These trends from the last 20 years reveal how Thomas Bjorn and Jim Furyk should pick their pairings in Paris.
EUROPE
When picking Ryder Cup pairings, it can be tempting for a captain to turn to what worked in the past.
Having seen Henrik Stenson and Justin Rose win all three of their matches in 2014, or Rose and Ian Poulter claim two points as a pairing in both 2008 and 2012, Thomas Bjorn could go with the tried-and-tested partnerships that have won Europe three of the last four Ryder Cups.
History suggests, however, that being bold and forming new duos is the right way to go for the Europeans, as they take on an American team who are now favourites to retain the trophy.
At the last 10 Ryder Cups dating back to 1997, 21 European pairings claimed at least two points. Of those, 14 had never previously played together in the competition.
In fact, the majority of successful pairings in recent years have included rookies.
Five of the seven pairings to have won two points or more for Europe since 2008 have included exactly one player making his Ryder Cup debut.
None of those 21 pairings since 1997 featured two rookies playing together, though, so it's important for a captain to get the right blend of experience when picking his partnerships.
The formula looks simple for Bjorn: pair each of the five rookies in the team with a player who has played in the Ryder Cup before.
The Dane should also aim to pair players who are of a similar age.
Of the last 21 pairings to win two points, 16 were separated by 10 years or fewer.
There's one rule, however, that Bjorn should stick to at all costs: don't split up the Spaniards.
All-Spanish pairings - most of which were comprised of a combination of Seve Ballesteros, Jose Maria Olazabal, Miguel Angel Jimenez and Sergio Garcia - have a phenomenal record at the Ryder Cup, with an overall record of 20 wins, seven defeats and five halves from 32 matches.
The greatest pairing of all time, Ballesteros and Olazabal, earned a total of 12 points from 15 matches across four Ryder Cups between 1987 and 1993.
This time around, Bjorn has a ready-made duo at his disposal in Garcia - who has a 3-1-1 record when playing with Spaniards - and world No. 8 Jon Rahm.
The pair have spoken about their friendship in the past, having played three rounds together at the 2017 Dean & Deluca Invitational, and Bjorn can roll them out in the Friday morning fourballs and be confident of an early point.
Sergio Garcia and Jon Rahm
Henrik Stenson and Alex Noren
Rory McIlroy and Thorbjorn Olesen
Francesco Molinari and Tyrrell Hatton
Tommy Fleetwood and Paul Casey
Justin Rose and Ian Poulter
USA
The USA haven't been quite as successful as Europe in pairs matches over the past two decades, with 14 pairings scoring at least two points for them over the past 10 Ryder Cups.
The trends suggest, however, that Jim Furyk should follow similar rules to the ones that apply to Bjorn's team.
Matching experienced players with rookies is also the best course of action for the American team.
Of those 14 pairings who have won two points for the US since 1997, nine featured at least one rookie.
Only one featured two rookies playing together, though: Jordan Spieth and Patrick Reed in 2014 (more on them later).
Newly-formed pairings also fare better for the Americans. Just one of those 14 pairings had played together in the past: again, Spieth and Reed, this time 2016.
Like Bjorn keeping the Spaniards together, Furyk should aim to pair players from the same place: in this case, the South.
Six of the nine pairings that have won at least two points for the US since 2010 featured two players born in the Southern states.
Furyk should have no problem with that, as his team features seven players from either Florida, North Carolina, South Carolina, Texas or Kentucky.
Two of those are Spieth and Reed, which brings us to Furyk's final rule to live by: never split up his best pairing.
Together, the two Texans won 2.5 points from three matches in 2014, and they took another 2.5 from four matches two years later.
Their all-time Ryder Cup record is four wins, two halves and just one defeat from seven matches, and their five points is the joint-best total haul of any American pairing in history.
Ideal American pairings:
Jordan Spieth and Patrick Reed
Tiger Woods and Bryson DeChambeau
Webb Simpson and Bubba Watson
Rickie Fowler and Justin Thomas
Dustin Johnson and Brooks Koepka
Tony Finau and Phil Mickelson
Related:
Tiger Woods Wins TOUR Championship