News
Jan 16th, 2023
Walk the course for health and performance
Study using BIG MAX equipment shows benefits of push and electric trolleys
A recent study by the Colorado Center for Health & Sports Science has found that playing golf while using a push cart (PC) or electric trolley (ET) rather than a motorised cart (MC), increases health benefits, improves mental focus and reduces scores.

The independent study, that had all golf bags and push carts supplied by Europe's #1 golf bag and push cart brand BIG MAX, set out to find out how energy expenditure varies in golf based on the mode of transport, and whether all forms of golf play qualify as health-improvement activity. Along with data focussed on energy expenditure, the study recorded data on participants' reported mental focus and their scores to par across 9 hole rounds.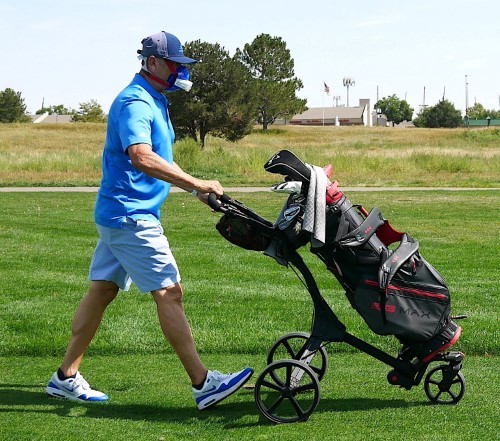 Using a VO2 Master metabolic analyser (VO2 Master, Vernon, Canada) and a standard Hans-Rudolph mask to test energy expenditure on the course the study found that golfers burned most Kcal per hour using a push cart, a significant 36% increase on motorised cart use. Both using a push cart and electric trolley reached the threshold for being recognized as moderate-intensity exercise and would positively impact users' health, while golf using a motorised cart constitutes a health improvement activity.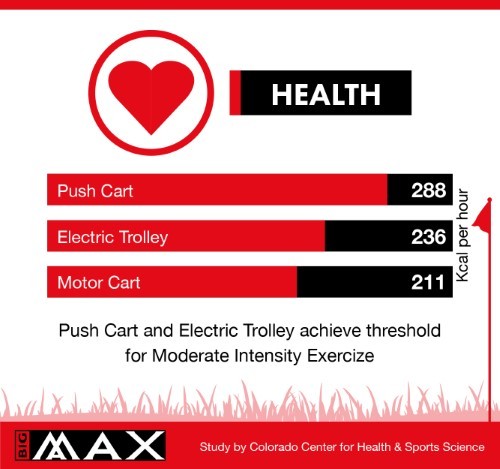 "To have further definitive data on increased energy expenditure from walking the course is great news for the game," commented Neil Wolkodoff, PhD, lead researcher on the study. "It is clear that if you walk the course, you will experience the same health benefits as other moderate exercises, possibly better. Particularly noting that improvement when using a push cart, and certainly more than when participating in recreational or leisure walking."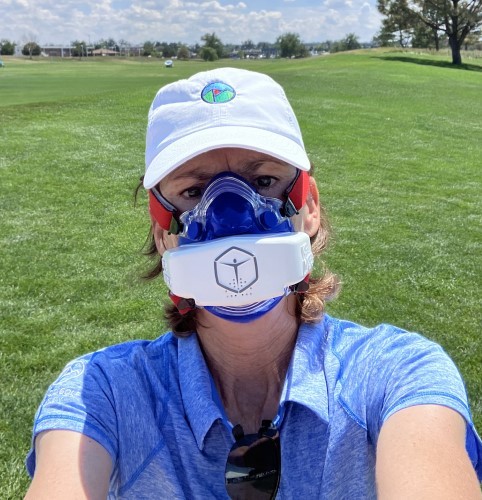 "Previous studies I've worked on demonstrated that using a pushcart had performance benefits over other types of course transport. The walking modes in this study had a clear improvement in reported mental focus of participants when walking compared to a motor cart."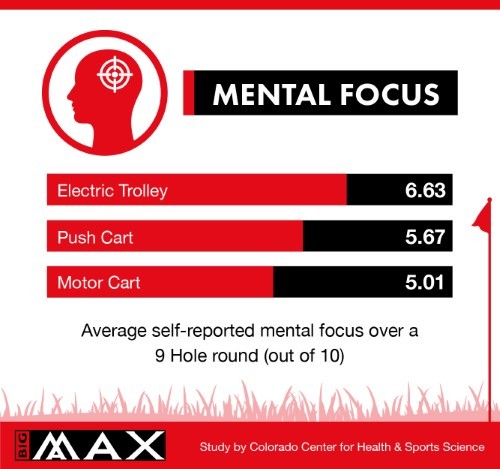 In reported mental focus and overall score to par, Push Cart and Electric Trolley came out with very similar results. For reported mental focus, PC use averaged a score of 5.67 while ET scored 6.63, both outscoring an average of 5.01 for MC. Scores to par fared very similarly, with PC and ET scoring 10.4 and 10.2 above par respectively with MC over a shot behind over 9 holes at 11.5.
Rick Oldach, CEO of BIG MAX U.S.A. supplied push carts and golf bags to the study in an effort to further understand the benefit of walking the course. After seeing the impressive results he said, "Neil and the team have done a fantastic job. The methodology for testing energy expenditure delivers undisputed evidence for the health benefits of walking the course.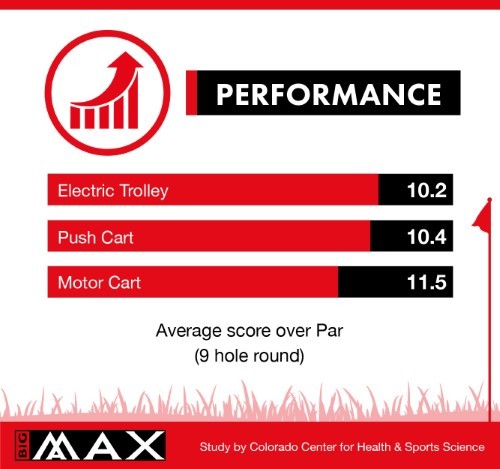 The results that particularly please me though are around mental focus and scores. I've long suspected that having time to think between shots, to decompress after each shot and to have time to prepare for the next shot is of real benefit, and this study proves that walking improves performance."
---
And another thing...