News
Jan 14th, 2023
Study Reveals the top 20 golf courses on bucket lists
Courses ranked based on followers, interest, and popularity
Photography: Clarkes Golf
Clarkes Golf has conducted a study into the top 20 best golf courses in the world by using three factors: followers, interest, and popularity.
Almost 500 courses worldwide were taken into consideration across the globe to get a clearer picture of where the whole world wants to tick off their golfing bucket list - with the USA featuring in 50% of the top 10 courses!
The top 20 golf courses in the world

Clarkes Golf decided to rank 498 golf courses across the world for three key attributes to dictate whether they belong on your bucket list: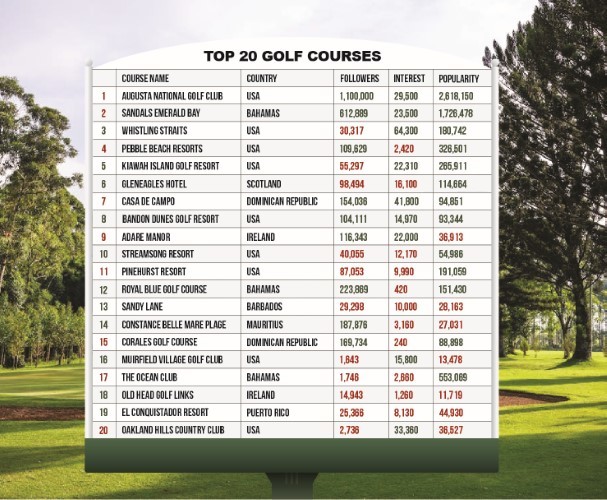 The Courses Followers

Gauged from looking at their Instagram account and jotting down the followers. It was decided that following a course on Instagram is as good as putting it on your to-do list. Otherwise, why would you put yourself through the heartbreak of seeing pictures of it every week if you never intend to go?
The Courses Interest

Gauged from looking at how many times that course is searched on Google. To build up a bucket list, you'll have to do the legwork and research the best courses. So it's only natural that the ones searched the most are the most desired!
The Courses Popularity

Gauged from looking at the traffic each golf course's website gets. The number of people visiting that website is the final piece of the puzzle when building a dream list of golf courses. After all, how else are you going to book yourself a game?
You can read the full breakdown of every course
HERE
TAGS: News, Golf Courses, 2023
---
And another thing...