Travel
Nov 5th, 2022
La Cala cements position among Europe's top golf resorts
Spanish resort ranks 13th in Golf World Top 100 European Resorts
Judges from the industry-leading Golf World Top 100 Rankings have recognised La Cala as the 13th best golf resort in their recently published Top 100 European Resorts list. The rankings also placed La Cala as Spain's leading 4* Resort and the country's third-best Resort overall.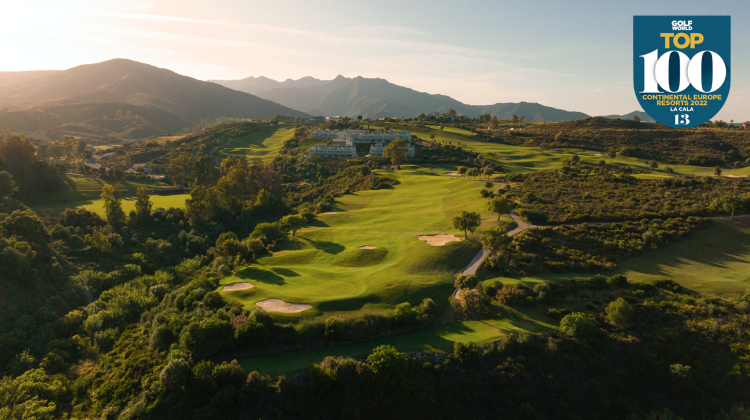 A distinguished panel compiles the Golf World Top 100 list – one of the golf industry's most authoritative and respected rankings. Judges include expert journalists as well as specialists from within the travel industry. Resorts are judged against four categories: Courses, Accommodation, Amenities and Setting, with points awarded for each.
La Cala made a huge jump in the 2020 Golf World Rankings, a reflection of the recent improvements made at the resort. This year's ranking of 13th is a recognition of the solidification of that progress.
The resort finalised renovation works on the stunning Europa Course in 2021, as well as putting finishing touches to works on the beautiful Asia Course. And that all followed improvements made to the striking America Course a couple of years ago.
In Golf World's Ranking, La Cala scored particularly highly in the courses section and the panel referenced the completion of recent course improvements as being a factor in that.
Commenting on La Cala's courses, Golf World said, "Few are as comprehensive in terms of courses, with 54 very evenly balanced holes at La Cala: America, Europa, and Asia. All have been renovated in the last four years, giving the golf a fresh look that so many resorts would be wise to follow."
The panel also commented on the excellent amenities and dining options at La Cala, stating, "There is a spa that is better than most in this ranking, as well as tennis and football. The large swimming pool will appeal to many and, thanks to the climate, you can be lazing around it for as many as eight months of the year. Another key attraction are La Cala's restaurants; La Bodega's tapas is our favourite in a very competitive field."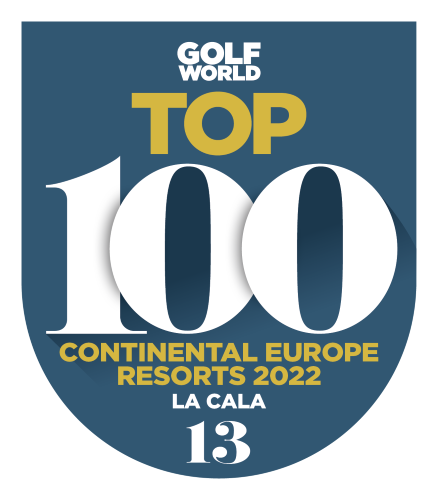 La Cala Resort General Manager, Sean Corte-Real, said of the ranking: "We are very proud to place so highly in this prestigious ranking. It's an industry benchmark and we are delighted that the efforts we have made in recent years to complete significant improvements on and off the course have been recognised by the distinguished Golf World panel. But we certainly won't rest on our laurels. We will continue to work hard to offer our guests the very best facilities and service."
As evidence of that ambition, the resort is currently improving the clubhouse, extending the terrace area and improving the inside area. Recent improvements have also been made to the Panoramic Bar.
This is the latest in a series of accolades received by La Cala Resort. Golf World recently ranked La Cala as 73rd Best Golf Resort in the world. La Cala also received an Outstanding Service Award from the global golf tourism organisation IAGTO, in recognition for their extraordinary efforts to provide partners and guests the highest levels of customer service through the pandemic.
Situated in the foothills of the beautiful Mijas Mountains with breath-taking views of the stunning Andalusian countryside, La Cala's superb 54-hole resort offers an idyllic rural retreat just 20 minutes from Marbella and only 30 minutes from Malaga airport.
The three superb championship courses at La Cala - Campo America, Campo Asia and Campo Europa - each present unique challenges and slot seamlessly into a natural, undulating backdrop of trees and flowers, rich with birds and wildlife. Designed by famous golf course architect Cabell B. Robinson, each 18-hole layout has been created to ensure a truly exhilarating experience.
La Cala resort boasts accommodation of the highest standard, including a 107-bedroom hotel, plus a selection of on-site Real Estate for sale and rental. Residents can enjoy the luxurious spa and a selection of excellent restaurants and bars. There are also further leisure opportunities with a FIFA-standard football pitch, running circuit, gym, tennis and squash courts.
Nestled between the arresting beauty of the Sierra de Mijas Natural Park and the shimmering Mediterranean Sea, La Cala is a genuine haven of tranquillity. It's the perfect base for exploring Andalusia and Spain's fascinating cultural cities like Granada, Seville and Malaga.
For further information on La Cala Resort please visit
www.lacala.com
TAGS: Travel, Europe, La Cala, 2022
---
And another thing...