News
Aug 3rd, 2015
Donald Trumps Spectator
Billionaire runs off with fiver...
For someone who's worth four BILLLION dollars, you'd think he'd be able to get his own cash out. Think again. 
Turning up at the golf on Thursday Alan Marsh got there and realised he couldn't afford the £22 entry fee at the Ricoh Women's British Open held on the Ailsa course at Trump Turnberry
Alan said: "It was £22 and there were no pensioner concessions.
"I couldn't get past the front gate and stood there for about half an hour when Donald Trump came down in his buggy. The gate opened and I approached him and asked for an autograph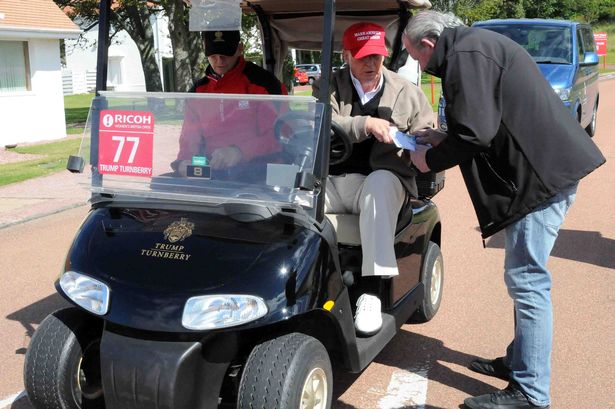 "He asked who to make it out to, and when I drew out two of these new Clydesdale Bank fivers – the plastic ones – he asked me: 'What is that, Big Al?'
"Donald had never seen one before. He signed one of them and gave me it back.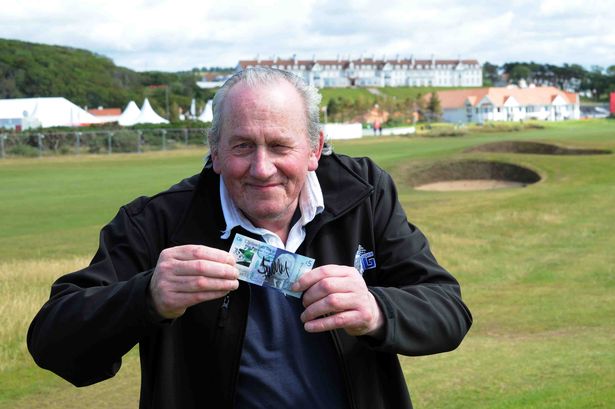 "He took the other one and turned to the other chap in the buggy and said, 'We'll have a pint with that later on. Cheers, big Al.' Then he drove off."
Alan added: "I think it's quite funny that Donald Trump owes me a fiver. I wonder if I'll ever get it back."
TAGS: Donald Trump, Women's British Open, Ricoh, News, 2015