European Tour
Sep 10th, 2021
Lawrie thrilled by return of fans at Royal Aberdeen
1999 Open Champion hosts the Scottish Senior Open
Photography: Getty Images
Paul Lawrie is excited to welcome spectators to Royal Aberdeen Golf Club as he tees it up as tournament host and defending champion at this week's Scottish Senior Open hosted by Paul Lawrie.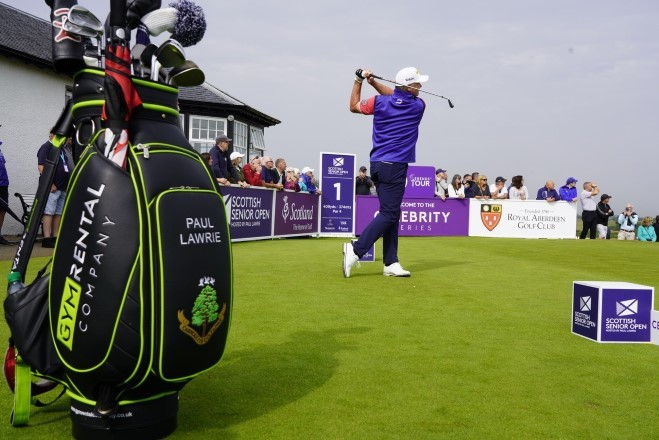 The 1999 Open Champion won the 2019 edition of the event at Craigielaw Golf Club and welcomes his fellow Legends Tour players to his home city this week as the event takes place at Royal Aberdeen for the first time in its history.
Spectators are permitted to walk the Balgownie Links this week and the 2012 Ryder Cup winner was delighted to see crowds gather for the final event of the Celebrity Series, with bigger numbers expected when the tournament gets underway on Friday.
"It's nice to be here and to bring everyone up to Aberdeen," he said. "We haven't had that many tournaments up here so it's great to showcase what we've got, not only here at Royal Aberdeen but other golf courses, restaurants and facilities in the area.
"I'm looking forward to it. It's full on, but I knew that and it is part of the job for me. I wanted to stand and watch everyone tee off yesterday in the Pro-Am and I've got other bits and pieces to do but I'm very much looking forward to it.
"It's really good to see some spectators back and see some people about. We've not had that for a wee while and it's the same with football and golf, that's the thing I'm looking forward to, actually seeing some people watching some people play golf. It will be quite cool this week."
Lawrie's 2019 Scottish Senior Open victory was his first triumph on the over-50s circuit and after securing four top tens in five starts in 2021, the 52-year-old has been close to adding another trophy to his collection.
"My game is alright, it's not overly good but it's alright," he said. "I'm getting it round, which is the biggest thing. My ball striking hasn't been overly great but I've managed to put some scores on the board over the last few weeks and have some top tens so I'm getting closer.
"I've been working away with Alan McCloskey who has been coaching me and we're getting there. My game is coming round and hopefully this week will be the week that it clicks and I'll play nicely."
The Scottish Senior Open hosted by Paul Lawrie will get under way at 7:30am local time on Friday September 10, with Lawrie playing alongside England's Roger Chapman at 9:40am.
Tickets are still on sale for the Scottish Senior Open and can be purchased at a discount of 50 per cent by
clicking here
.   
---
And another thing...