LIV Golf
Sep 13th, 2023
LIV GOLF CHICAGO PLAYER PREVIEWS
Cameron Smith provides the low-down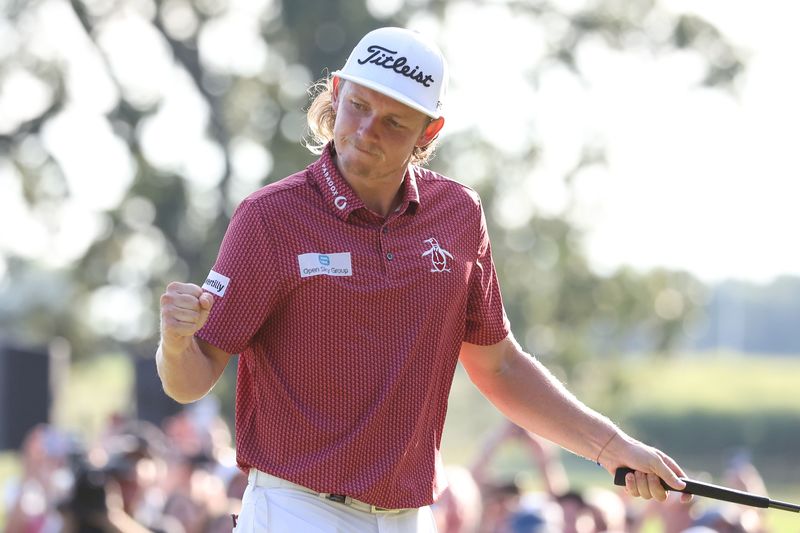 Hear from 2022 LIV Golf Chicago Invitational winner and 2022 Open Champion Cameron Smith, three-time LIV Golf individual winner Talor Gooch, and University of Illinois golf team alumnus Thomas Pieters.
Q. How excited are you to return to Rich Harvest Farms to defend your title there this September?
CAMERON SMITH:
Yeah, I'm pumped to get back there. Obviously, [I] had a good year there last year. I love the golf course [and] area and can't wait to get to Chicago.
Q. What do you remember most about your victory there last year?
CAMERON SMITH:
I think the fans were awesome there last year. That's probably what I remember the most. And the corn fields, that was pretty cool. But the fans were unreal, they were behind me all week and I can't wait to get back there and show them something else.
Q. Chicago is next up on the LIV Golf schedule. Are you excited about returning to Rich Harvest Farms?

TALOR GOOCH:
Yeah, absolutely. I didn't have a great tournament there last year so I'm ready to go try and make up for it.
Q. As we head into the stretch run of the LIV Golf Individual season-long race, you're contending for that title against some of the best players of this generation. Do you think it's a chance to prove that you're among the elite?

TALOR GOOCH:
Yeah, for sure. I mean to be able to beat those guys over the course of a season is no easy task and so if you're able to do it, I think that speaks volumes so hopefully we can do that the next two tournaments.
Q. In the team competition, what will it take for you and your RangeGoats GC teammates to win it all this season?
TALOR GOOCH:
Man, we just got to be us. We got four guys that can win any week. Thomas [Pieters] hasn't had a great season… but, we all know he's a great player. And Bubba has shown some signs of being Bubba. And obviously, Harold [Varner III] and I played well and so at any point in time any of the four of us can carry the torch for this team. And you know for us, we got to keep being us and we know that Bubba and Thomas are going to play great, it's just a matter of time, and Harold and I need to keep it up.
Q. Ten years after finishing at your career as a Fighting Illini, you're headed back to Illinois again in September for the LIV Golf event in Chicago. What kind of crowd support do you think you'll get, and will Coach Mike Small be there?

THOMAS PIETERS:
There's going to be a lot of friends out there. A lot of faces I haven't seen in a long time. The Illini fundraiser for our golf team is the Sunday before so I'm going to go to that. Yeah, it's going to be really cool to see coach again and some of the guys, some of the former golfers. They are going to come back for that event as well. It'll be a lovely evening.
Q. You were late to join LIV, so you didn't play this venue last year, but we were wondering if you've played Rich Harvest Farms in the past?

THOMAS PIETERS:
I have in college. We played one tournament, we went up there for a practice. I remember it being pretty sicko to play it. There are a bunch of tees and drops down to the fairway. I remember seeing him [Jerry Rich] down in the barn. It's a pretty stunning property.
LIV Golf Chicago is the twelfth tournament of the league's first full season which features a stellar 12-team, 48-player field in pursuit of the LIV Golf League Individual Championship and Team Championship.
Superstar names amongst the list of 13 major winners include 2023 PGA Championship winner
Brooks Koepka,
2022 Open Champion and 2022 LIV Golf Invitational Chicago champion
Cameron Smith,
World Golf Hall of Famer
Phil Mickelson
and two-time major winner
Dustin Johnson
. More than a quarter (13) of the league's star-studded, international field are major champions, with 25 major victories amongst them.
LIV Golf Chicago will air from 1:00 - 6:00 p.m. ET on Saturday and Sunday on The CW, The CW App and LIV Golf Plus, with Friday's round carried on The CW App and LIV Golf Plus.
In addition, LIV Golf tournaments are carried on YouTube and on more than a dozen international broadcast partners, delivering league broadcasts in over 180 territories to more than 380 million homes worldwide. For more information on how to watch the 2023 LIV Golf League, visit
LIVGolf.com/where-to-watch
. 
---
And another thing...