Fashion
Jun 21st, 2021
GolfPunk catches up with Mel Reid
To talk all things COVID, Solheim Cup, big-hitting and golf fashion
Words: GolfPunk Photography: ellesse / Getty Images
It has been a while since GolfPunk
last chatted to Mel Reid
and so we were delighted to have a call with her a few weeks back. As well as finding out how she coped with the COVID pandemic we also got to her ask her, amongst other things, about the Solheim Cup, the big-hitting Bryson and her favourite tipple.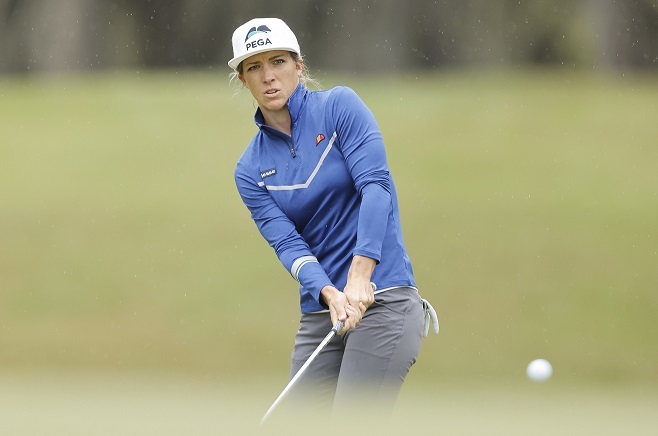 Mel is an ambassador for Italian sports brand
Ellesse who launched an exclusive golf apparel and footwear range
with
American Golf
, last year. A new range is due out in a few weeks and so we also got the chance to ask Mel about the Ellesse range and her views on golf fashion, including the much-debated 'hoodie'
How have you managed through the COVID period and what has been the toughest part of the last year for you?
The toughest part is not being able to go back home to my family. Like I haven't seen my dad or my family's since Christmas 2019. Obviously, I know people have had it way way way way worse than I have.
I actually enjoyed the time off, if I'm completely honest. I've been wanting two or three months off from golf for a few years now, so for me, it reinvigorated my career a little bit, giving me a bit of a second wind. I enjoyed being in one spot for a period of time and getting into a routine at home.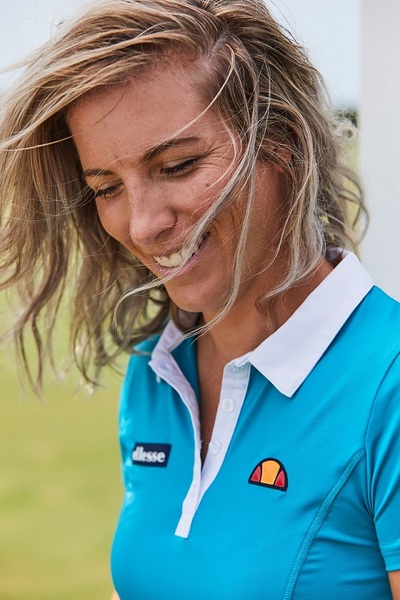 When do you think you will be able to get back to the UK?
I don't know. Depending on the Olympics, if I get in the Olympics, I'll probably take the Scottish Open off and go home that week before the British Open and prepare in England. I'm going to try my hardest to get back that week, and we'll see I might even stay the week after the British Open. Then I'll go back in December for an entire month or five or six weeks, my off-season.
It was great to see you win on the LPGA Tour last October but what was your head like the following morning?
Honestly, it was not too bad. Of course, I had the KPMG the week after, so I had to be fairly sensible.
I already had it in my head that 'we'll have a few but I do want to play well next week.' My caddy Des, however, is a Canadian bloke and loves to drink like a British person. He took one for the team and drank enough alcohol I think for the entire team the whole night. He was struggling for a couple of days so yeah, good for Des and I appreciate him taking that responsibility on and getting completely leathered until the early hours of the morning. It was a lot of fun, a good night!
We reckon you are a shoo-in for the Solheim Cup. So what would it mean to you to play at the Inverness Club, having just missed out in 2019?
Thank you. We will see what Beany thinks. It's a weird year as only two from the LET and four from the world rankings giving the captain six picks. This is crazy but yeah these are crazy times. It will be dominated by full-time LPGA players this year, which I don't think is bad. I think against such a strong American team it will be good.
However, when you play in Europe it's such a cool thing to qualify for a Solheim Cup so I do feel a bit sorry for them. They will get more opportunities but it's just a shame this year.
Ah, you know me. I love Solheim Cup. I played a bit of a different role last time but that was probably my favourite Solheim. I didn't hit a golf shot but the I thought the team. The way Catriona was as a captain with the team and all the support staff like Laura and Kathryn I just thought it was an amazing week. Obviously, topped off by Suzann holing the winning putt.
Solheim is just something different it's something that just gets my blood going and get my fire burning in my belly. I absolutely love it and I told Beanie the next morning, I was slightly hungover after the party but I texted her saying I am not going to make that decision as difficult for you next time.
So, I stuck to my word, which has been quite nice. I just love playing team events and I love competing against the American girls even though some of them are like my best friends. It's just funny we love competing against each other.                         
ellesse 2021 range at American Golf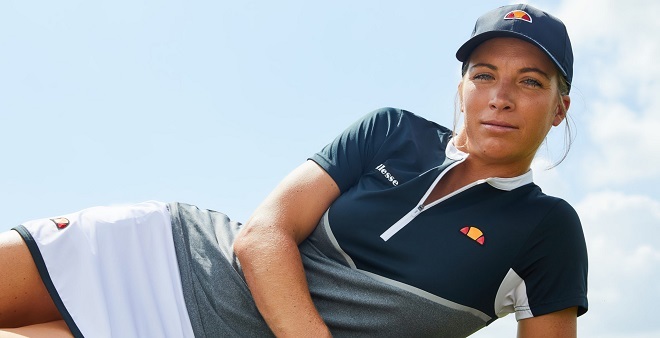 As someone who is quite partial to a workout or two what is your take on what Bryson DeChambeau is doing in the men's game?
Honestly, I respect the hell out of him. The amount of work he put in to do that and he's gone outside the box. I have nothing but respect for him. I think he's really fun to watch and he's entertaining.
It's great to bring new eyes to the game of golf. Everyone is trying to be like Bryson DeChambeau and I think that even Rory admitted he got swamped into trying to hit it further. That's the sort of impact he is having; he is making his peers turn a head which is incredible really.
I feel it's happening a little in the women's game. Obviously, no one is going to put on thirty pounds in the offseason. Maybe someone will shock me but I can't see it happening.
We have the new girl Patty Tavatanakit coming out of Thailand who is one the most impressive players I have ever seen. She hits it a mile so yeah we've got all these girls now so that length is becoming a thing in the women's game.
It's certainly changing and I think the golf courses are going to change slightly. I do believe the set-up is going to be a little bit different and I hope that it is as it will definitely benefit the longer players. I think that is the way the women's game is trending.
Longer players comparatively don't seem to be doing as well on the LPGA tour as the men on the PGA tour with length not seemingly as much of an advantage. Why do you think that is?
We don't get any advantage. The par fours are too short and the par fives too long. I've had this debate with the LPGA for a couple of years now and they are starting to listen.
When I play with the guys, I ask them 'how many par fives can you reach .' They say literally three out of four. We can barely reach one a week and I'm not joking. I would say I am one of the longer hitters, probably top 20 or 15,   and we can only hit one and it's with a three wood.
I think the set-up could be a lot different and it would filter out a few players that maybe don't hit it as far. It wouldn't filter them completely out of the LPGA but it wouldn't have it as bunched up as it is; it would be a bit more spread out.
Course set-up is huge and I think it does need to change on the LPGA.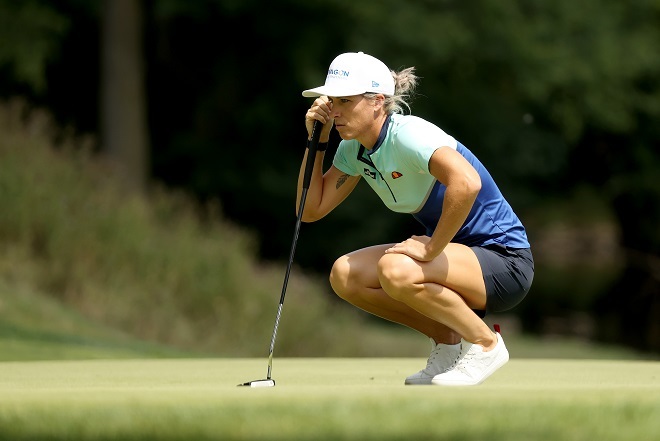 Obvious next question, how fast can you swing it?
Not very fast, which is shocking. I get told by people, 'I can't believe how far you can carry the ball' My carry is like 260 yards; I can get it there to 265 yards if I really want. My swing literally looks like I am swinging in the mud like its impressive, actually.
I am looking to get a bit more swing speed. I can get it up to 103, my average is like 99 on a golf course but if I really open up I can get it over 100. It's only 120 mph slower than Bryson so I'm just trying to keep up with him you know.
If you could change one rule of golf which one would it be?
Yellow stakes 100%. I think they are awful and I think they should all be red. Honestly, I cannot stand yellow stakes. They are a pain, they slow play up a bit and I think they need to be gone. I think it should all be red.
If you were taking GolfPunk down to your local boozer where would we be going and what would be Mel's choice of tipple?
Anything wet and alcoholic, honestly. I am a bit of a beer drinker like my whole family; I drink beer and wine. We are not really spirit drinkers, however, I got into gin quite a bit and used to collect it back in England
People will criticise me for saying this but beer in America is so bad. I really miss English beer. When I came to America I could literally drink so much and it not affect me as the beer here is so weak.
I don't know how I'm going to be having been away for nearly two years it's going to be a disaster when I get home. Where my Dad lives one of our friends has an awesome little country pub in the village called The Black Swan. That will be like the first place I will go to. We've got some great pubs where my Dad lives and you can walk to most of them.
Probably a nice Guinness as I love Guinness. It's awful here in the US. I've had about three Guinness's and it's like no, it's rubbish and not worth the calories.
As you are a Brit, we have to ask whether you saw Line Of Duty?
I love Line of Duty but haven't seen the latest so don't tell me what happened as I'm trying not to read about it. I've seen up to five seasons as we get it a bit later out here. I need to figure out how I am going to watch it. I am desperate to see season 6 as I'm a huge fan; I think it's awesome.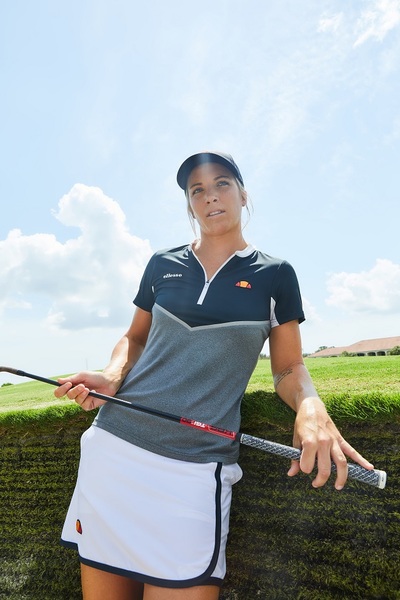 What is it you like about the Ellesse golf gear and what makes it stand out?
Honestly, I've been really impressed. They got in touch with me a couple of years ago and I met them. I used to wear Ellesse when I was a kid, so I thought it was a really cool opportunity. I think they do awesome streetwear and they have become quite big in that space right now.
What I found most impressive was that they listened to my input. I was like, 'it needs to fit like this' or 'it needs to perform like this.'
One of my big things, when I met them, was if you can play golf and then walk straight off the golf course and go to a restaurant or a bar and people don't know you've played golf you are doing your job correctly. That is what everybody wants nowadays and it is certainly what I want. I don't want to look like a golfer; I want to look athletic on a golf course and people to say, wow I really like your clothing.
I think Ellesse has done a really awesome job, especially on the collection that is coming out soon. I am really excited about it. They are bringing out joggers and hoodies and I just think they've done a great job in such a short space of time. I'm really proud to be an ambassador for them and represent their brand.
The comments I get from the girls on tour is literally weekly, so that really is saying something when your fellow competitors say that you look good in your clothes.
There is not enough women's clothing. So many women come up to me and ask where I get my golf clothing because they think women's golf clothing sucks. There is definitely a niche in the market for it and Ellesse have done a great job.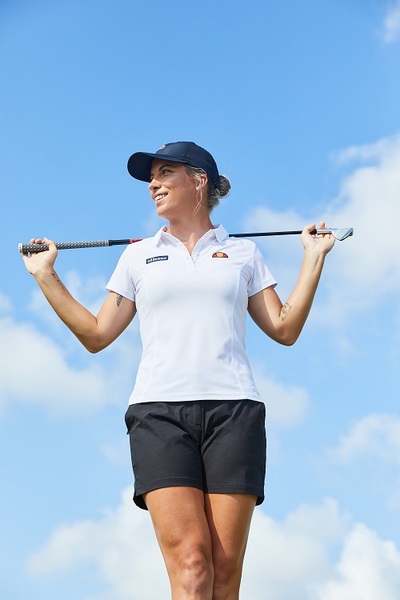 Do you have a favourite item of golf clothing?
I'm very excited about the golf hoodie. I'm a huge hoodie fan and like playing in one.
This sounds really stupid but one of Ellesse's best things is their trousers. The way they fit is so important to me and they are the best trousers I have worn. I am not just saying that as I wouldn't wear them otherwise and  I would tell them to change them.
What is your take on golf club dress codes and the attempted banning of such items as hoodies?
I think people just need to relax. Let people wear what they want. If they look athletic and they look good, who cares what they wear?
The golf club I just joined in Jacksonville is probably one of the most relaxed golf clubs on the planet. You are allowed dogs you can wear flip flops; people ride their beach bikes there as it's right by the beach. I think this is how a golf club should be run. Everyone is chilled, happy and there is no 'Oh you need to wear socks with those shorts'; there is none of that stuff.
Look at the big brands that are coming out with golf shoes etc.. It's becoming more athletic. Like I said you can walk straight off the golf course and into a bar and people don't know you've played golf and that is the direction that we need to look in and not get so uptight about wearing a hoodie on a golf course as I think it looks good. So, I am all in favour for the modern-day golfer.
Check out the ellesse range exclusive to American Golf
HERE
---
And another thing...