Ladies European Tour
May 6th, 2022
Three share the lead at Madrid Ladies Open
Stark, Sauzon and Karlsson lead the way in the Spanish capital
Photography: Tristan Jones/LET
Maja Stark, Agathe Sauzon and Jess Karlsson hit the front on day one of the Comunidad de Madrid Ladies Open with matching rounds of five-under-par 67 at Jarama-RACE Golf Club in the Spanish capital.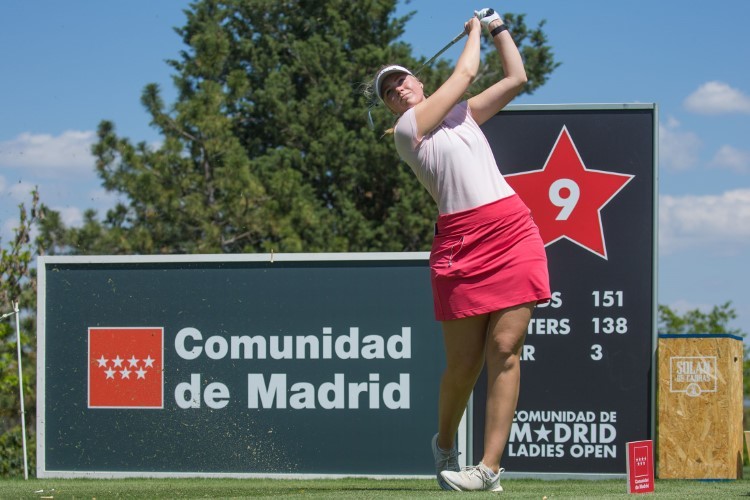 Stark, the Race to Costa del Sol leader, has recorded two second place finishes and a win in the last three weeks on the Ladies European Tour and continued to feature at the head of affairs after carding six birdies and one bogey, despite struggling with her driver.
"I hit it a bit wide but I think I figured it out after six holes," said the 23-year-old Swede. "My drives went everywhere today, too, for a while, but it's turned out fine. It was pretty steady putting, some good iron shots and a fairly easy day at work."
Sauzon's round contained five birdies, two bogeys and an eagle on the 513-yard 11th hole. The 30-year-old from France said: "I was playing great and I didn't make any bogeys on the front nine and I was hitting it quite close, but I just couldn't make the putts. The eagle came after a driver, three-wood and a three-metre putt, so that was good.
"I had two weeks off after Thailand and worked on my putting with a new coach, Antoine Schwartz in Paris, so it's working well."
Karlsson made eight birdies and three bogeys to share the lead, despite a recent illness. The 29-year-old Swede says she still feels fatigued after contracting the coronavirus in January and has been told by medical professionals that she likely has long covid.
The prolonged after-effects mean that she has only played in one of the first eight LET tournaments of the 2022 Ladies European Tour season, the Aramco Saudi Ladies International Presented by Public Investment Fund, where she finished tied for 52nd, but speaking in Madrid she said: "I feel much better. I have a little bit more energy. We'll see how I feel tomorrow because it's really up and down. Today was a good day and some days are bad and I feel really tired and want to lay in bed all day."
A further four players are a stroke back on 68: Tiia Koivisto, Linette Littau Durr Holmslykke and home hopes Carmen Alonso and Cayetana Fernandez.
Real Madrid fan Alonso played with a smile after learning of her team's win over Manchester City in the previous night's Champions League semifinal. She watched the first half on her phone in bed, but decided to go to sleep due to her 5.30am alarm call and early tee time.
"I grew up with a ball, not with a doll. I have four older brothers and we played soccer since we were really young. I'm quite a good player," said the 37-year-old, who has been a member of the Jarama-RACE course for the last 24 years. "I'm a lifelong Real Madrid supporter, but now we have so many tournaments, I cannot go to many matches. I couldn't see the whole match, but I am happy. I hope we win the Final."
At the other end of the experience spectrum, 17-year-old amateur Fernandez was happy with her blemish-free round. The 2021 PING Junior Solheim Cup player made four birdies and said: "I played well and didn't miss anything, so I'm very happy with this round, but tomorrow is another day so I'm going to try to do the same again. The weather was perfect and the girls I played with were very nice."
---
And another thing...