Equipment
Sep 2nd, 2019
Cleveland Frontline Range
A radical rethink in putting technology?
Words: GolfPunk
Cleveland wedges are definitely always in the mix when you think about premium tour products and we loved their recent CBX 2 launch aimed at the slightly more regular golfers amongst us.  What they aren't as well known for are their top of the line putters and perhaps, with the new Frontline range, that is about to change?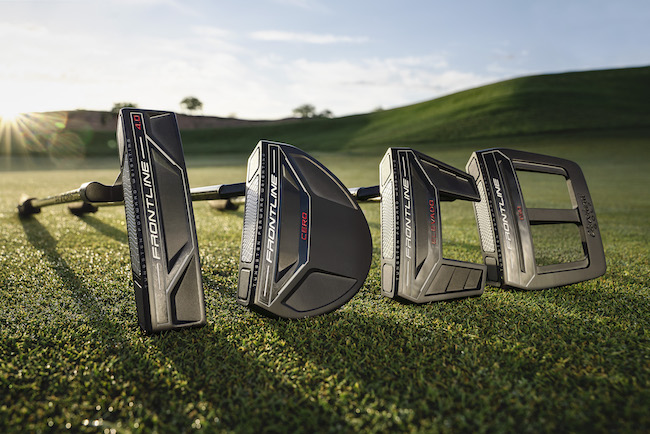 According to Cleveland the challenge was creating a putter that's powerful enough to counteract miss-hits whilst providing consistently straighter putts. The foundation of Frontline is Tungsten Forward Weighting, which places two metal injection moulded tungsten weights in the face of the putter.
This contradicts the usual mallet design which have weights in the rear of the putter to increase stability on off-centre impacts, but this design places the centre of gravity at the back of the putter. Frontline does the opposite, bringing the centre of gravity forward for more accuracy on the greens.
It also contradicts the accepted wisdom that large mallet putters must have a centre of gravity away from the face thereby increasing the MOI (moment of inertia, the measurement of a body's tendency to resist angular acceleration, to a layman the measurement of forgiveness on an imperfect strike) so that off centre hit performance provide similar ball speed and accuracy as those in the centre.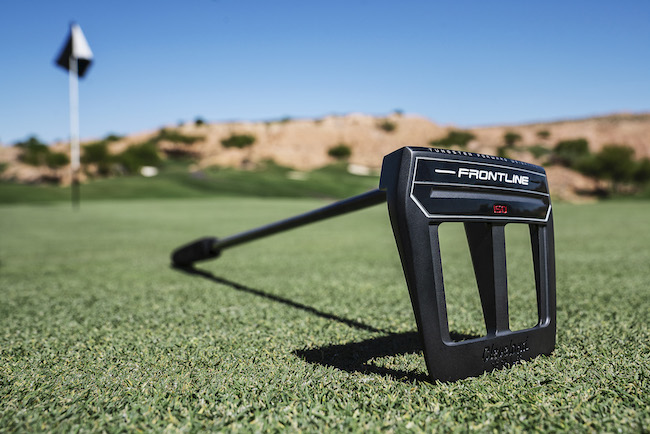 Cleveland's boffins don't agree and in fact they believe that high MOI putters, the big selling point for this type of stick, might actually make an off-centre putt role even further offline.   "It's a fundamentally new approach to putter design," said Jacob Lambeth, Research and Development Engineer at Cleveland Golf.  He then outlined that Frontline putters' performance benefits mean that the same putt miss hit off the toe, that would have been missed from 10 feet, would now instead find the hole at nearly 15 feet.  Pretty impressive stuff if they are correct!
The key to that is that the range incorporates Cleveland's Speed Optimized Face Technology (SOFT), which normalises ball speed across the face for consistent distance performance on every putt. Every model in Frontline features an individualised SOFT pattern to help mitigate speed and distance loss, especially on off-centre strikes.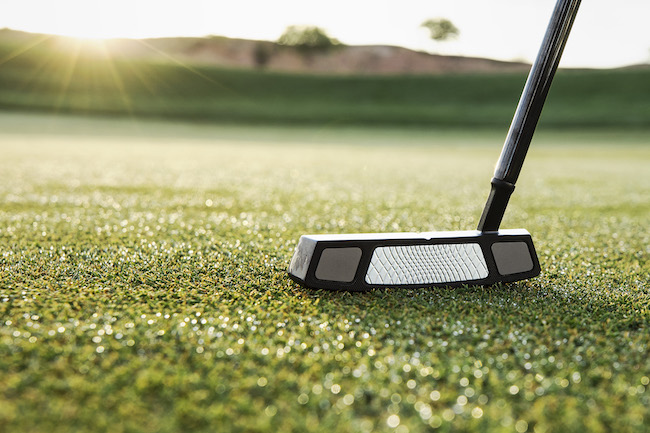 "We are very excited about Frontline because it is a completely new approach to putter design," said Lambeth. "By pairing an extreme centre of gravity with an improved speed optimized face, we've designed a putter that uniquely maximises directional and speed consistency. Combined with slick black cosmetics, great shapes and hosel options for different stroke types, Frontline really is the whole package."
The four models in the line include the Frontline 4.0 Blade, and the Elevado, Iso and Cero mallets which incorporate Cleveland's 2135 Technology to help with proper alignment when standing over critical putts.
Finally, Frontline offers two different hosel types to help provide a superior fit: single bend and slant neck. The single bend option is ideal for straight stroke types, while the slant neck option fits best for golfers with a slight arc stroke.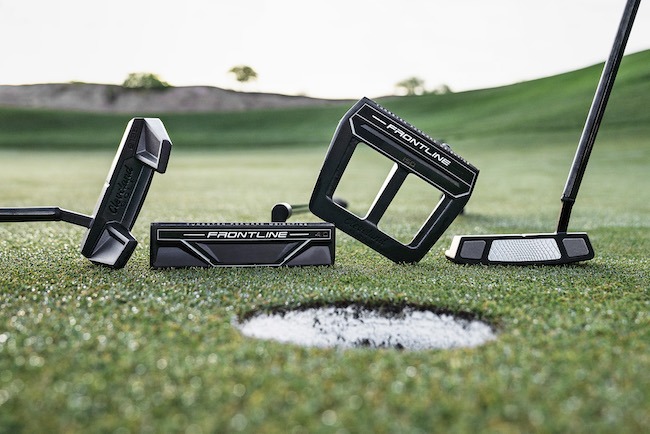 TECHNICAL STUFF
Key innovations inside the range are:
Forward Weights: With Tungsten Forward Weighting and the centre of gravity positioned closer to the face it provides better stability through impact for straighter, more accurate putts.
Speed Optimized Face Technology: Cleveland's proprietary technology normalises ball speed across the face, ensuring consistent distance performance on all your putts.
2135 Technology: Featured on the Elevado, Cero and Iso models, achieve perfect alignment on every putt, regardless of where your eyes are at address.
Additional Hosel Configurations: Find a superior fit with two different hosel configurations to suit every player's stroke types.
PRODUCT DETAILS
Frontline comes standard with the Lamkin SINKFit Pistol Frontline grip and is available in 34" and 35" length options. The RRP will be £149 and the clubs will be available in stores from 13th September 2019.
And another thing...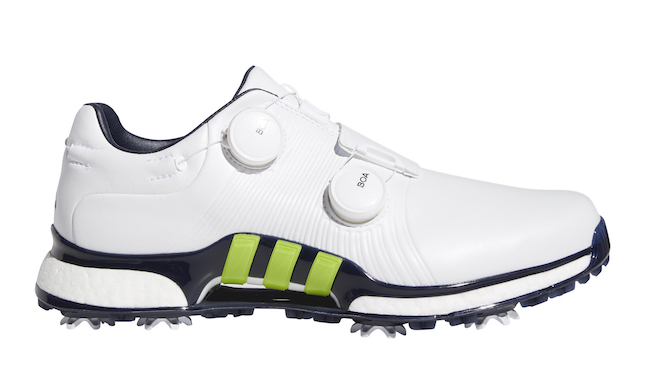 TAGS: Cleveland, Putters, Equipment, Frontline, MOI, Moment Of Inertia, Mallet, 2019