Asian Tour
Aug 21st, 2023
Andy Ogletree Secures Third International Series Title
American posts final round 64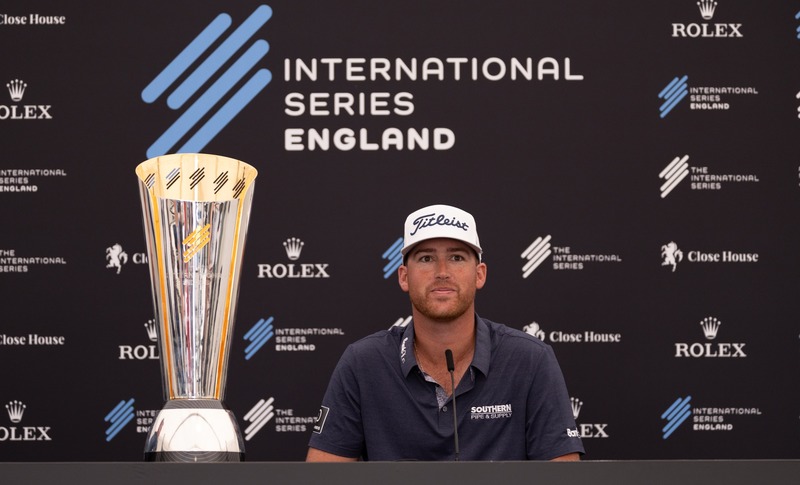 Andy Ogletree has established a winning habit in The International Series, having now chalked up a hat trick of victories in the Asian Tour's run of premier tournaments.
A dominant performance in International Series England at Close House on 17-20 August resulted in a seven-shot victory for the 25-year-old, which follows wins in Egypt (November 2022) and Qatar (February 2023).
Such is the American's form, he now enjoys a significant lead on both Asian Tour and International Series Orders of Merit (OOM), pocketing almost 10% of the total $10.5m International Series prize money along the way.  
A lead in the latter list come the year end offers automatic qualification to the ultra-lucrative LIV Golf League for 2024, described by 2010 US Open winner Graeme McDowell as a 'golden ticket'.
How are you feeling after your third International Series victory?
It's been a long few months since Vietnam so I've been looking forward to this tournament for a while and putting in a lot of work to get here so feels good to see that work pay off.

How does it compare to your other International Series victories? 
Yeah, I don't know. Egypt was kind of a shootout. Scores were super low, and I ended up at like 23 under par and only won by three or four. Then Qatar was super windy, similar to this but it was kind of like yesterday. This one was probably the best I've played over three days, and now I'm looking forward to next week.
 
Do you come into this event thinking, 'I'm going to win!' Or do you take it round by round? 

I definitely come in thinking I'm going to win. I don't think you show up unless you think you're going to win. So, as I said earlier, I don't like just winning, I like dominating people and was able to do that this week. 

Has it given you the opportunity to see what it's like behind the scenes?

Absolutely. I mean, there are definitely positives. Don't take that the wrong way, I mean, I'm very happy to be there as a reserve. It's playing the first LIV event in London, which has given me a lot of opportunities. First of all, it's given me the opportunity to play The International Series, given me a way to build my schedule, and learn how to travel.

There's a lot of great things that have come from it and I wouldn't be standing in front of you guys if it weren't for LIV. So don't take that the wrong way but I know that my game matches up with those guys very well and 22 of them were here this week and won by seven, so yeah playing good. 

How does if feel to play as a reserve? 

Yeah, I mean, kind of what we were just hinting at; it has been frustrating and I do think that a contract will be coming at some point. I think I've proven that I should be out there and I think I've proven that my game matches up against those guys very well. So I don't know when that time will be. But I'm looking forward to conversations that I'll have with LIV Golf.   

Are you looking forward to the St Andrews Bay Championship and what's your record on links golf? 

Yeah, the only real links golf I've played competitively, I was up in Dundonald for the British Open sectionals, I guess a little over a month ago right before LIV Golf London. I played well and ended up missing the playoff by one shot. That was pretty frustrating.

I love links golf, I've always loved playing in the wind and hitting different shots and shaping it both ways and I think that's why this golf course out here, Close House this week did my game well because you had to hit draws, you had to hit cuts, you had to hit high, had hit it low with all the elevations, and you throw in some wind with that. 

It was cool to shape it around and get good angles and leave it in the right spots and that's the kind of golf course that I seem to do well on. I like to hit my driver pretty low, that usually does pretty well over here in the wind and firm fairways so I'm hoping that we get some real links golf conditions: firm, fast, a lot of wind. I want to get the full effect. The first time in Scotland, our first time in St. Andrews, really looking forward to it. I can't wait to get over there and just see the golf course. 

Can you just give us an idea of what your schedule looks like? 

I plan on playing all the International Series unless there's another tournament that is the same week and I have a big enough lead that no one can catch me then I plan on being here and trying to build my lead. 

Do you want to crush your lead in the Order of Merit?  

That wouldn't be a bad thing.
---
And another thing...