Fashion
Mar 25th, 2021
PING Reveals SS21 Men's Collection
New men's apparel range for Spring/Summer 2021
PING has announced details of its Spring/Summer 2021 men's apparel range, which combines the latest premium fabrics with contemporary styling, to enable golfers to both look and play their best.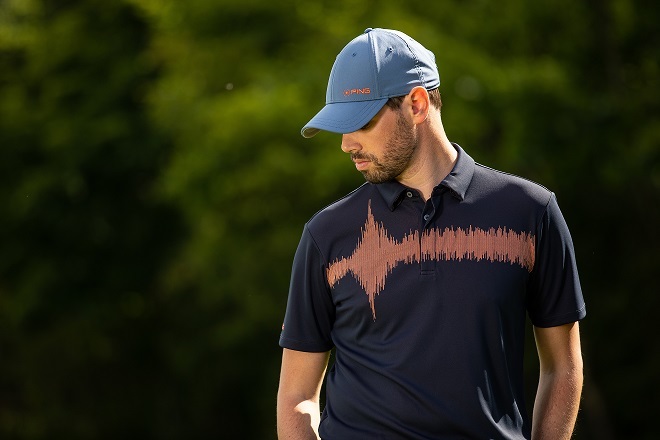 Engineered with a distinct focus on performance, comfort and style, the collection is inspired by a number of standout designs that feature clean, angular and linear patterns, offering greater choice to the golfer. This is complemented by the innovative Sensor fabric technology platform from PING, which is designed to ensure every garment is specifically engineered to respond to the body's requirements and demands of the game.
The range features three distinct colour palettes. The 'Refined Resort' colour story provides both statement colours and a technical edge, while the 'Coastal Tides' palette features three aqua blue shades for a fresh, refined and contemporary on-course look. The 'Heritage' palette sees the continuation of key shades to create a core colour language that transcends the seasons.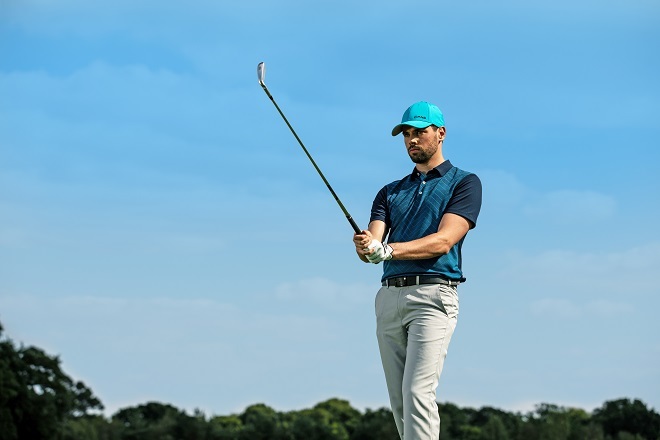 The collection is highlighted by the Frequency Polo, which takes inspiration from the sound frequency made by the original PING 1-A putter – the iconic putter model engineered by PING founder, Karsten Solheim, in 1959. A Jacquard pattern to the front of the shirt replicates this sound wave and creates a modern and completely unique design that celebrates the PING brand heritage. This refined and contemporary polo also features a large linear Eye mark logo, inspired by the circular graph created during a golf swing.
Also new for SS21, the Etten, Staton, Romy and Holten polo shirts are all engineered with SensorCool® technology to provide moisture-moving comfort in all conditions.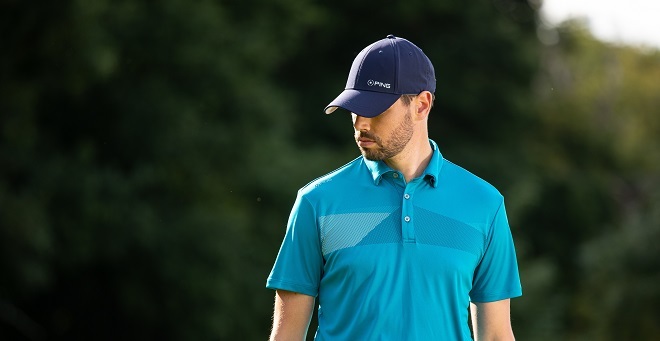 Available in Greystone Multi or Navy Multi, Etten features a Herringbone Jacquard pattern to the front body, while Staton is a yarn-dyed, engineered stripe polo that comes in a choice of Greystone Multi or Sky Grey Multi.
Romy is available in three fresh colourways - Marine Blue, Silver or Snorkel Blue - and is designed with a tonal geometric camo pattern throughout. Holten is a placement-print performance polo that comes in four distinct colour options: Greystone, Pacific, Navy and White.
Frequency Polo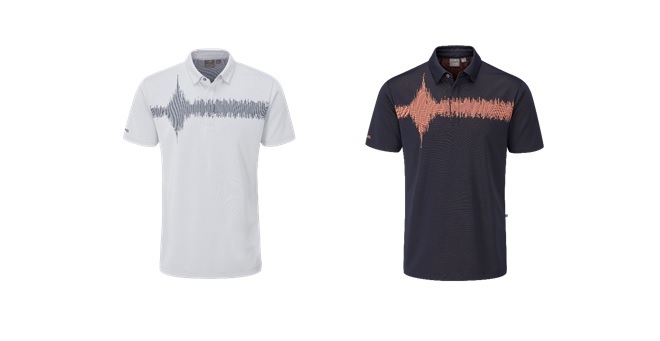 Inspired by the impact sound of the original PING 1-A putter, the Frequency polo shirt features a premium Jacquard pattern of this unique soundwave. A concealed placket ensures the pattern remains uninterrupted across the chest and a concealed button-down collar continues the clean look. Also featuring a large Eye mark logo on the reverse shoulder, the shirt is engineered from SensorCool® yarns to ensure golfers remain cool and dry.
Sensor Platform:
SensorCool®
Fabric:
100% Polyester.
Price:
RRP £60.00
Etten Polo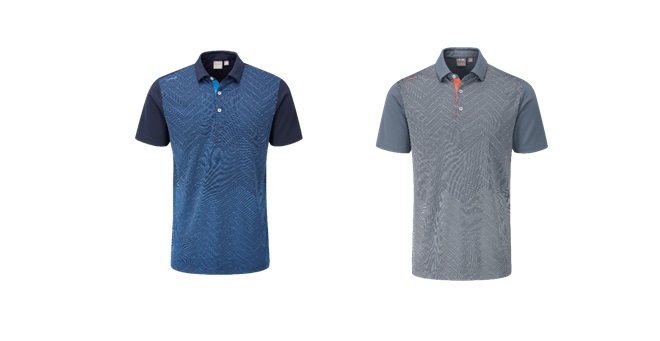 A performance polo shirt with a twist. The Etten features a contemporary interpretation of a classic herringbone pattern. A stand-out, contrast colour rib under placket, concealed button-down collar and solid colour arms and back body create a modern aesthetic. Engineered from SensorCool® fabric, it provides comfort in play, with moisture-movement and quick-drying stretch properties.
Sensor Platform:
SensorCool®
Fabric:
100% Polyester.
Price:
RRP £55.00
Staton Polo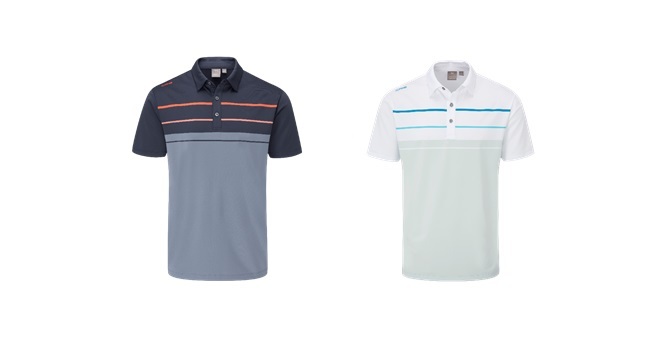 A yarn-dyed, engineered polo shirt. The chest stripe design provides highlights of this season's colour, set against a wearable and versatile classic-coloured base. Constructed in SensorCool® fabric, with added stretch fibres, the Staton is engineered to keep golfers comfortable, cool and dry, both on and off the course.
Sensor Platform: SensorCool®
Fabric: 92% Polyester, 8% Elastane.
Price: RRP £55.00
Romy Polo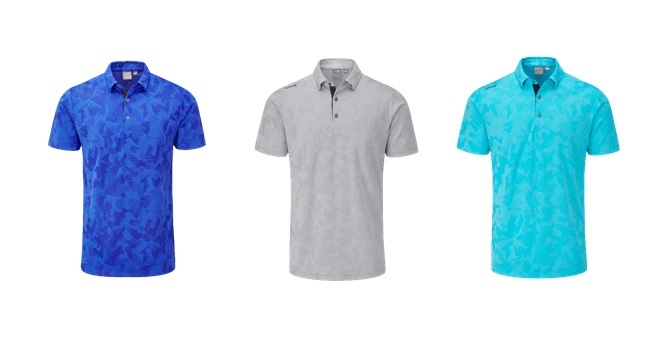 Designed to make a statement on the fairways, a tonal Jacquard in a geometric camo pattern creates a stand-out look. A contrast rib under placket ties in with the PING Eye logo on the shoulder. Outstanding technical performance comes from the SensorCool® fabric with moisture-movement and quick-drying stretch properties.
Sensor Platform:
SensorCool®
Fabric:
100% Polyester.
Price:
RRP £50.00
Holten Polo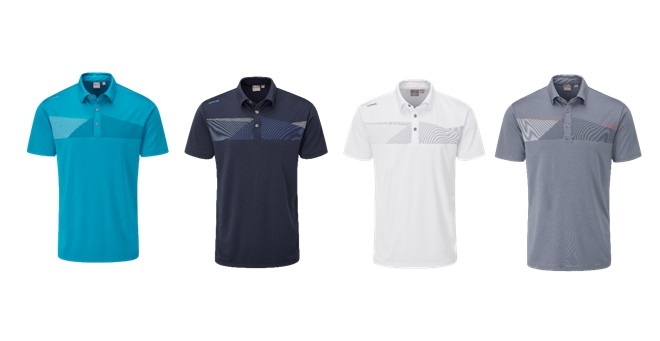 The Holten polo features a placement print to the chest, inspired by linear and angled shapes. Using SensorCool® fabric to wick moisture away from the body, the Holten is engineered for comfort, while also providing an on-trend style statement from its modern, graphic alternative to the traditional chest stripe.
Sensor Platform:
SensorCool®
Fabric:
100% Polyester.
Price:
RRP £45.00
The Sensor Platform
The Sensor platform from PING is an innovative technological system, designed to ensure that every garment worn is specifically engineered to respond to the body's requirements and the demands of the game, whatever the conditions.
SensorCool®
– Engineered to be worn next to the skin, SensorCool® technology, featuring moisture moving properties, draws excess perspiration from the skin. This will keep the golfer dry for the duration of a round and beyond, guaranteeing exceptional comfort levels in all conditions. Each SensorCool® garment is crease-resistant and formed from stretch fabrics that are designed to complement the athletic movements made during a golf swing. 
SensorWarm®
– SensorWarm® technology embodies a thermal layer, designed to trap warm air and maintain a preferable body temperature. This layer also works as a barrier to resist wind chill and the subsequent effect it can have on a swing. SensorWarm® garments are designed to minimise weight and distraction, through the use of breathable and stretch fabrics. Such qualities also enable the garments to work with the golfer's body for optimum playability. 
SensorDry®
– This technology provides the ultimate, long-lasting waterproof and windproof protection against all the elements. The garments incorporating SensorDry® are air permeable and, therefore, truly breathable. The outerwear is specifically cut in lightweight and noiseless fabrics, to eradicate distractions often associated with weather protective garments, while the fabrics used hold stretch qualities intended to move with your body throughout the golf swing.
TAGS: Fashion, PING Golf, SS21, Men's Fashion, 2021
---
And another thing...