US Open
Jun 19th, 2017
Record breaker Brooks Koepka
Wins US Open with lowest ever score
Words: Tim Southwell Photography: Getty Images
Ryder Cup star and all-American duderino Brooks Koepka equalled the US Open's lowest winning score of 16 under to claim his first major at Erin Hills.
Koepka made three successive birdies from the 14th to match the total set by Rory McIlroy when Rors won in 2011 on a par-71 layout compared to this par 72.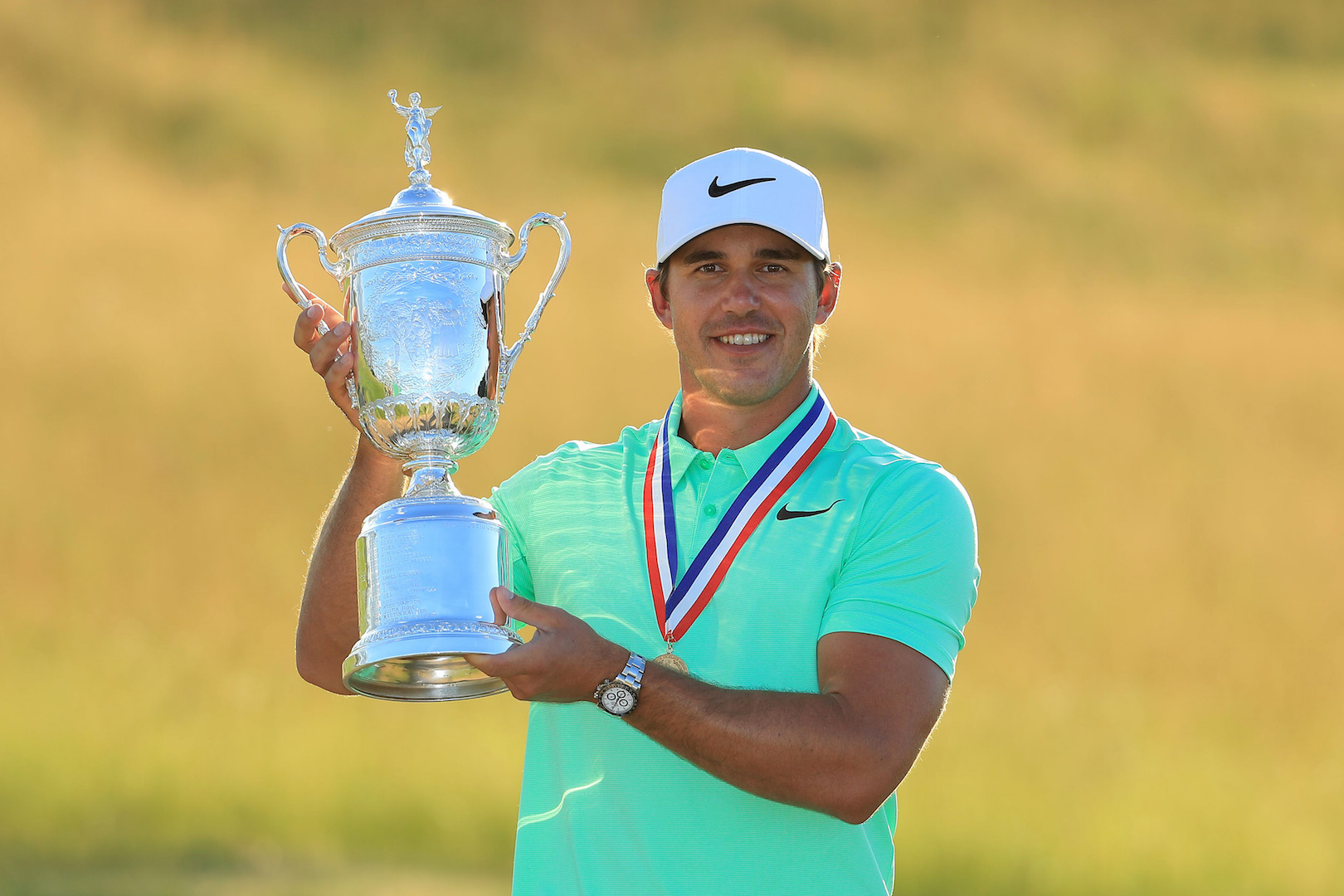 Koepka's wasn't the lowest round of the day. His 67 was bettered by Japan's Hideki Matsuyama who came through the field with a 66 to tie for second on -12 alongside overnight leader Brian Harman (72).
Tommy Fleetwood just couldn't quite get going on Sunday. shooting a level-par 72 to finish fourth on -11.
The pair started Sunday's final round one off the lead but Koepka holed three birdies in his first eight holes. Fleetwood followed made a great birdie on the second but windy conditions saw him make three bogeys in his next six holes for a five-shot swing.
Fleetwood, ranked 33rd in the world, steadied his round with a birdie on the ninth and returned to 11 under by picking up another shot on the par-five 14th and then parred his final four holes.
"I didn't play how I wanted to," he said on Sky Sports. "You never know how you're going to react being up there in the final round - you've got to deal with that and it's all new for me."
Koepka became the seventh first-time major winner in succession, and Fleetwood was quick to lavish praise on his playing partner: "He was brilliant," said Fleetwood, "the shots he hit down the stretch, you can't describe how hard some of them are.
"He was phenomenal - I would've like to have played like that. It was windy and he shot five under, fair play."
Fair play indeed. Brooks Koepka wakes up this morning as 'Brooks Koepka U.S. Open Champion'. Has a nice ring to it.
https://www.youtube.com/watch?v=9-_Kmw0zNxw
How Brooks got here:
Brooks Koepka only got into golf after being involved in a car accident at the age of 10. (See more on this below).
BBC's Jay Townsend commented: "As a result, he was banned from playing contact sports and that's how he seriously got into golf. It was kind of by accident."
Koepka, who hails from Florida, made a cool $2,160,000.00 yesterday, adding the US Open to his brace of European Tour titles and just one PGA Tour title.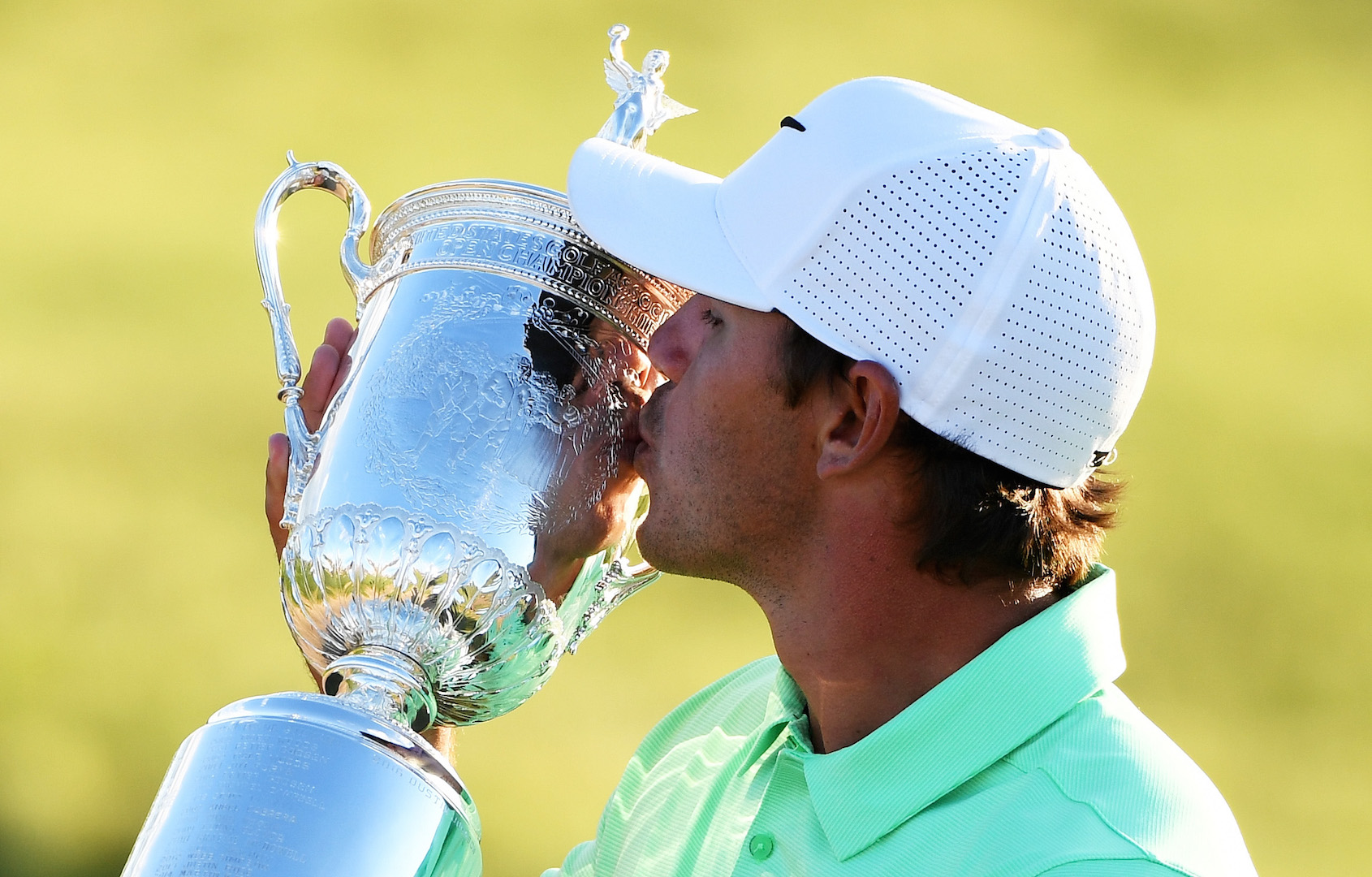 The stats show that he won with a combination of power and accuracy from tee to green on the Erin Hills layout, which is the longest course in major history at 7,845-yards.
The fairways were the widest in US Open history and Koepka took full advantage, averaging 307 yards off the tee and hitting 88% of them across the four rounds, tied fourth overall.
"It was bombs away," he said. "You could hit it far and the fairways were generous enough. That was a big plus for me. I'm a big ball striker. On some of these par fives I don't even need to hit driver to get there."
The inviting conditions saw Koepka hit the most greens in regulation, 62/72.
Once on the greens Koepka said he "putted brilliantly", although he took 1.71 putts per hole, slightly above the average for the field.
"To be in the same category as some of the guys on this trophy (Jack Nicklaus, Tiger Woods) is unbelievable. This is truly special, it really is."
What happened to the other British players?
Beef got off to a poor start, dropping five shots in five holes on his front nine but bounced back with a couple of birdies on the back nine as he closed with a +3 75 and +2 for the tournament. The US fans will definitely want to see him back next year, especially as he was giving out free tickets to the Open taking place at Birkdale in four weeks time!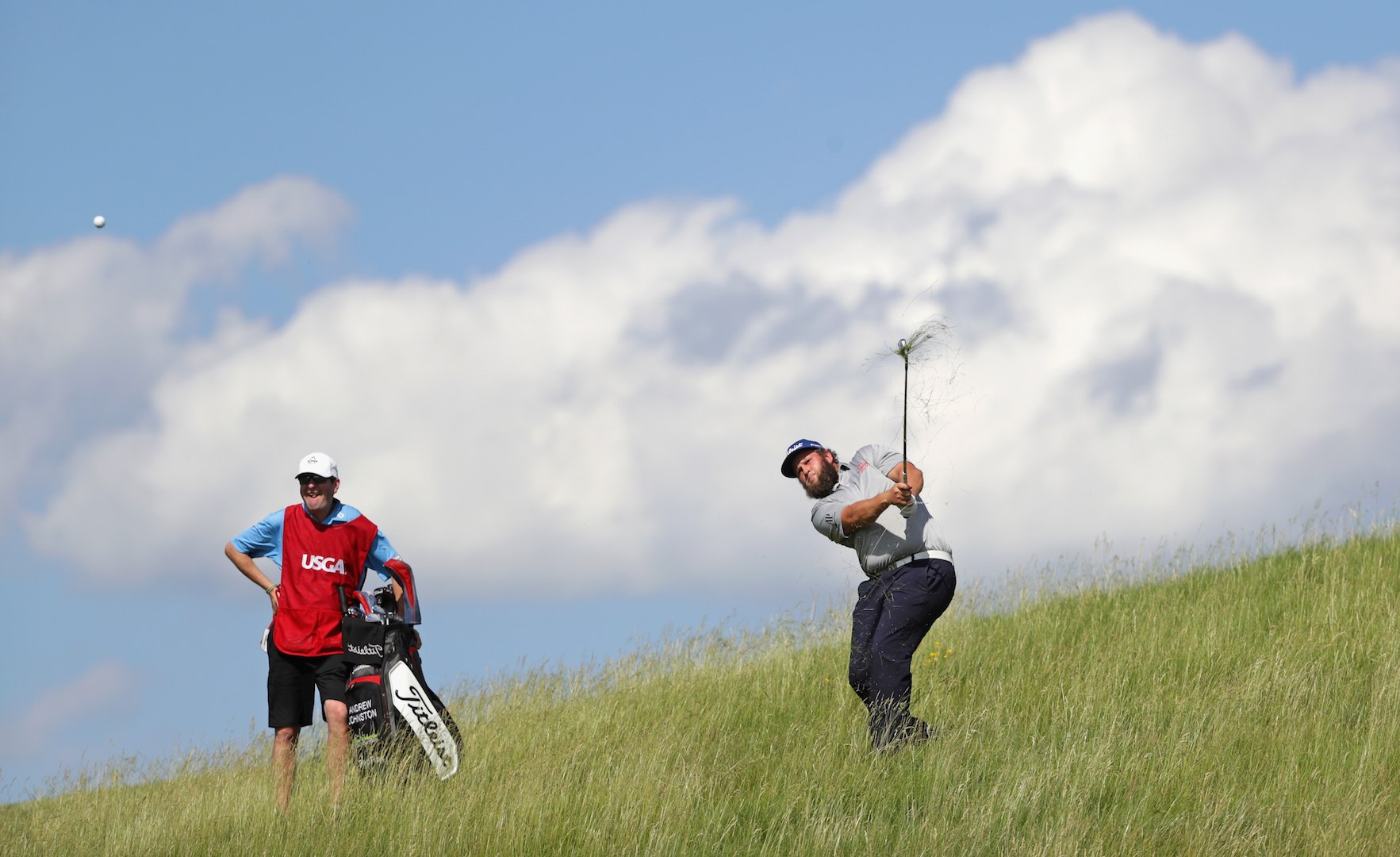 Eddie Pepperell was the only one of the six other Britons to make the cut to finish the day better than he started it. Pepperell, playing in his second US Open, carded a one-under 71 to improve to +5.
Paul Casey, ahhh, Paul... He was in a four-way tie for the lead at halfway on -7 but a +3 75 on Saturday kyboshed his chances. A quiet finish with just the two bogeys saw the 39-year-old end on +2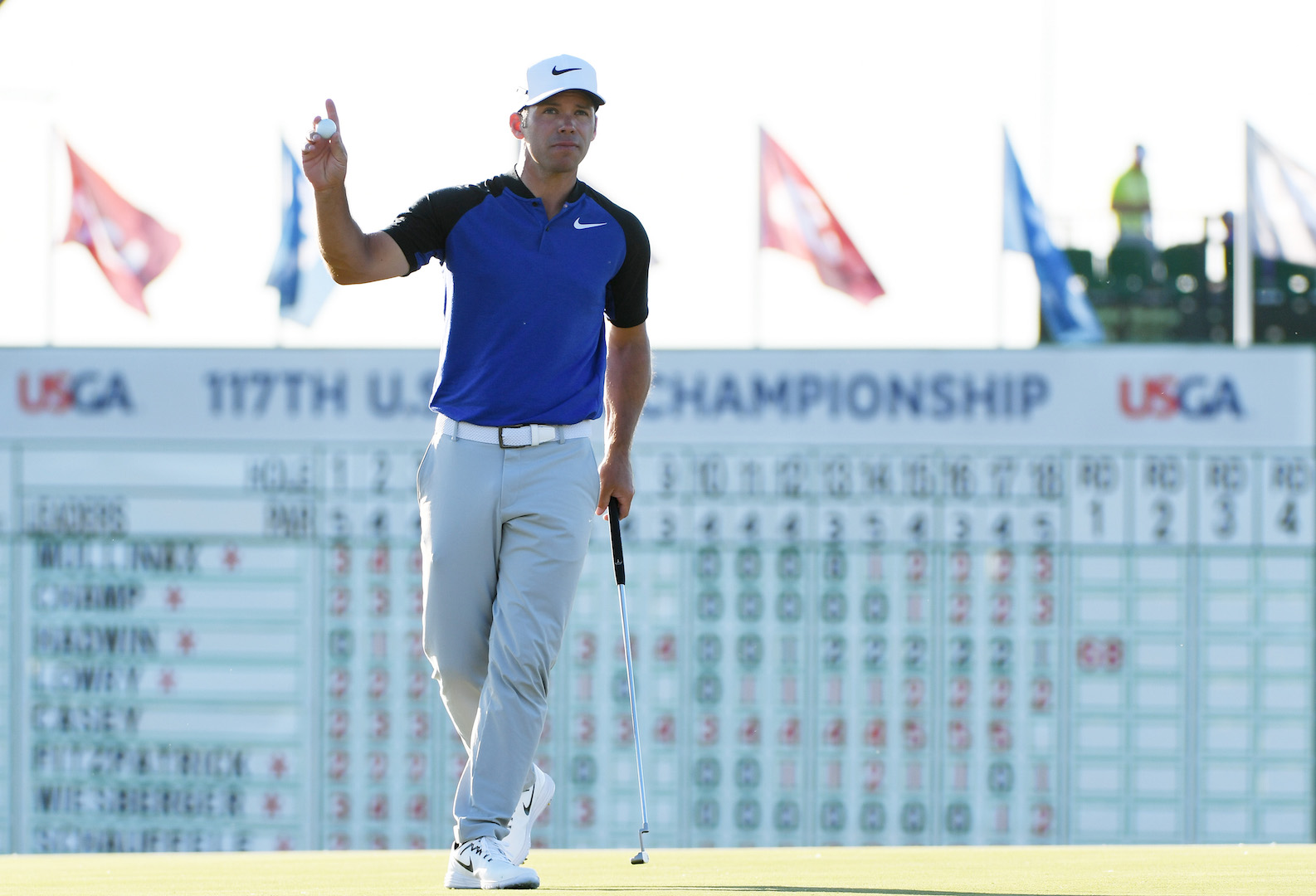 Scotland's Martin Laird also went backwards, closing with a 73 to finish the tournament as he started, on level par.
Matt Fitzpatrick of England was next best on +1 after posting a four-over 76 that included six bogeys, one double and four birdies.
Lee Westwood finished his 18th US Open with a four-over 76 to end on seven over.
So, in summary... BRING ON THE OPEN!!!!
Brooks Koepka became a golfer because of an injury to his face, and despite the fact that he found golf boring in comparison to his first love, baseball. This really is a Happy Gilmore in the flesh scenario.
At 10, he was in the front seat when a car driven by a babysitter was hit at an intersection. Brooks' nose and sinus cavity were fractured on the dashboard, and for the entire summer he couldn't play any contact sports.
As an alternative, he began spending his days at West Palm Beach's public Okeeheelee Golf Course, where he played in a junior program, dominated early, and never looked back.
"If I could do it over again," says Brooks, "I'd play baseball—100 percent, no doubt. To be honest, I'm not a big golf nerd. Golf is kind of boring, not much action. I come from a baseball family, and it's in my blood."
His great-uncle Dick Groat is the former Pittsburgh Pirates shortstop who won two World Series and was the 1960 National League MVP. Koepka played a mean Little League shortstop but somehow wasn't much of a hitter.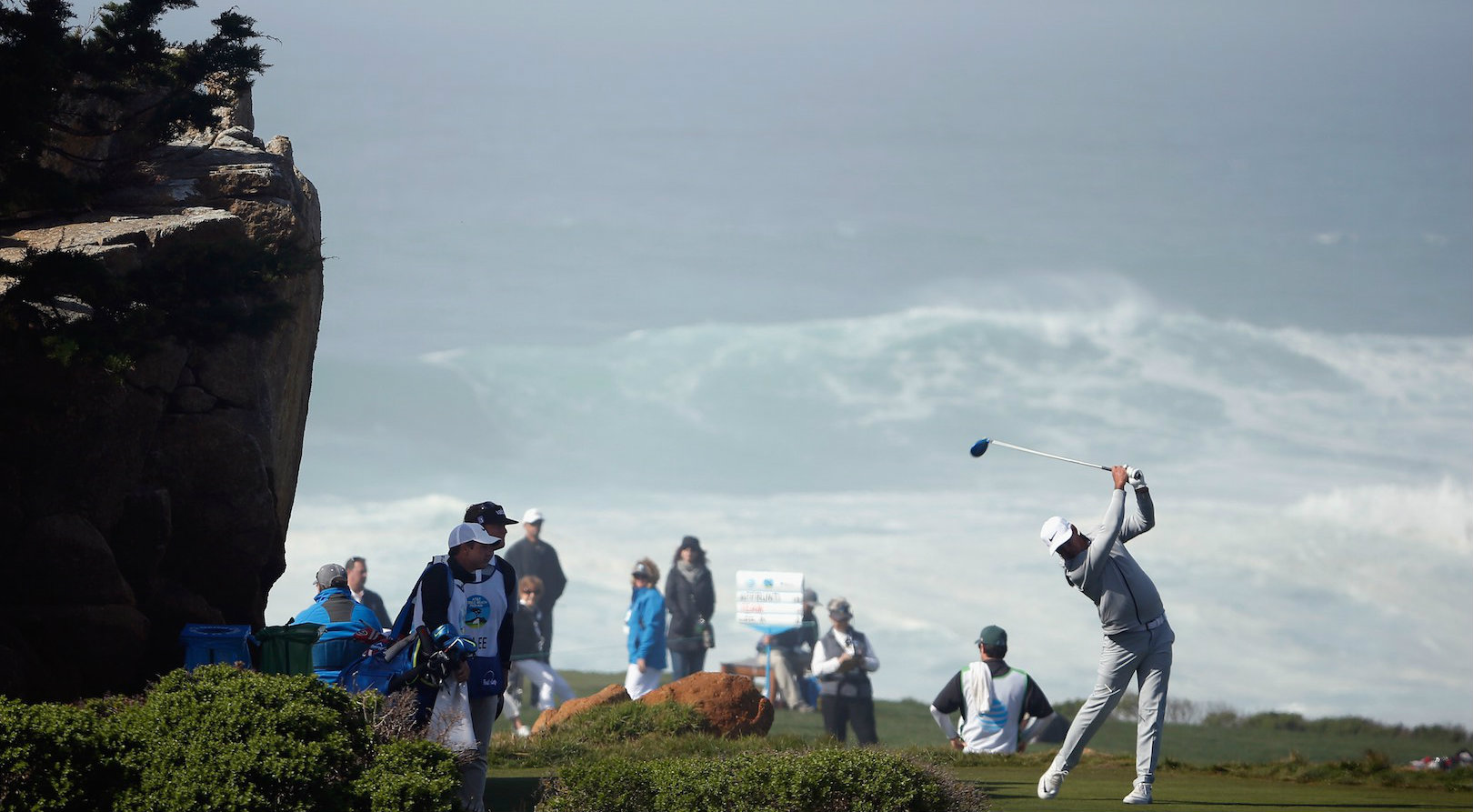 "I could never hit a home run as a kid," he says. "Maybe I was too small, but it drove me nuts. I kind of wish I'd stuck with it."
He may have preferred baseball but he was a natural golfer, becoming a three-time All-American at Florida State and went to Europe after narrowly missing out at Q school in 2012, then promptly recorded three wins on the Challenge Tour in 2012 and 2013.
He won the Turkish Airlines Open on the European Tour in 2014, and won the PGA Tour's Waste Management Open in Phoenix in February 2015.
He's also found some great success in majors, qualifying for the 2012 U.S. Open as an amateur, recording a 10th-place finish at the 2014 U.S. Open, and finishing tied for fifth and fourth at the 2015 and 2016 PGA championships.
And now he is the 117th U.S. Open Champion. Big up to Brooks Koepka.