Travel
Mar 4th, 2017
GolfPunk goes to Tenerife
The Island of lost balls...
Words: John Dean Photography: Azalea

TENERIFE GOES BANANAS
You have to be a brave golf course architect if the first thing you ask of a golfer is to get into their buggy and take a 10-minute pretty much vertical drive from the club house to get to the 1st tee.
But that's exactly what happens at Tecina Golf, which is on the tiny island of La Gomera, a one-hour ferry journey from the island of Tenerife.
There is method in this madness, as the course is built into the vertiginous slopes of what was once a banana plantation. The mountainsides across the island are still scarred with the small stones terraces that bananas were planted on, as you will see when you take the hair-raising and spectacular 40-minute drive from the port of San Sebastian to the course itself.
As you will now be starting to appreciate, Tecina does demand a lot from the travelling golfer. And is it worth all these travel hassles? The answer is a resounding 'Yes!'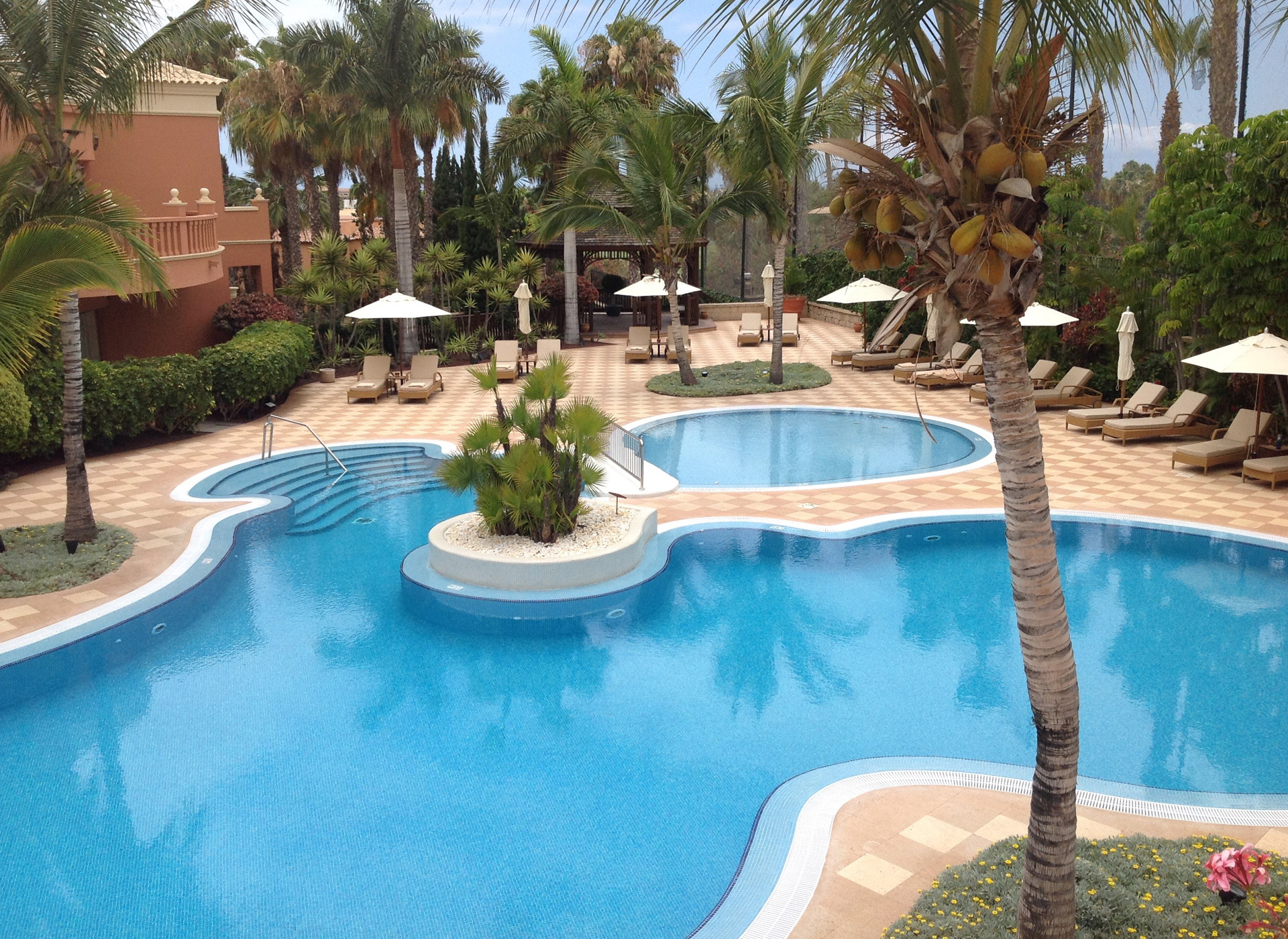 It is one of the most jaw-droppingly beautiful courses I have ever had the pleasure and privilege to play. It's bucket-list material, and comes as a complete revelation to me as I had never even heard of the island of Gomera, let alone that there was an astonishing golf course there.
The reason for your initial 10-minute buggy hike soon becomes apparent, as you realize that the course cascades down the mountainside. From top to bottom there is a difference in elevation of 175 meters, and it feels more like a downhill slalom event than a normal round of golf.
The course is immaculately presented, with perfect fairways, and well-tempered greens. The plant life is abundant and vibrant, mixing bright flowers with cacti and other succulents.
And there are always breath-taking views over the Atlantic Ocean, and the Island of Tenerife, with its famous Mount Teide volcano in the background, showing its grey, conical peak above a layer of dense cloud.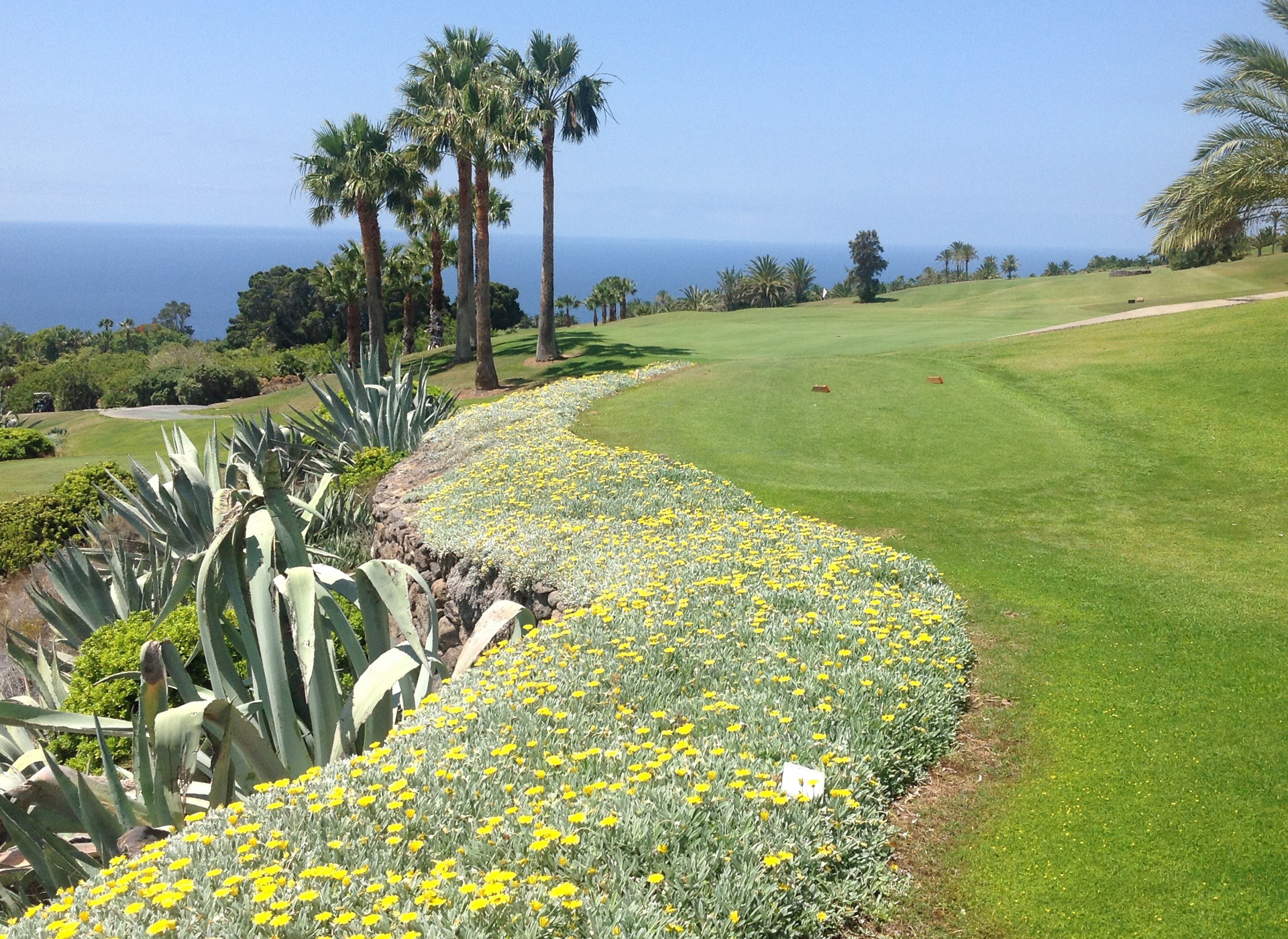 Word is starting to get out, and I have no doubt that it will become a place of golfing pilgrimage before too long. Yes, it requires effort, but that effort is rewarded in abundance.
Today's cloud is actually a bit of a rarity, as the islands only get an average of 15 days of rain a year. What is more, it has as the lowest temperature difference between summer and winter of anywhere in the world, with averages of around 15C in winter and 24C in summer.
Tenerife is already a very well -established golf destination, but the number of golfers coming falls off a cliff in June through to August, as many people assume that it will be too hot to play comfortably.
This is simply not the case. Not only is there such little in the way of temperature variance across the year, there is also normally a refreshing Doctor Breeze.
Because of this persisting perception it means that there are some great bargains to be had across these months, so if you are looking for an exotic but affordable destination, then Tenerife and La Gomera could be the ones for you.
The next club in our five-course visit is the 5 Star Ritz Carlton Abama resort. This unique hotel is entirely coated with what looks like red clay, giving it the feel of a splendid Moorish Palace.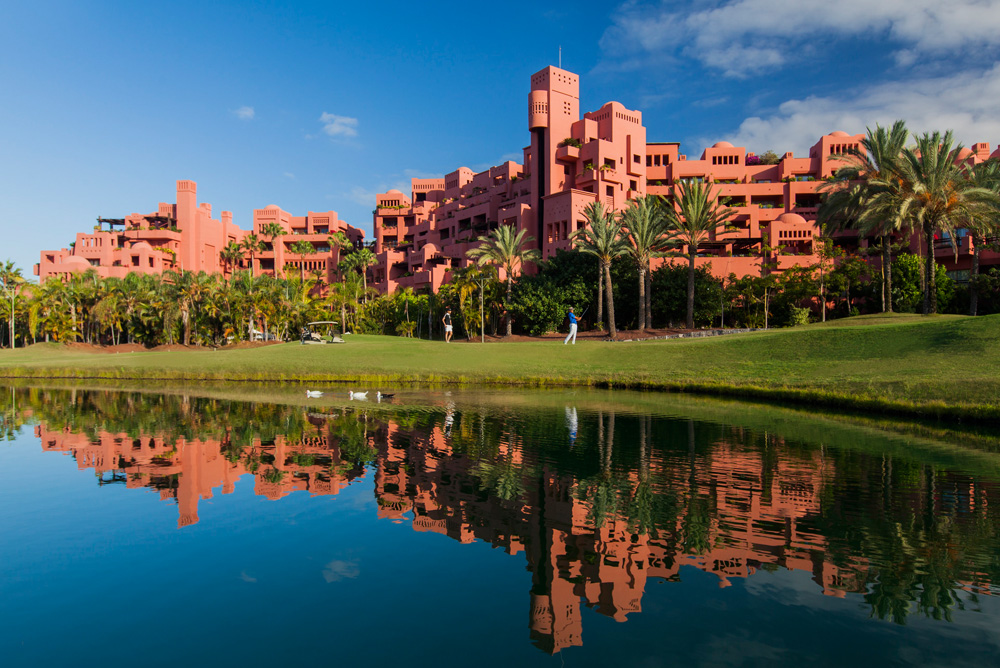 It delivers everything that you would expect from a hotel sporting the Ritz Carlton name, with stylish modern rooms, and beautiful spacious communal areas.
As a 500-room hotel, it has to be a challenge to deliver the intimacy of a small boutique hotel, but that seems to be what they are constantly striving for. Oh, and I should add that there's a lovely beach with it's own restaurant exclusively for the use of Abama guests.
Like Tecina, bananas also have a roll to play at the Abama. Thriving banana plantations surround the course, and again it was itself built on a former plantation. The immediate benefit from this is that you will find a lovely bunch of locally grown fresh bananas waiting for you in your golf cart.
Opened in 2008, the Dave Thomas designed course Abama course is a real treat to play. The views back over La Gomera are stunning, and unlike Tecina, the routing at Abama is more varied, with ups, downs and sideways, rather than down, sideways, down. There are twenty-two lakes linked by waterfalls across the course, and they come into play on 13 of the holes, so you need to play close attention.
And beware the penal Bermuda grass rough, which can swallow your ball whole and can be murder to escape from.
For many golfers there is now a desire to put a tick against Abama, but that tick will come at a cost. If you are a hotel resident expect to pay €120 per round plus buggy fees. As a non-residential player it will cost you a wallet denting €200.
It's now day three of our four day tour around the south of the Island – not forgetting Tecina- and time for us to play 36 holes in a day across Golf Adeje and Golf del Sur.
Again the banana past is very much present at Golf Costa Adeje, with the old stone terraces an integral part of the design. We are thoroughly briefed on their presence before we set off, as clearly more than one buggy has ignored the many warning signs and gone careering over the edge.
Golf Adeje offers fine resort style golf, and excellent value as well. For  €60 you can play golf all day, and have a generous buffet lunch thrown in for good measure.
Our second 18 of the day are played at Golf del Sur. We play the nine of the South Course first, and are a little underwhelmed. Everything is a bit tatty and slightly unloved, and then there is the matter of being in the flight path of the international airport, as we watch a constant flow of planes coming in from different parts of Germany and the UK, the origin of a majority of visitors to the island.
We all perk up with the back nine of the North Course, and especially it's signature 12th hole – an island green in a sea of black volcanic ash. It's not only on this hole that there is ash instead of sand. All the bunkers and runaway areas are formed from black volcanic ash, and it's probably a shot you never thought you would need in your bag.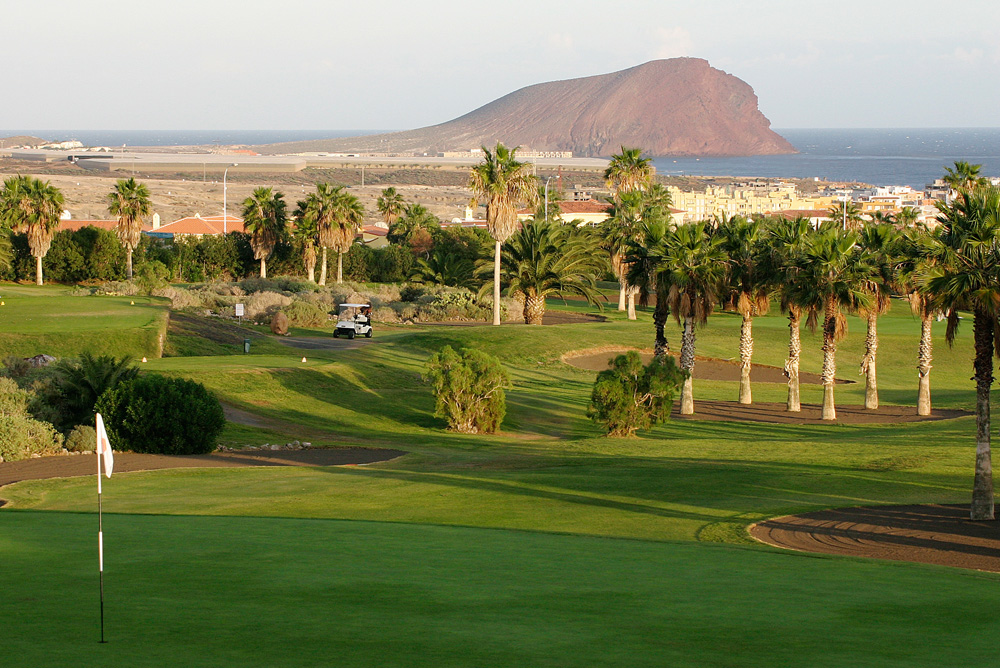 The black bunkers serve as another reminder of Tenerife's volcanic past, and indeed present. We take a minibus into the majestic National Park, and get up close to Mount Teide, which at 3,718 meters is the highest mountain in all of Spain, and last erupted as recently as 1909 – basically yesterday in volcanic terms.
The journey into the National Park takes us through oceans of black larva fields, and a band of Canary Island Pine trees, before we arrive in the 40 square kilometer crater that sits besides Mount Teide itself.
It is an absolute must see for any trip, golfing or otherwise. In fact the National Park is the ninth most visited National Park in the whole world, with over 2.8 million visitors in 2013. There's also a cable car that can take you to near the summit itself if you really want to get up close and personal.
Once over the cloud line you will also get spectacular views of La Gomera, itself enveloped in cloud. The effect is surreal, and La Gomera looks like an island floating in the air.
Our final destination is Hotel Las Madrigueras, which specializes in golf holidays, and adjoins Golf Las Americas. It's a fine boutique hotel with 56 rooms, which Trip Advisor loves as well, as it is currently ranked No 1 of 63 hotels in Playa des Americas.
A great feature for golfers is its underground car park, which is for buggies only. You load up your clubs from your appointed locker, and then insert your card key for an electric door to open which leads you straight out onto the Golf Las Americas course. It's like entering a golfing Garden of Eden.
The course is the tightest we have played, and there are some tricky driving holes bordered by palms and pines. The condition is excellent, and you immediately get the sense of a really very well managed and maintained course.  
They have hosted a Ladies European Tour Event, and Laura Davies is a big fan and plaudit of the John Jacobs design. It's classic golf resort course, which players of all standards will enjoy.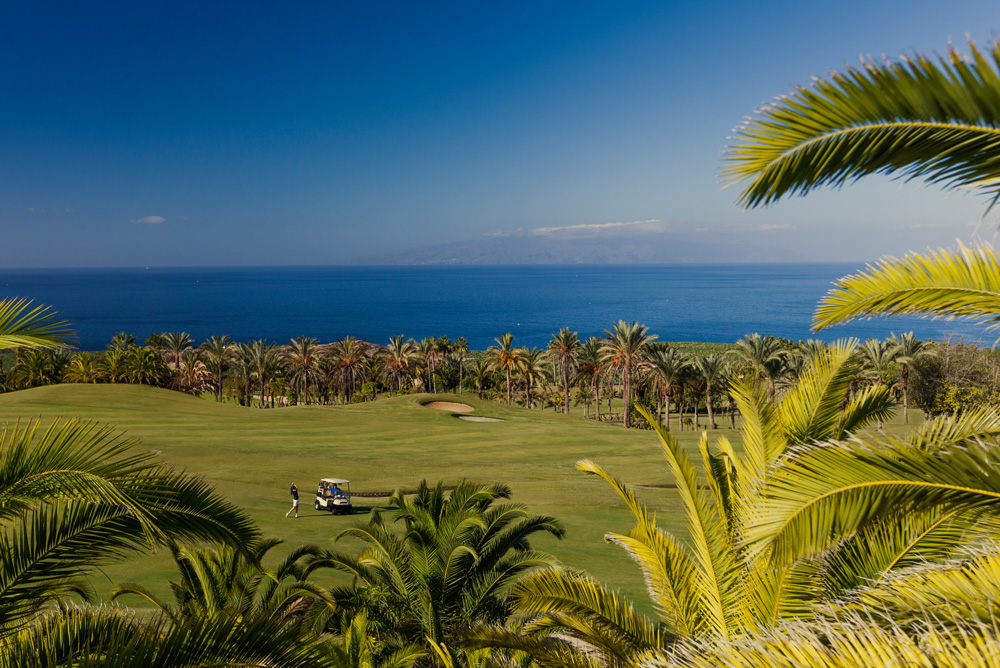 Monarch, the scheduled leisure airline, operates flights to Tenerife from Birmingham, East Midlands, Leeds Bradford, London Gatwick, London Luton and Manchester airports with fares, including taxes, starting from £59.99 one way (£148.95 return) (lead fares winter 14)
For further information or to book Monarch flights, Monarch Holidays or Monarch Hotels, please visit www.monarch.co.uk
TAGS: Golf In Tenerife, La Gomera, Abama Golf, Dave Thomas Golf Design Abama, Golf Adeje, Hotel Las Madrigueras, Travel, 2017, Golf Course, Tenerife, John Jacobs, Lifestyle, Planet Golf, Europe