Top 10s
Mar 4th, 2019
Top 10 Strangest Golfing Injuries
Ouch! Very ouch, baby...
Words: GolfPunk Photography: Getty Images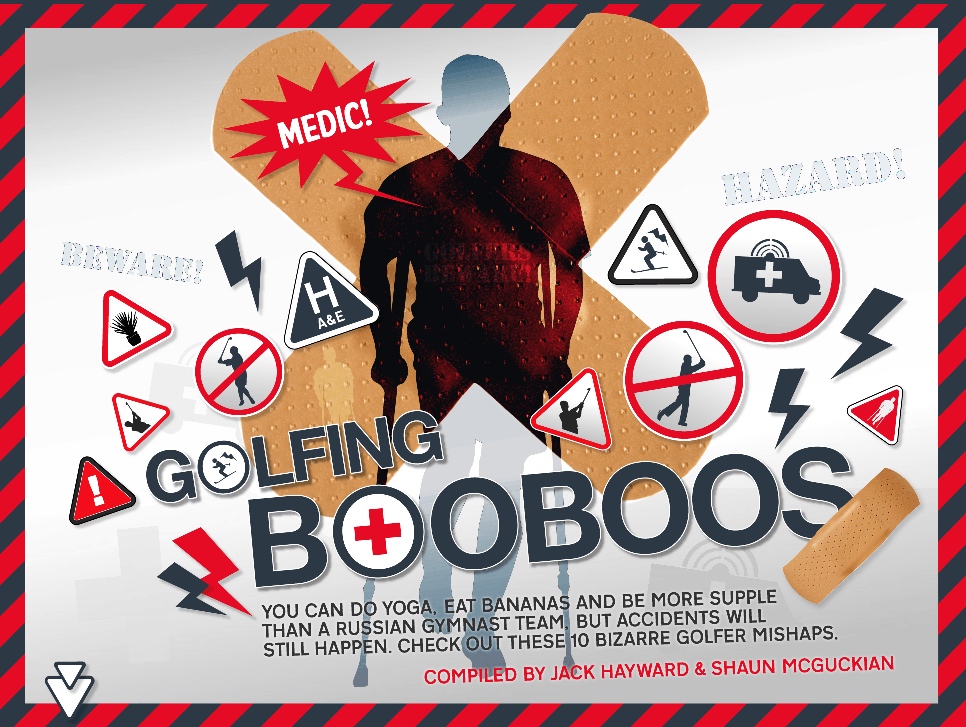 When Padraig Harrington took one on the elbow whilst giving an amateur a lesson, he thought his career was over. In very ludicrous fashion. Padraig, you are not alone. Check out these Top 10 bizarre golfer mishaps.
You can do yoga, eat bananas and be more limber than a Russian gymnast team, but accidents will still happen. While you're recuperating Padraig, check out these 10 bizarre golfer mishaps.
10)

 Lucas Glover
Paddle Boarding, 2012.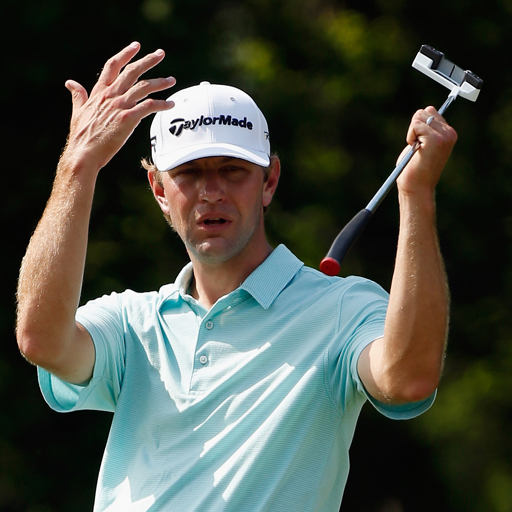 Former US Open champion Lucas Glover strained the ligaments in his right knee when he fell off a paddle board in the Pacific Ocean, just before he season opener in Hawaii.
"Just fell off the board," Glover said nonchantly. "Done that a thousand times. My foot caught on the edge of the board, my body went one way and my knee went the other. I knew immediately I done a little something. I just wasn't sure how bad."
Proof of this is when he rocked up to the Pro-Am fully expecting to play after having his knee on ice for a few days. But a few swings on the range set alarm bells ringing and he had to pull out. Doctor's orders are to keep to dry land for the foreseeable future, but Lucas doesn't sound like he will.
"I was doing what I like to do. I was living," Glover said. "It's not like I was showboating. Just one of those freak deals."
9)

 Paul Casey
Snowboarding, 2012 Off-Season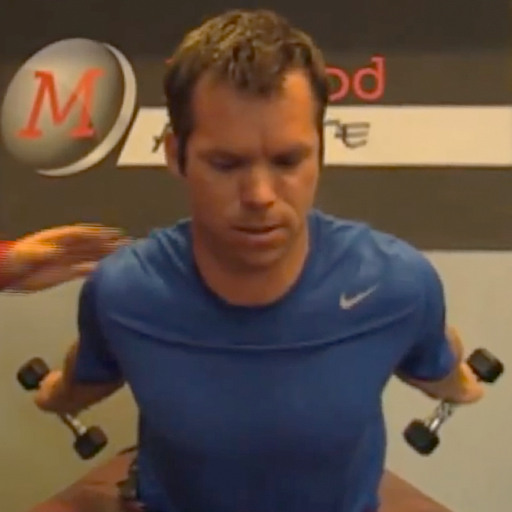 Shortly before the start of the 2012 season Paul Casey wiped out in dramatic fashion while on holiday snowboarding meaning he missed out on the opening months of the season and on having a shot of playing his part in the Miracle at Medinah as part of the European Ryder Cup team.
We asked Pollyanna [his girlfriend at the time anw wife] if she was to blame. She said, "I can't take claim for that I'm afraid. I was there, but it weren't my fault 'guv. I was already at the top of the mountain ready to ski down. Had my headphones on when the phone rang. 'I've done something to my shoulder, I'm just waiting for an ambulance."
8)

 Sam Torrance
Broken Toe, Ryder Cup 1993.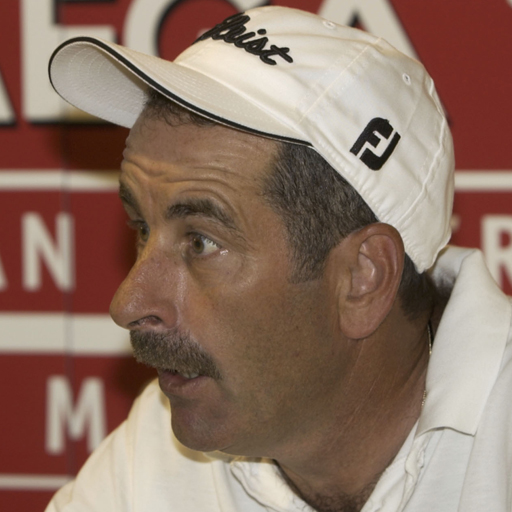 During the 1993 Ryder Cup week golf punk and Ryder Cup legend, Sam Torrance, tripped over a plant pot whilst sleep-walking and he sustained a toe and chest injury that ruled him out of the singles. Torrance apparently mistook the Yucca plant for an intruder.
Three years later, the toe next door became septic, causing him to miss the opening event of the 1996 season. "A big blister developed in Malaysia last week and when it burst it was a real mess. I managed to finish that tournament but I've had to pull out of the shoot-out and the pro-am here. It's an uncanny repeat of 1993…the little toe on my left foot became infected then. This time it's the next toe along. I'm obviously working my way through the 10 of them."
7)

 Rory McIlroy
Football injury, July 2015
Rory had to miss out on much of the 2015 season (including the Open at St Andrews and US Open at Chambers Bay) after damaging his ATFL ankle ligament during a kick about with his mates. Here's what Rors said:…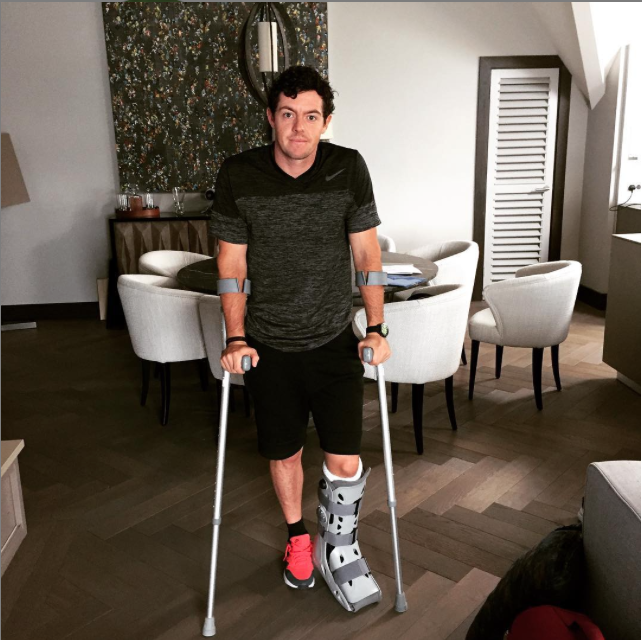 RoryMcilroy: Total rupture of left ATFL (ankle ligament) and associated joint capsule damage in a soccer kickabout with friends on Saturday. Continuing to asses extent of injury and treatment plan day by day. Rehab already started..... Working hard to get back as soon as I can.
Rory had to sit and watch as Jordan Spieth & co blazed up the majors fairways in 2015, but his ankle ligament shocker was not the only time he's been inconvenienced by medicinal interferance. 
In March 2013, McIlroy walked off the course during his second round as defending champion at the Honda Classic PGA Tour event in Florida. Rory cited a wisdom tooth problem as well as not being mentally right on the course as his reasons for the walkout.
"It was very painful again this morning, and I was simply unable to concentrate. It was really bothering me and had begun to affect my playing partners.
"I came here with every intention of defending my Honda Classic title. Even though my results haven't revealed it, I really felt like I was turning a corner."
The Northern Irishman took a lot of stick for this and was forced to make a public apology over the incident, however having seen a friend of ours recently sit on the sober sidelines at a party because he was on medication for toothache, we understand how he feels.
6)

 Greg Norman
Not wanting Tiger to feel left out and lonely in recovery, Greg Norman has taken one for the team and got his shoulder seen to. Unrelated to his chain saw accident, Greg will be unable to swing a club for 4-6 months. 
More importantly though, is that the scariest surgeon you've ever seen? We're sure Dr James Bradley knows what he's doing, but we don't think we'd trust him to cut us open, he looks like he enjoys his job too much!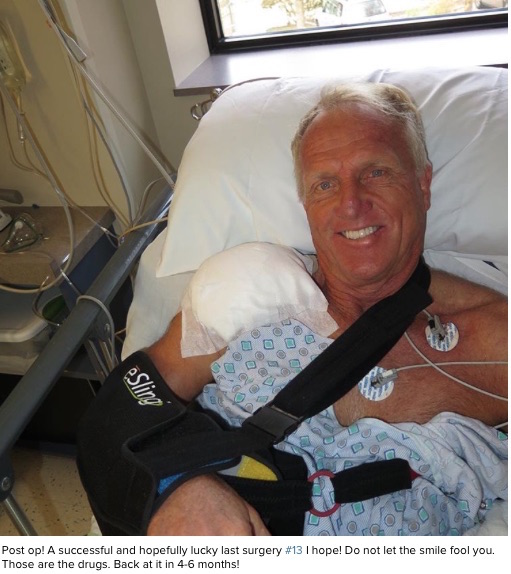 Richard Aschroft was wrong. The drugs do work.
5)

Jamie Donaldson
Jamie Donaldson does a Norman! Out of action for weeks, possibly longer...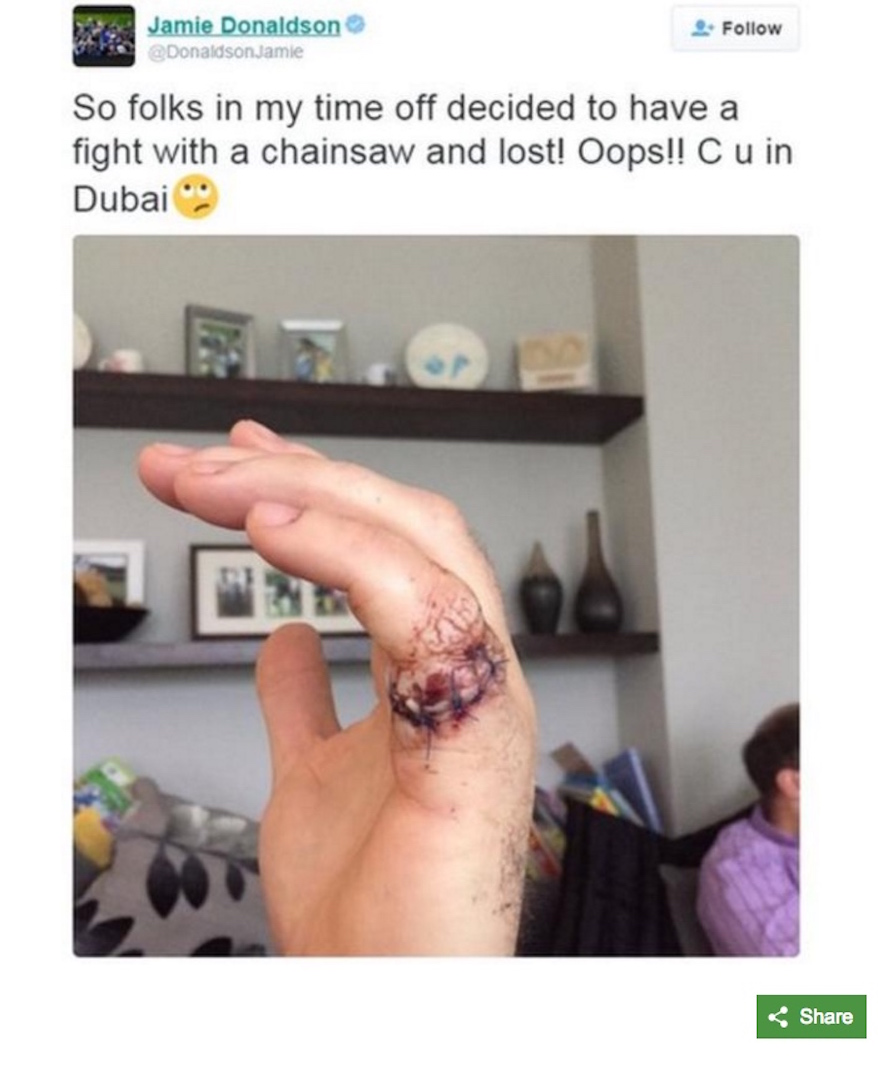 Not to be outdone by the Great Whit Shgark, The Great White Berk Jamie Donaldson went and virtually cut his finger off with a chainsaw. Struck with a sudden attack of complete boredom, the Ryder Cup star decided to "mess some shit up", but didn't account for the fact that the chainsaw can be a pretty uncompromising unit. Anyway, the 40-year-old, who won the point that sealed the 2014 Ryder Cup for Europe, shared a picture of the nasty injury on Twitter.
"So folks, in my time off decided to have a fight with a chainsaw and lost," Jamie said on Twitter. 
Pontypridd-born Donaldson, who was raised in Macclesfield (where is this going? – Ed), has three wins on the European Tour. He joins Greg Norman in the list of golfers who've ended up second best to the chainsaw. While we wait for an explanation as to what Jamie was really doing with his chainsaw, here's what Greg Norman said about his encounter:  "When I'm on a ranch, I love to run the bulldozer, the grader, whatever. I like doing stuff. I never ask anybody to do that for me if I can do it myself," he said.
4) 

Lee Trevino
Lightning Strike, 1975.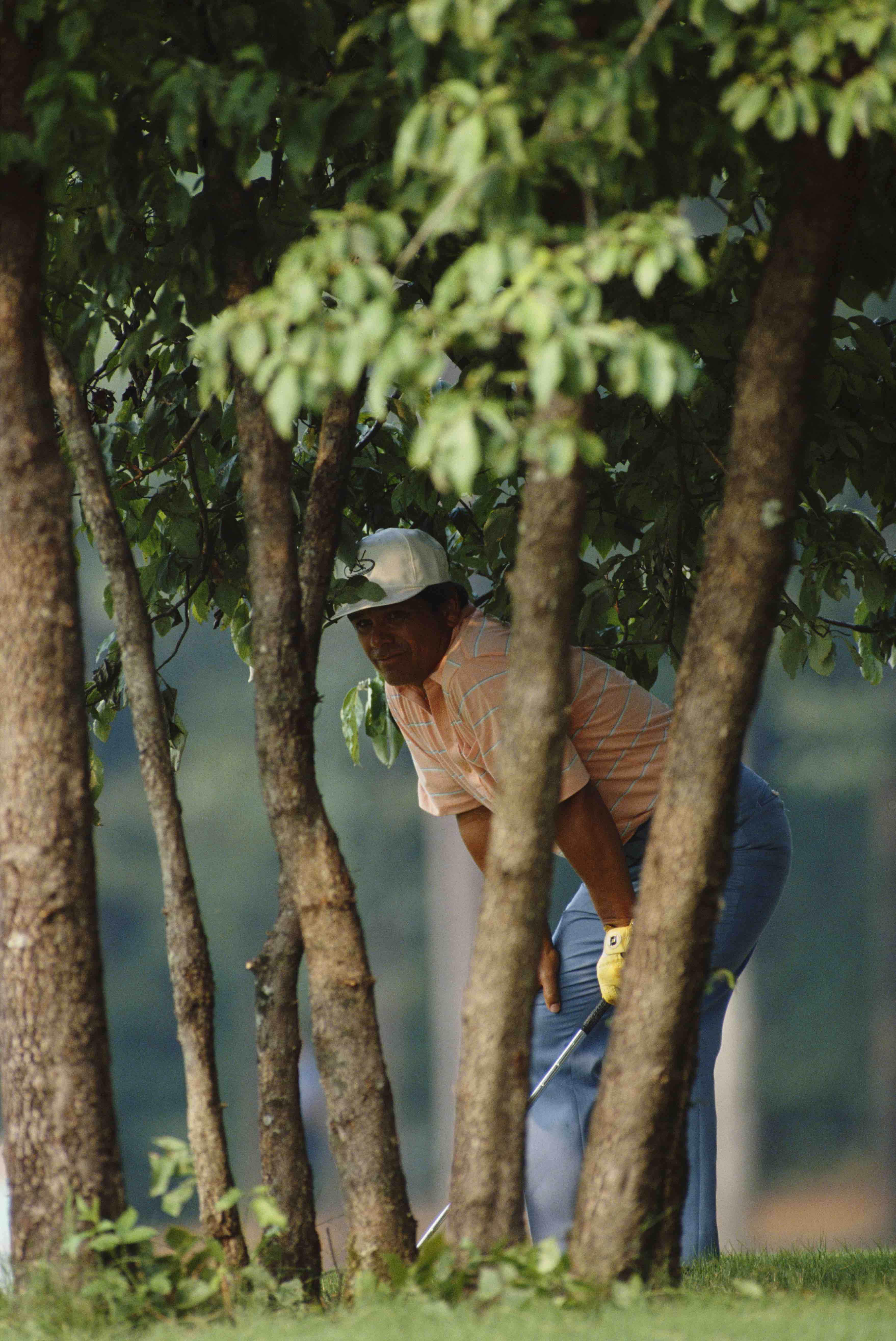 In 1975 six-time major champ Lee Trevino suffered spinal injuries after being struck with lightning at the Western Open. Trevino is undoubtedly one of golf's greats, but the injuries sustained in this incident seemed to effect his game from then on with only nine of his 29 PGA Tour wins, and only one of his six majors coming after this freak accident.
"That changed everything. I don't know how good I would have been if that hadn't happened. I never was the same. It led to an operation on my back in 1976, and once they cut on you, you're never the same. You can't swing hard at it, can't dig it out of the rough; uphill and sidehill lies, you have to be careful. And you lose speed. In a way, you lose everything," mused the Mexican.
So listen to that klaxon.
3) 

Thomas Levet
Broken Shin, French Open, 2011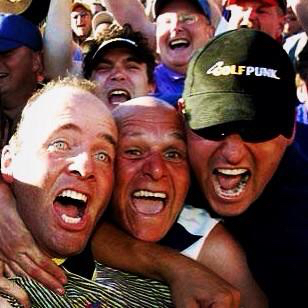 There's a strange tradition among Spanish and French golfers to soak any of their compatriots who win a tournament. Where the Spanish prefer to drench them in champagne, however, the French like to toss the victor into the nearest lake. Thomas Levet probably knew this was coming after winning his home Open in 2011 and decided to shortcut the whole process by voluntarily leaping into the greenside lake with his caddie. Apparently, no one had told the lake-filler-upper though, and Levet fractured his leg after landing on some rocks. The Frenchman then missed out on playing in the 2011 Open which he had only qualified for by virtue of his French Open success. "I am extremely disappointed to miss out on the Open," he said. "I will have screws and a plate inserted which will ensure that my shin recovers completely."
Levet also injured himself at the start of 2012 when he cracked ribs as a result of tripping down the stairs on the way to a tee at the Volvo Champions event. He also suffered from vertigo for a couple of seasons. Blimey. Or, sacre bleu more likely.
2)

 Melissa Reid
Snake Bite, 2012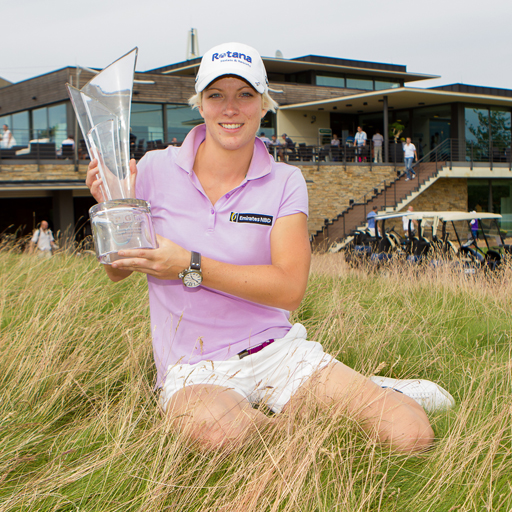 Derbyshire lass, Melissa Reid, was bitten by a snake whilst playing in the Sanya Ladies Open in Hainan. Never one to be put off by a little shock though, Reid continued to play and actually bagged herself a birdie on the very hole on which she was bitten. She was treated on course after opting to finish her round taking 20 different tablets in medication and having had an injection to limit the damage caused by the venom.
"Everyone is making a massive deal out of it, but it was only a bit scary because of the amount of venomous snakes out there, she told us. "I was going through a boggy patch of ground, and I felt something sharp on my leg, like a scratch.
"I was like, 'what was that?' and I started running. My caddie, Lee, was like, 'Reidy: run faster, it's after you again!'"
Hard as nails.
1)

 Daniela Holmqvist
Spider Bite, ISPS Handa Australian Open, 2013.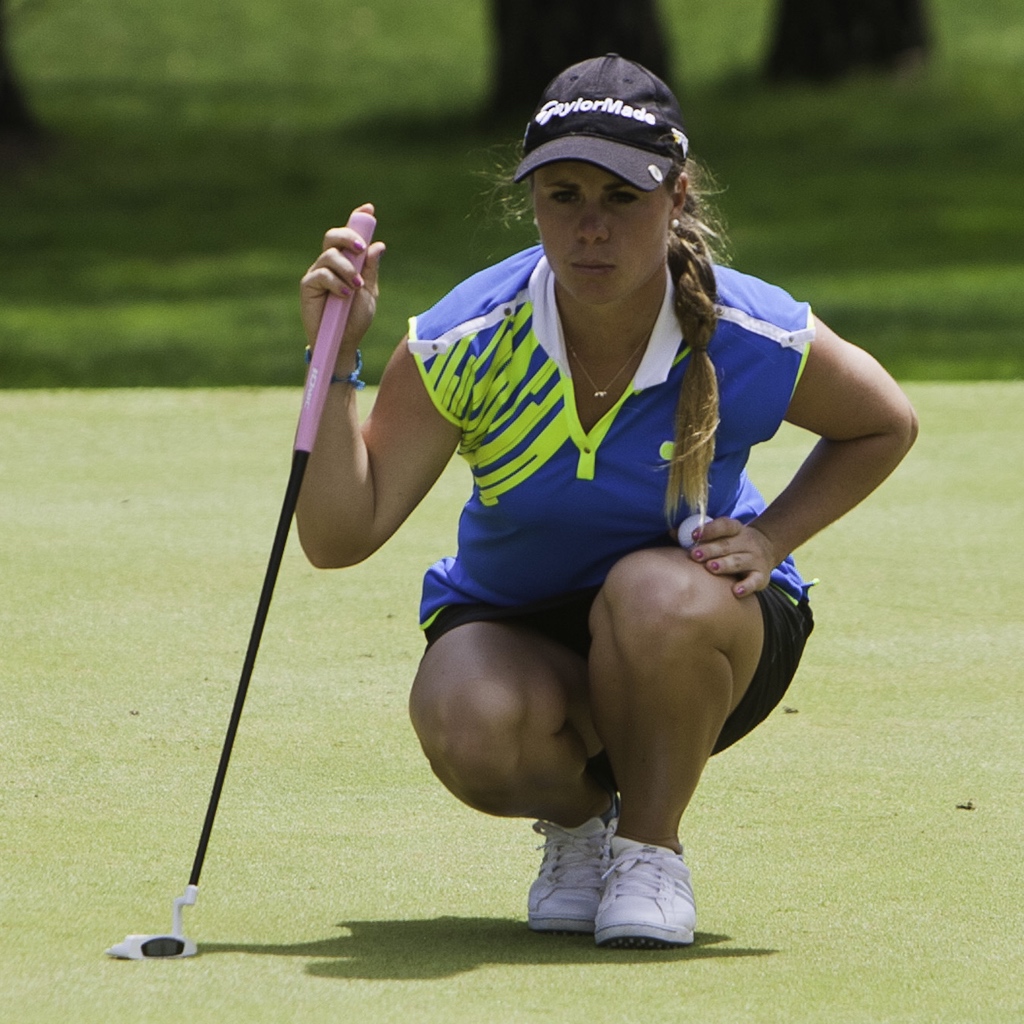 Daniela Holmqist of Sweden was bitten by a Black Widow spider while taking part in the pre-qualifier for the ISPS Handa Australian Open at the Royal Canberra Golf Club in the middle of February 2013. Not one to be over-awed by a brush with death, Holmqvist didn't bat an eyelid, lancing the bite with a tee to drain the poison out before finishing her round.
She later tweeted her followers, 'Got bit by a black widow today on course, a caddie said that people die from it and I should seek medical attn…I shot a 74. (sic)'
Apparently as well as being a talented golfer, she is also the MacGyver of the female golf world.
EXTRA INJURY CAPER
Bode Miller and wife Morgan Beck
(Not a golfer, but a golf injury)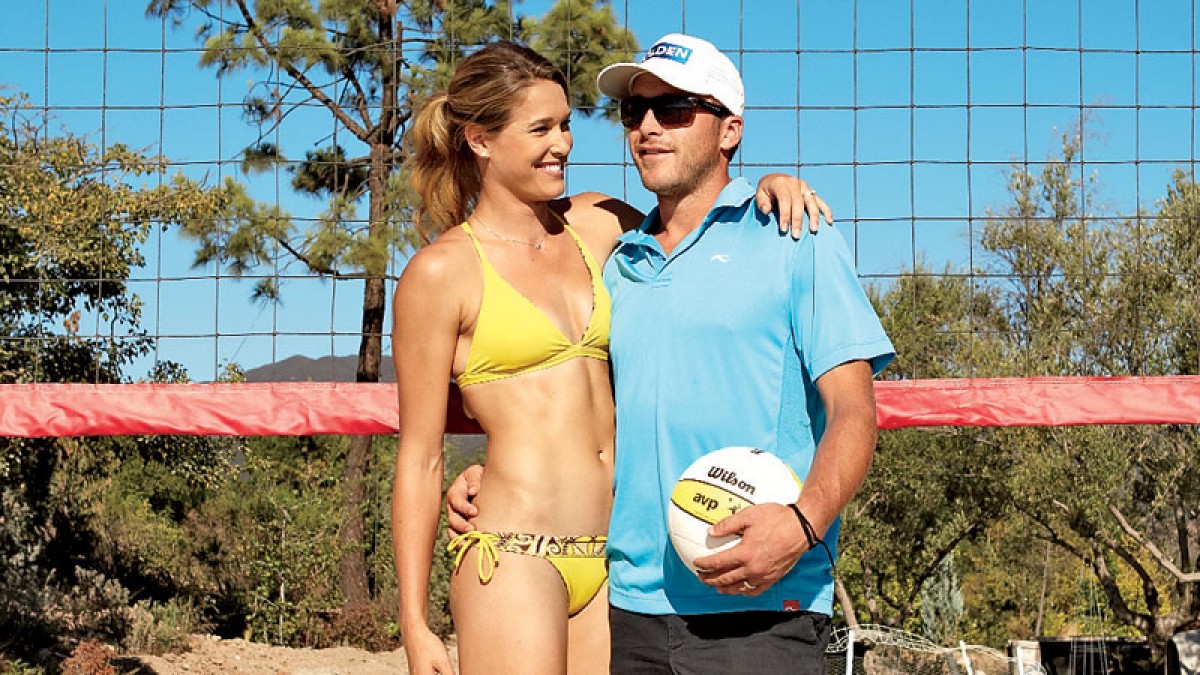 Yes, this isn't an injury involving a golfer per say, but it is an injury caused by a world renowned sportsman and it was done through playing the glorious game of golf. Olympic gold medalist, US skier Bode Miller, inflicted a horror injury on his wife Morgan Beck when out playing together when his errant shot struck her right in the eye causing a horrible gash and some serious bruising. Surprisingly, we can confirm that she is still with him.
Related:
Top 10 Tour Pro Card Wrecking Moments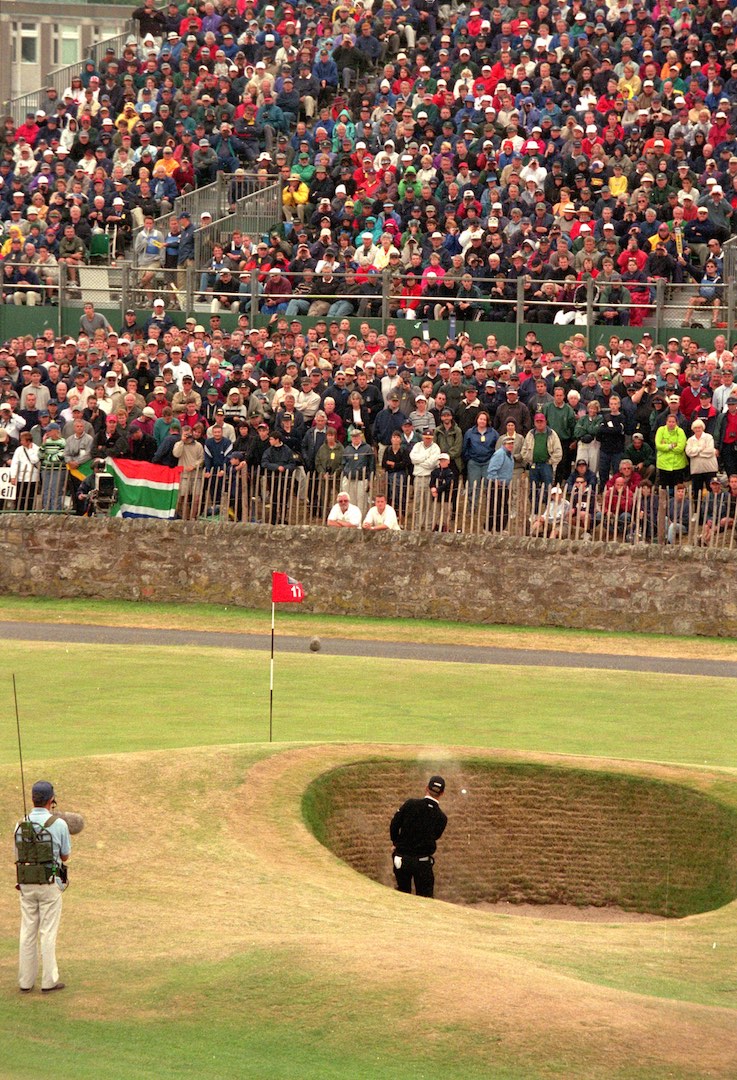 TAGS: Golfing Injuries, Top 10 Golfing Injuries, Top 10s, 2019, Rory McIlroy