Top 10s
Oct 31st, 2018
Golf's Top 10 Horror Shots
Look away now if you are of a delicate nature...
Words: John Niven Photography: Getty Images
CARD WRECKERS
Here is our definitive list of woeful wrecks...
10) DAVID TOMS, 2003 WACHOVIA CHAMPIONSHIP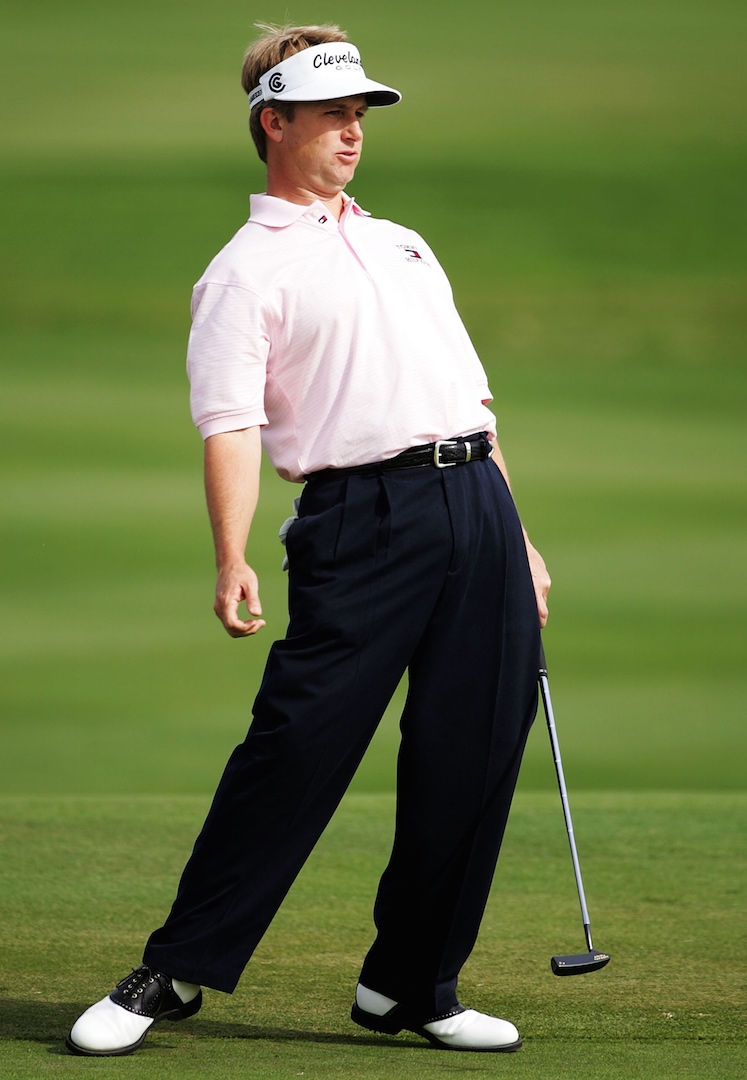 "My game plan was to make birdie and finish in style." Thus the Tomster swaggers on to the par-four 18th tee at Quail Hollow on Sunday afternoon with a six-shot lead. And whumps his drive into a jungle. Trying to chip back on the fairway, he puts it in a hazard. Even when finally on the green, he takes four putts from 45ft for an eight. And still wins the tournament by two strokes. Nice game plan, though, Davy.
9) JEFF MAGGERT, 2003 MASTERS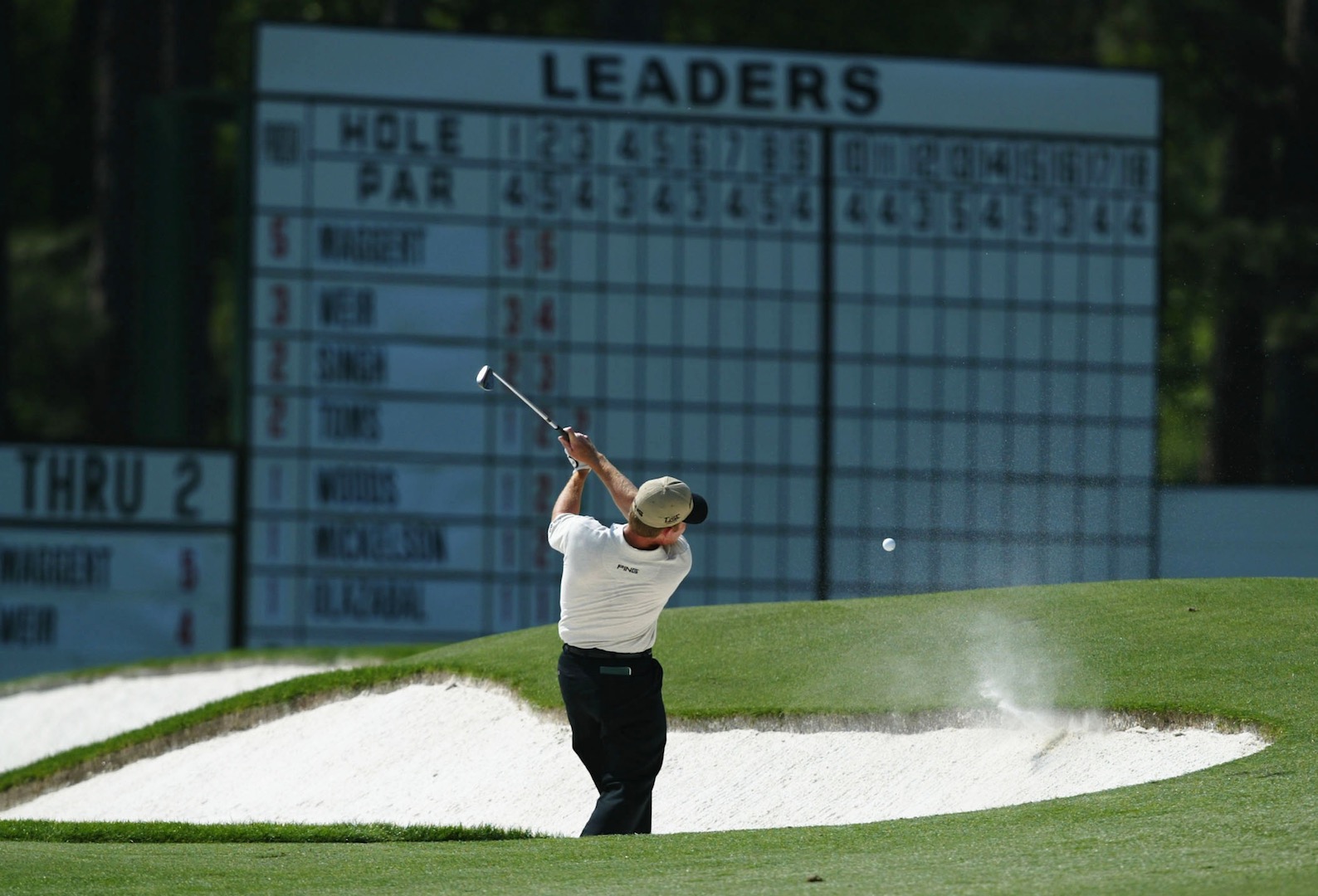 The leader going into the final round, Maggert triple-bogeys the third when his bunker shot hits him in the chest. A mere trifle. Reaching the par- three 12th only a shot off the lead, Maggert over-clubs and flies the green, winding up deep in the sand. Then he thins the bunker shot across the green into Rae's Creek. He sighs, composes himself and takes the drop. And hits that in the water too. He finally gets down for eight and limps off to the 13th complaining: "My scorecard looks a freaking phone number."
8) TOMMY NAKAJIMA, 1978 OPEN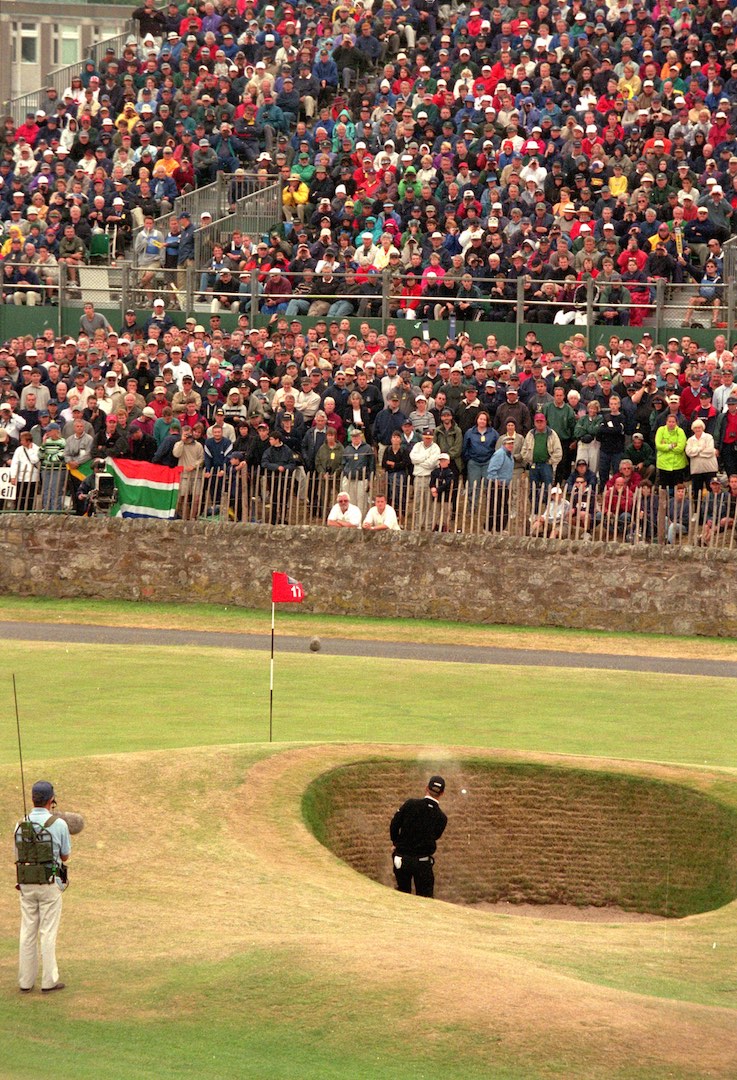 It's not so much the number - a nine, as you're asking - but the fact that poor Tommy was one shot off the lead during the the third round of the competition, just off the green in two with a putter in his hand. All it took was one shot for the ball to be sucked into the bunker - now nicknamed The Sands of Nakajima, obviously - and a further five before it reappeared on the green. And was there ever a more effective illustration of the card wrecker than the photo above?
7) PHIL MICKELSON, 2002 PLAYERS CHAMPIONSHIP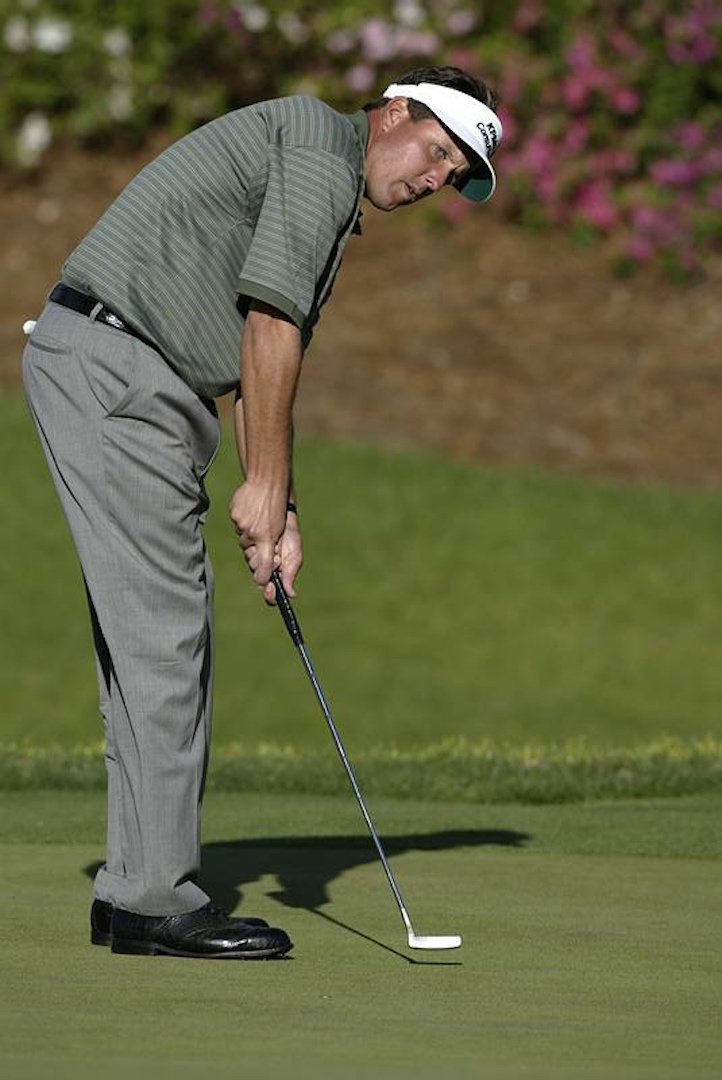 Going well in the third round at Sawgrass, Phil Mickelson is within 18 feet of the flag at the par- four 10th in three shots. His par putt slides five feet by. So does his bogey putt... and the one for double-bogey. His triple-bogey attempt comes up short. By the time he drains a two-footer for quad eight there is open sniggering in the crowd.
6) TIGER WOODS, 1997 OPEN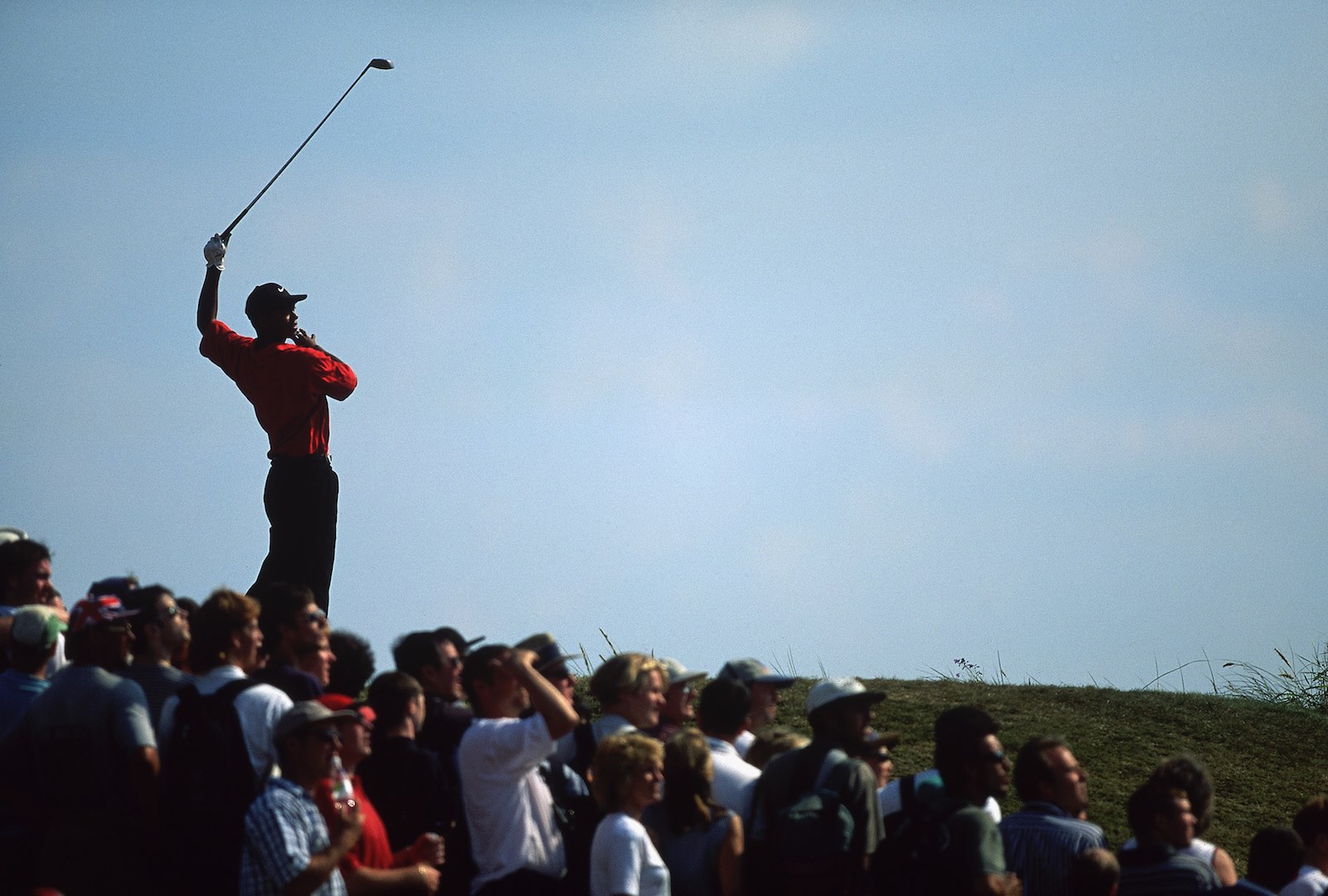 Royal Troon turns sour for Tiger when the gritty Ayrshire sand in the Postage Stamp's pot bunkers developed a fierce taste for his Nike ball. He needed both hands to tot up a round-destroying triple bogey six on the legendary 123-yard par three. (Note: GolfPunk's own Tim Southwell parred this hole last year, so suck on that Woodsy!)
5) MIGUEL ANGEL JIMENEZ, 2004 US OPEN
Shinnecock Hills again and those greens. Jimenez missed the 11th green to the right and then tried five times to putt back on and up the slope, the ball rolling miserably back to him each time. He eventually holed out for a horrific sextuple-bogey nine.
4) STEVE WEBSTER, THE 2004 HERITAGE
The sixth at Woburn is a 464-yard par four: not the easiest green to reach in regulation but this year's Italian Open champion managed just that last September. Eagerly chasing birdie, he runs his putt past the cup, down a slope, and back off the green. He needed five chips to get it back on the dance floor before putting his way to a truly surreal ten.
3) PADRAIG HARRINGTON 1996 B&H OPEN
Having won in South Africa the previous week, the youthful Harrington was one hole from home (perhaps already thinking about a glass of lemonade and a cheese toastie?) when the Oxfordshire's 17th hole turned into his own personal Vietnam. His accountancy degree came in handy as he found himself chalking up a 13. Padraig's mother, clearly a graduate of the tough love school of parenting, had the card framed and hung on the living room wall. "Every time I go home it's staring at me..."
2) BRIAN BARNES, 1968 FRENCH OPEN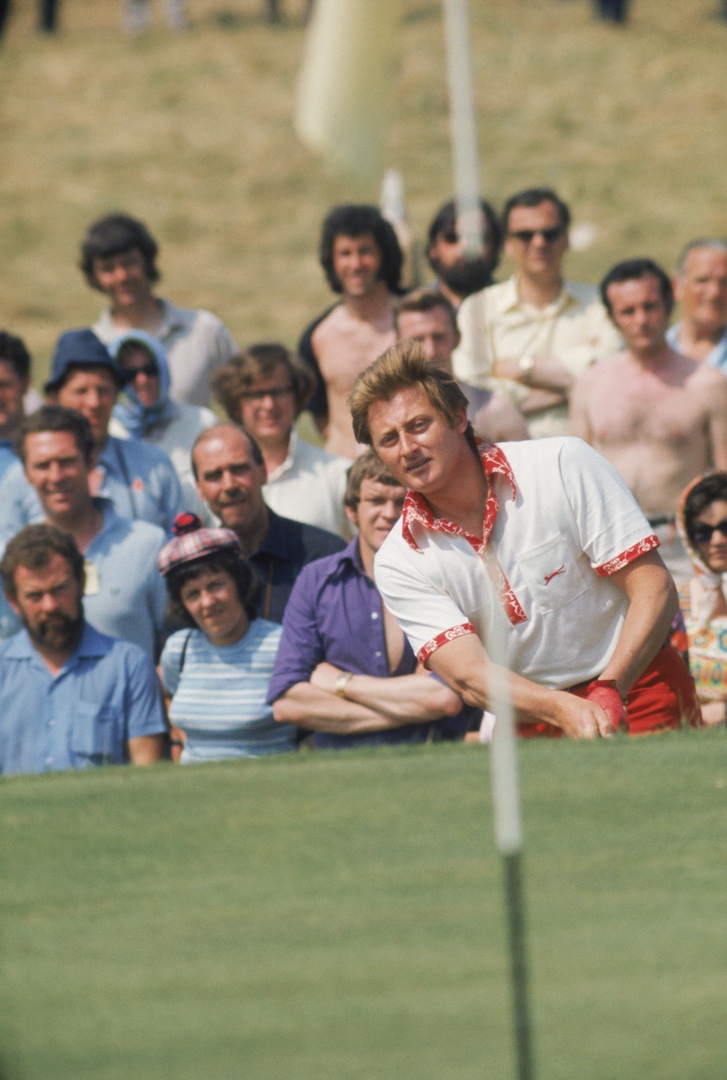 Ah, '68. Student riots, revolution in the air, Street Fighting Man blaring from every window and Brian Barnes — ruing uncorking that third bottle of Absinthe the night before — lining up a four-footer on the par-three eighth at St Cloud. Brian misses four times from within four feet. Next he hits the ball while it's still moving, incurring a two-stroke penalty. He misses it a couple more times, then goes quadra-berserk, straddling the ball and hitting it illegally between his legs to incur a further penalty.
By the time the dust has settled he's taken 12 putts en-route to a tournament-ending 15. This is the same Brian Barnes who — according to legend — once walked out of Toronto airport to be greeted by a large billboard advertising a popular ginger ale. "Drink Canada Dry" it said. "I'll give it a fucking good go..." he replied.
JOHN DALY, 1998 BAY HILL INVITATIONAL
The big (Mac) daddy of them all. Proper, real-life Tin Cup shit. The 6th at Arnie's Bay Hill course is a dramatic par five; the fairway curls away from you in a dog-leg left, winding along the side of a lake for about 560 yards. It's one of the ultimate risk/reward holes: depending on how much water you cut off you can considerably shorten your second shot.
To clear the water at its widest point requires a carry of some 310 yards. "That's a hell of a carry," the commentator remarks as Daly lumbers onto the tee box on the final day. "Balls," says Daly, "I'll swallow it and run a mile." He cranks out the driver and puts it in the water.
Time for a rethink. He moves to the forward tees, drops, and takes out the 3-wood: which he uses to put his second, third and fourth balls into the water. "Mmmm. Is this the right approach?" he wonders. "Yeah, I reckon it is," he replies, and sticks another ball in the lake. Oh, and then another.
His 13th shot finds terra firma and, a couple of irons and a handful of putts later, Big John hunkers down with calculator and abacus and tots it all up. It comes to 18. Staunchly, Daly goes on to birdie the next hole and turn in an 85. Eighty-five off the back tees at Bay Hill? Come on, most of you would be having a party...