Solheim Cup 2019
Sep 14th, 2019
Solheim Cup Day 2
Honours even after a very very long day
Words: GolfPunk Photography: LET
It was a brutal day at Gleneagles with high winds, rain and low temperatures testing the mettle of both teams. Team USA came out narrowly on top taking the afternoon fourballs by 2½ matches to 1½ after the morning foursomes had been shared.  So, it is all tied at 8-8 ahead of the twelve singles today and the Americans, given their past record in singles, must be viewed as the favourites.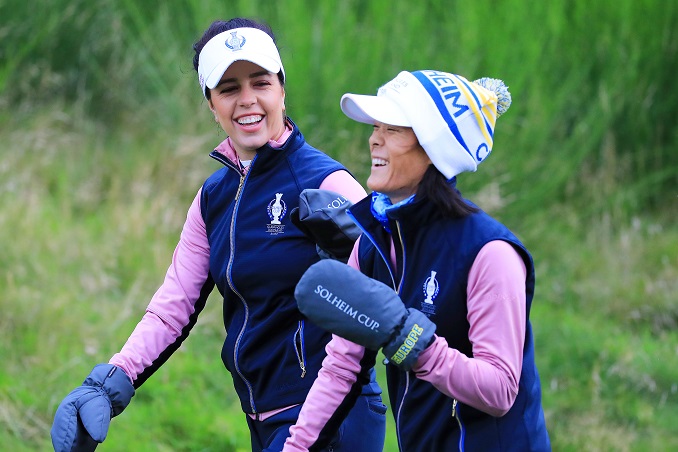 Honours were even in the morning foursomes with it finishing 2-2.
Charley Hull and Azahara Munoz continued their unbeaten run with a comfortable victory by 4&3 against Megan Khang and Danielle Kang. Hull has taken 2½ points from a possible 3 as has her countrywoman Georgia Hall who with partner Celine Boutier saw off Lizette Salas and Ally McDonald by a score of 3&2 in the foursomes.
The Korda sisters picked up where they left off in the Friday foursomes, this time taking out Bronte Law and Carlota Ciganda by 6&5. However, this time it was steady par golf in the tough conditions that produced the result. The Americans were only level par when they shook hand, or hugged, on the  13 holes. Law and Ciganda struggled in the windy conditions with six bogeys.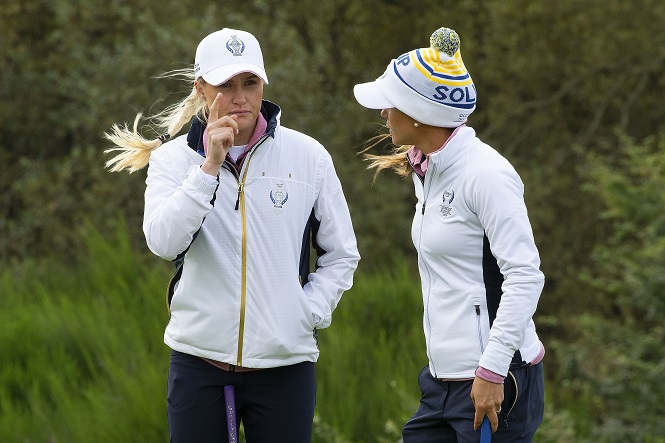 In the top match Anne van Dam and Anna Nordqvist came flying out of the gates, taking a four up lead after only six holes. Sadly, their game unravelled on the back nine and they finally succumbed to Morgan Pressel and Marina Alex by a score of 2&1.
The afternoon session was once again a very long affair as it became the Slowheim Cup once again. Each of the fourball matches was put on the clock at some point as the matches yet again took three hours to play nine holes. Lizette Salas, a serial offender, was again warned and there were guilty parties in the Europe team as well.
In fairness the conditions were wretched with winds gusting up to almost 50 miles per hour at times. One would have thought this would have suited the Europeans best but it was the Americans who looked the strongest with, at one point, a whitewash in Team USA's favour looking like a real possibility.
In the top match Suzanne Petterson demonstrated why Catriona Mathew had shown faith in her by selecting her as one of her captain's pick. Petterson belied the weather conditions with some great golf. Sadly, her rookie partner, and star of the day one fourballs Anne Van Dam had a very bad day at the office. Their match with Brittany Altomare and Annie Park did go to the 18th hole but neither European could find the birdie required to square the match.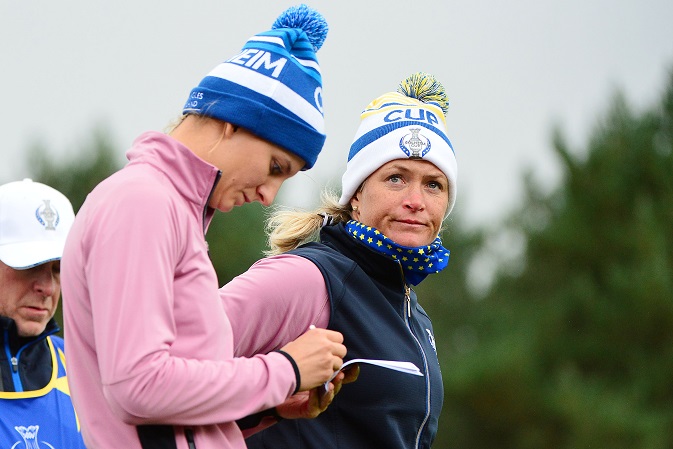 England's Jodi Ewart Shadoff and Germany's Caroline Masson had a real up and down battle with Lexi Thompson and Marina Alex. There was never more than one hole in it and theirs was another match that went to the final hole.
Both Lexi Thompson and in particular Caroline Masson had birdie putts to take the match. Having seen Thompson miss Masson saw her putt agonisingly lip out to leave honours even.
The match of the day from a European perspective was that of Georgia Hall and Celine Boutier versus Ally McDonald and Angel Yin.
The American pairing that had crushed Anna Nordqvist and Caroline Hedwall in the Friday fourballs by a record equalling 7&5 looked to be strolling to another easy victory when they raced in to a four up lead after just seven holes.
The Europeans hung on in the match pegging back the Americans' to just two holes but looked down and out when McDonald and Yin took the 13th hole to be three up with five to play. However, Hall and Boutier had other ideas and from somewhere found some spectacular golf in the awful conditions.
Boutier started the comeback by driving the short par four 14th and holing a long putt for an eagle two. Par from Hall was good enough to take the 15th and when Boutier sank her birdie putt at the 16th the match was back to level.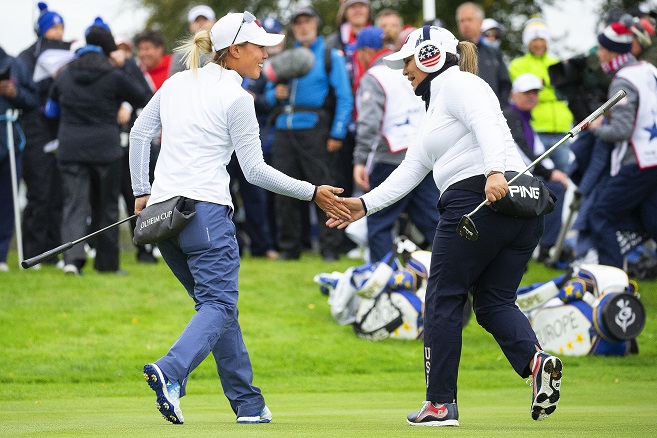 The Europeans now had the momentum and the fight seemed to go out of the American duo. A par from Hall was enough to take the short 17th and the match was sealed on the final hole by yet another Boutier birdie. In the gloom and high winds of the early evening the European duo had covered the final five holes in an amazing four under par.
In the final game Lizette Salas and Danielle Kang always looked in control but it took them until the 17th hole to see off the spirited Spanish pairing of Carlota Ciganda and Azahara Munoz. This match lost ground on the matches in front with both Salas and Ciganda being issued warnings for slow play.
SATURDAY FOURSOMES RESULTS
Morgan Pressel and Marina Alex (USA) defeated Anna Nordqvist and Anne Van Dam (Europe) 2&1
Georgia Hall and Celine Boutier (Europe) defeated Lizette Salas and Ally McDonald (USA) 3&2
Charley Hull and Azahara Munoz (EUR) defeated Danielle Kang and Megan Khang (USA) 4&3
Jessica Korda and Nelly Korda (USA) defeated Carlota Ciganda and Bronte Law (EUR) 6&5
EUROPE 2 USA 2
OVERALL EUROPE 6½ USA 5½
SATURDAY FOURBALL RESULTS
Brittany Altomare and Annie Park defeated Suzann Pettersen and Anne Van Dam 1 up
Jodi Ewart Shadoff and Caroline Masson halved with Lexi Thompson and Marina Alex
Georgia Hall and Celine Boutier defeated Ally McDonald and Angel Yin 2 up
Lizette Salas and Danielle Kang defeated Carlota Ciganda and Azahara Munoz 2 up
USA 2½ EUROPE 1½
OVERALL EUROPE 8 USA 8
SUNDAY SINGLES PAIRINGS (USA first) plus tee-off times (UK time)
11:40 Danielle Kang versus Carlota Ciganda
11:52 Nelly Korda versus Caroline Hedwall
12:04 Lexi Thompson versus Georgia Hall
12:16 Annie Park versus Celine Boutier
12:28 Angel Yin versus Azahara Munoz
12:40 Megan Khang versus Charley Hull
12:52 Lizette Salas versus Anne Van Dam
13:04 Jessica Korda versus Caroline Masson
13:16 Brittany Altomare versus Jodi Ewart Shadoff
13:28 Marina Alex versus Suzann Pettersen
13:40 Ally McDonald versus Bronte Law
13:52 Morgan Pressel versus Anna Nordqvist
And another thing...