Solheim Cup 2019
Sep 14th, 2019
Europe win Solheim Cup
Unbelievable, totally unbelievable
Words: David Adair Photography: LET
You couldn't write the script. It all came down to the last putt on the last green and standing over that putt was none other than, controversial captain's pick, the superb Suzann Pettersen. With nerves of absolute steel Pettersen stroked the putt right into the centre of the cup and the crowd went wild. Your writer's children wondered what was going on with their father shouting at the television – "Unbelieveable, totally unbelievable".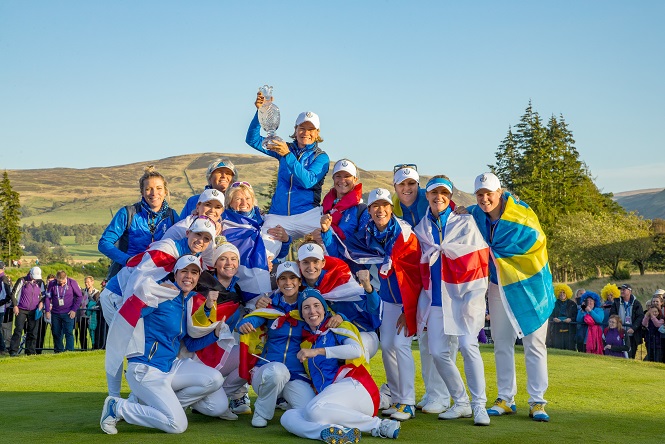 As the afternoon progressed and European short putts slipped by the cup in match after match the feeling was that the cup was slowly slipping the way of Team USA. Europe dug deep and we started to believe again but when Anne Van Dam missed a putt on the 18th to lose by a single hole the odds looked stacked against Europe.
With three matches left out on the course USA led by 13½ points to 11½. Anna Nordquist looked certain to win but both Suzann Pettersen and Bronte Law were level in their matches. The Americans needed just a half point from the two tight matches to retain the Solheim Cup it was to be a half point that would ultimately elude them.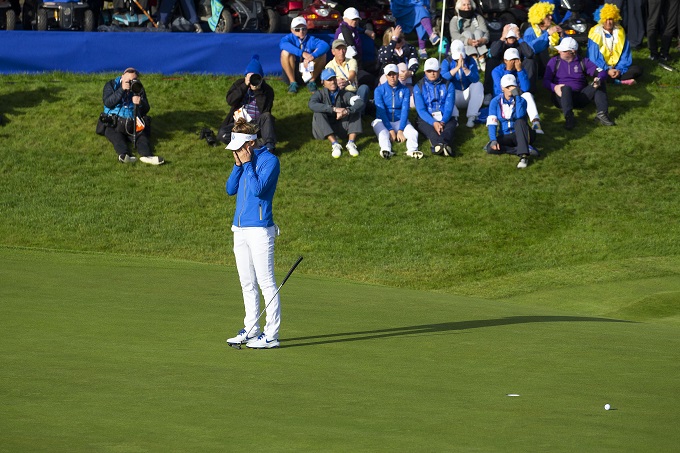 When Bronte Law took two to get out a bunker at the 15th everyone watching feared the worst. But her opponent Ally McDonald let Law off the hook. The Englishwoman holed from some six feet to grab a half and then holed a putt from more than double the distance at the 16th for a birdie to take a one hole lead.
Meanwhile Suzann Pettersen was coming up the 18th level with the American rookie Marina Alex. Both players had laid up short of the green. Pettersen had to win the hole otherwise Team USA would at least retain the Solheim Cup.
Pettersen nipped her approach perfectly, it pitched some 15 feet beyond the pin then grabbed and span back down the slope to some six feet below the cup. Alex held her nerve but her approach stopped around ten feet above the hole.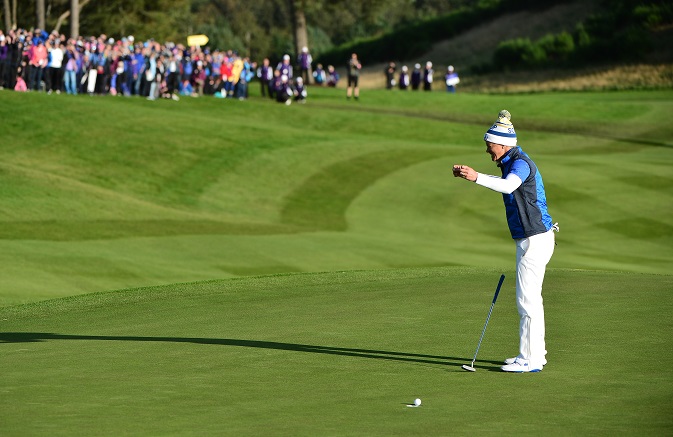 Alex's birdie putt slid by the hole and as Pettersen was lining her up putt there were further developments back at the 17th. Law had found the centre of the green and putted up for a gimme par. Ally McDonald had been bunkered off the tee and had a putt to extend the match. McDonald missed and so all eyes returned to Pettersen, that putt was now for the Solheim Cup.
The rest is history. A woman who had hardly played any golf in the last year and was a surprise pick for the team struck a beautiful putt to win the 2019 Solheim Cup.
UNBELIEVABLE!
And another thing...