Ryder Cup 2016
Oct 2nd, 2016
The Ryder Cup Sunday Singles Predictions
We think we know the winners...
Words: Daniel Owen Photography: Getty Images
This is it. Just the singles matches left. This Ryder Cup has been truly brilliant, and for as much as the American crowds at Hazeltine have been infuriating it's made for great TV. We've gone down the pairings, and made our predictions. It's going to be a battle out there, but we think the Europeans can do this. COME ON EUROPE!!!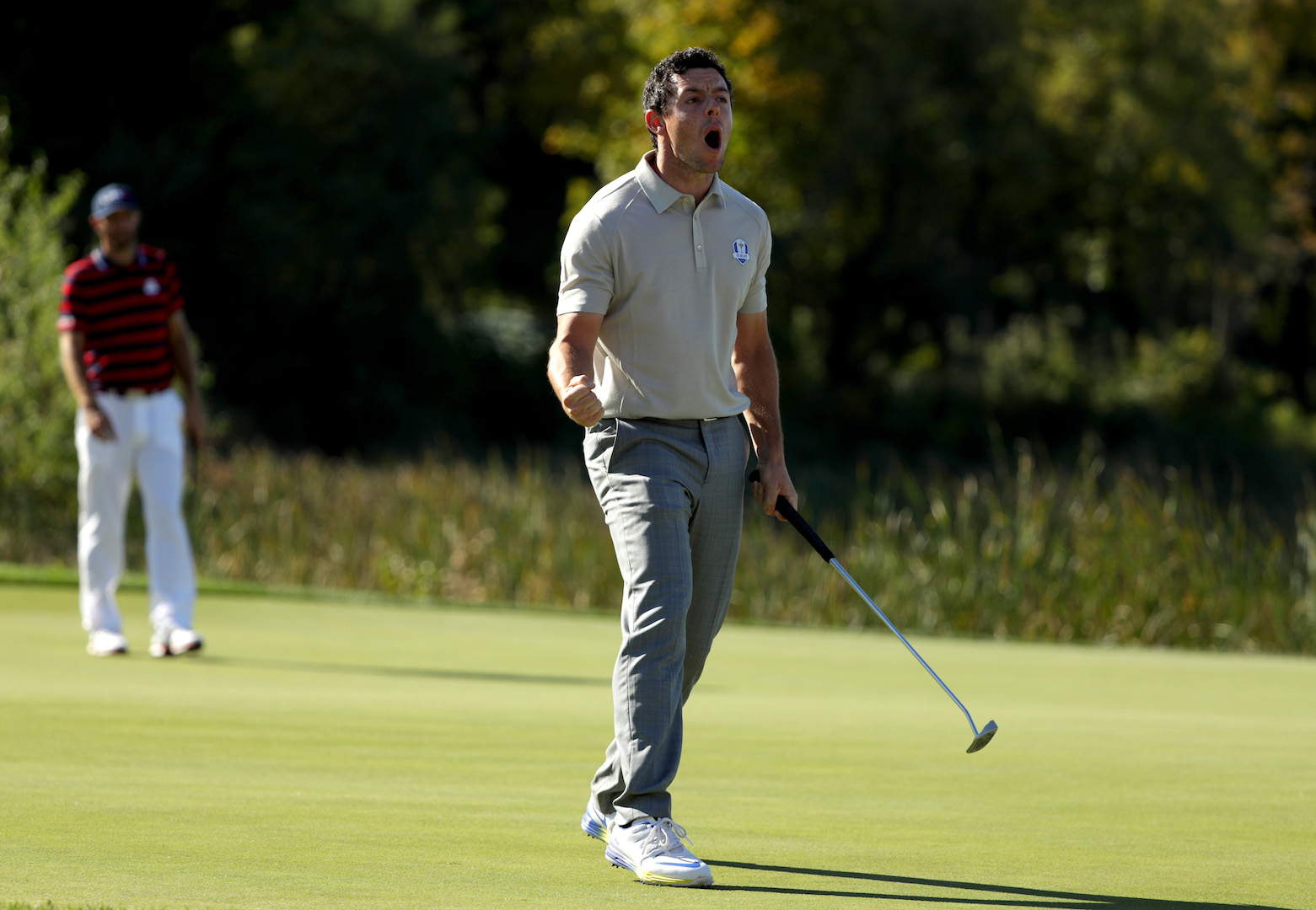 5.04pm Patrick Reed v Rory McIlroy
Half of Jatrick Spreeth, by far the most annoying USA pairing this time around, Patrick Reed is that thing that America haven't had for so long. He is their talisaman, their Ian Poulter. What they always hoped Tiger Woods would be but never managed.

However this Ryder Cup has ignited a fire in the belly that no one knew was there in Rory McIlroy. Not only has he lead from the front, full of passion and aggression, he's doing it as the best player on the team. Ian Poulter played well at Ryder Cups, but he didn't have the game to dominate a player like Rory does. Europe Win
9.5-7.5
Jordan Spieth (US) v. Henrik Stenson
Jordan Spieth is the games best putter. Henrik Stenson is the best three wood player in golf. Spieth has 2.5 points out of 4, Stenson only 1 out of 4, but where Spieth has been pulled through on Reed's slipstream, Stenson has been weighed down by Rose and Fitzpatrick. And has anyone noticed how well and how often Stenson is hitting driver off the tee? Stenson takes this in a tough battle. Europe Win
9.5-8.5
5.15pm Jordan Spieth v Henrik Stenson
Every Ryder Cup a star is born. This time it's been Thomas Pieters. The second Belgian Bomber (Nicky C will always be the original) has taken to spanking the yanks like a duck to water. He's played all four sessions so far, which nobody would have expected. But this is a guy who can bomb it with the best and has proved himself to be able to hole out under pressure. Full of self belief, we just can't see him losing against fellow boomer J.B. Europe Win
9.5-9.5 Europe draw level
5.37pm Rickie Fowler v Justin Rose
Neither man has been in particular good form this week. Fowler needs to get a grip on his swing, but he has not looked great this year. Rose has made a few mistakes this week, but under the gun, on his own ball, he'll believe in himself to get the job done. Europe Win
9.5-10.5 Europe take lead
5.48pm Jimmy Walker v Rafa Cabrera Bello
Jimmy Walker is a major Champion with a tidy, if ginger beard. But Rafa is a Spaniard in the Ryder Cup. It's what they were born for, we're convinced! That half yesterday morning was one for the ages. We think Rafa halves this in a ding dong battle. Half
10-11
5.59pm Phil Mickelson v Sergio Garcia
I'm not sure where to start. Phil is all over the show, but will always be a danger holing putts from all over the show this week. Sergio has been playing great, but has had a couple of suspect moments on the greens interspersed with some brilliance. Call me a fence sitter, but this has a half all over it. Along with Rory-Reed, this should be the game to watch. Half
10.5-11.5
6.10pm Ryan Moore v Lee Westwood
Lee Westwood needs his redeeming moment. One of the greatest Ryder Cup players ever, he's had a shocker this week. That missed putt last night will hurt. We wouldn't be surprised to seem him throw in another putter, as he's always been willing to change it up to make a difference on the greens. Lets face it, he's desperate. Ryan Moore came into this week arguably the third hottest player on the planet after Dustin and Rory, he has one point form two matches. We think he takes Westy here. USA Win. 11.5-11.5
USA draw level
6.21pm Brandt Snedeker v Andy Sullivan
Imagine how good Rory McIlroy or Sergio Garcia would be if Brandt Snedeker hit every putt for them? You'd have the best player on the planet by a mile, it's scary how good he is on the greens. Sully is no slouch with a putter Unfortunately he's been thrown under the bus a little bit, only getting one game so far at Hazeltine. This will be a really tough game. but we think Sullivan has a point to prove, and will edge it down 18. Europe Win
11.5-12.5
Europe lead
6.32pm Dustin Johnson v Chris Wood
On paper Wood hasn't got a chance. Paper doesn't hit the shots though, and Wood has looked pretty comfortable in his first Ryder Cup. Been strange that Dustin hasn't played all five sessions, and he's playing well. Could Chris Wood have his Constantino Rocca moment? Remember when he beat Tiger Woods in the singles 4&2? We would love it but it's a big ask. USA Win.
12.5-12.5 USA level
6.43pm Brooks Koepka v Danny Willett
Brooks is good. He might eventually be great. He bombs it. And he looked comfortable in the cauldron. But Danny can't let any of that matter, as he has to 'Willett' in the hole. He's the Masters champion, he needs to draw on that and play as well as we know he can. Come on Danny, you can do it. Europe Win
12.5-13.5 Europe lead
6.54pm Matt Kuchar v Martin Kaymer
Kaymer could play Kuchar's gran and lose this game. He's a double major winner, but Kaymer has lost his way. He doesn't look like he can find his game in time for the singles to us. We hope he doesn't go down as Captain Clarke's biggest mistake. Us? We'd have taken Beef. USA Win
13.5-13.5
7.05pm Zach Johnson v Matt Fitzpatrick
After all that we think it's coming down to the very last match. Zach Johnson is 42, with two majors, some terrible sunglasses, and god on his side. Fitzpatrick is 22, in his first Ryder Cup, and hasn't won a point yet. He looks like he's bunked off school to play this week. But it doesn't matter. He's looked comfortable, and he's been backed to be a major winner by some of the best names in golf. We think the milky bar kid brings it home against the old gunslinger. Europe Win
13.5-14.5
Europe to win the Ryder Cup!!!