Players
Jul 24th, 2015
Rake Rat's Revenge
Allenby's Caddie Legs It Mid Round
Words: Tim Southwell Photography: Getty Images
Rake Rat's Revenge: Robert Allenby's caddie Mick Middlemo was either sacked or resigned mid round after an ugly altercation between the two...
Allenby says he sacked his caddie mid-round at the Canadian Open after disagreeing over club selection, but Mick Middlemo claims he chose to walk off in Ontario because of a series of "personal insults" thrown at him by the Australian. This is the third time that Allenby has lost a caddie in the middle of a round. The 44-year-old Australian, who shot 81 and withdrew from the tournament, said: "My nerves have been rattled. I'm in shock. This is the worst incident I've ever witnessed as a player."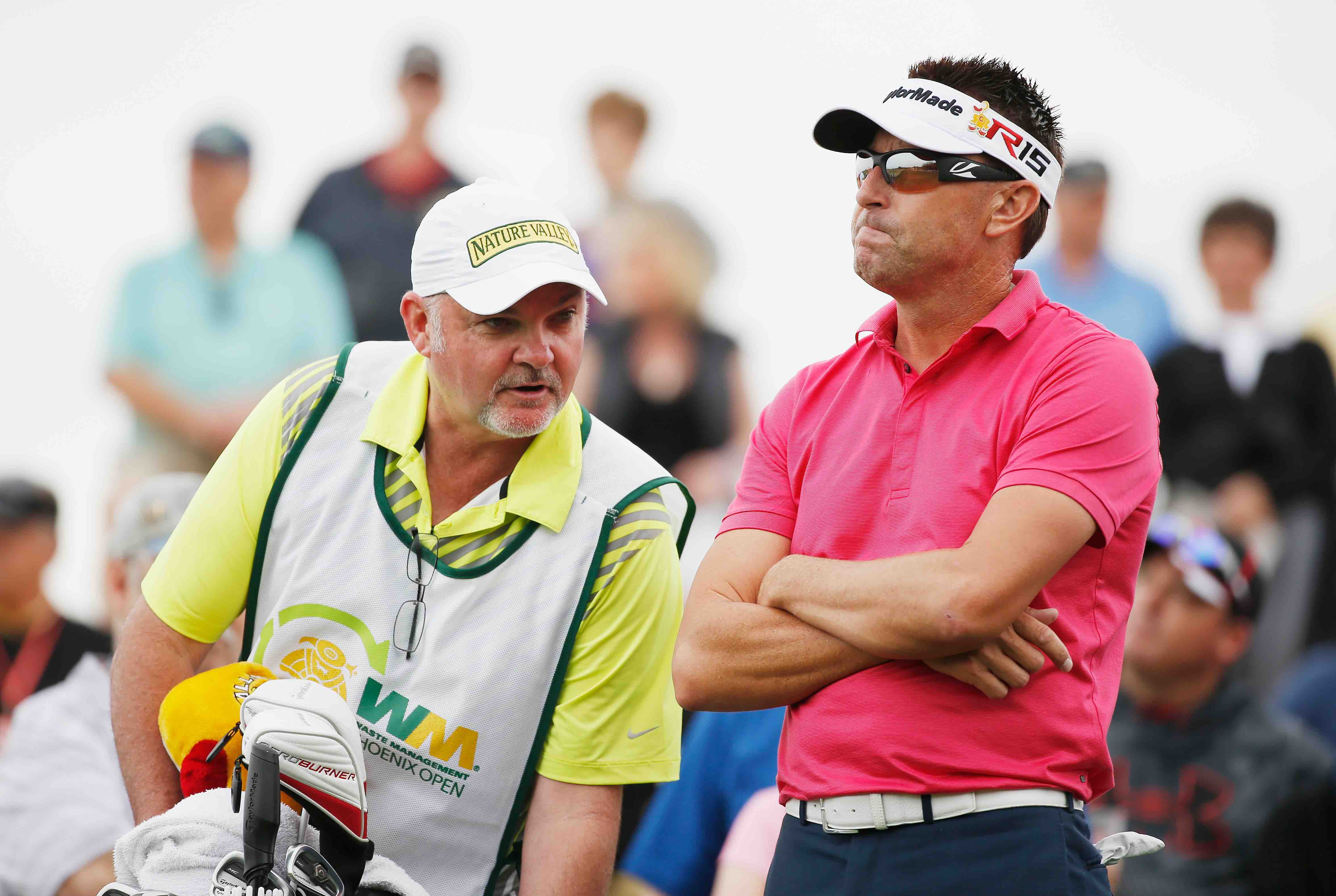 Above: "Say that again, and I'll shove this niblick where the sun don't shine. Even in Australia."
The confrontation occurred on the par-five 13th when, on the advice of compatriot Middlemo, Allenby hit an eight iron into the green but found a creek and eventually made a triple-bogey. The four-time PGA Tour winner said he told Middlemo: "You know this happens every week. We keep making bad mistakes and you're not helping me in these circumstances." Allenby added: "He just lost the plot at me. He got right in my face as if he wanted to just beat me up. I said, 'Stop being a such-and-such and calm down and get back into the game.' "And he just got even closer and closer and I just said, 'That's it, you're sacked. I will never have you caddie again.'"
Middlemo had a different version of events: "Robert's a pretty highly strung individual and he hasn't been playing great of late," he told Australian radio station SEN. "We had a discussion about a club, then of course I copped the wrath of that. Then unfortunately the personal insults started. I've been called a bad caddie ... but when the personal insults come in and you're being called a fat so-and-so ... I got a little bit peeved by it and then the third time he said it I walked up to him and basically said 'I dare you to say that to me again'.
"He didn't say it again. There was never going to be any violence. I was just going to put the bag down, get my gear and leave."
Allenby carried his own bag to the first hole - his 10th of the day - before a 61-year-old school principal took over for the rest of the round.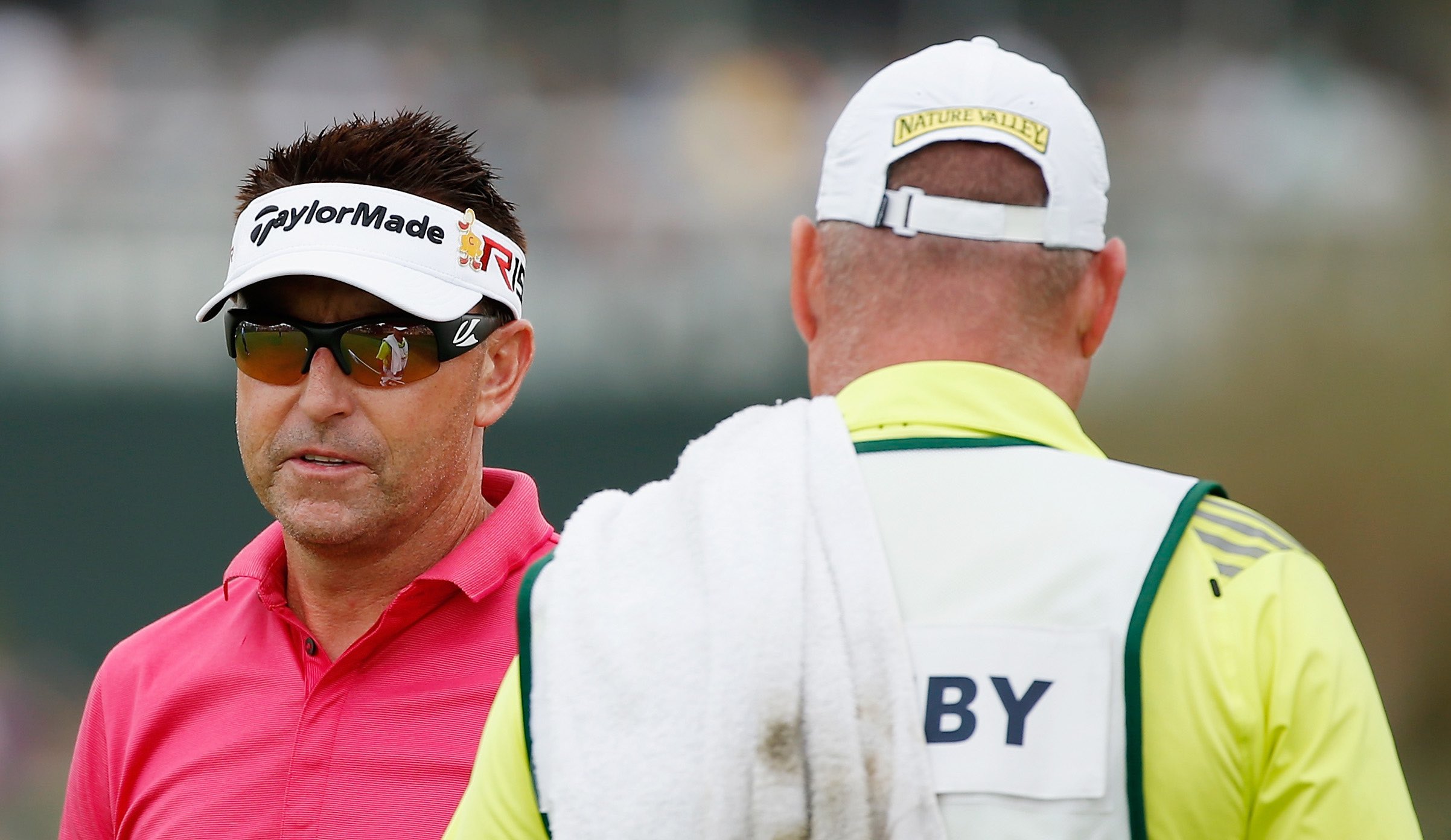 Above: "Put... the.. flag... down... Mick..."
The Australian has been left caddie-less twice before. At the 2007 BMW Open, then-caddie Matthew Tritton dumped the bag near the seventh tee, removed his bib and walked off. Another of his previous caddies quit during the 1995 Open Championship at St Andrews.
Allenby made headlines in January when he claimed he was mugged and robbed after he missed the cut at the Sony Open in Hawaii. Police later arrested a man who pleaded guilty to using the golfer's credit card.
In other news, Argentina's Emiliano Grillo shot an eight-under-par 64 to lead by one after the first round.
TAGS: Robert Allenby's Caddie, Robert Allenby's Caddie Walks Off, Players, 2015, Robert Allenby