News
Aug 14th, 2020
Caddie loses his man the match
Inexplicable rules infringement at US Amateur
Words: GolfPunk Photography: @GolfChannel
Segundo Oliva Pinto was all square with Tyler Strafaci heading down the 18th hole in their last 16 match at the US Amateur when his caddie's actions led to him losing the hole before even getting to the putting surface.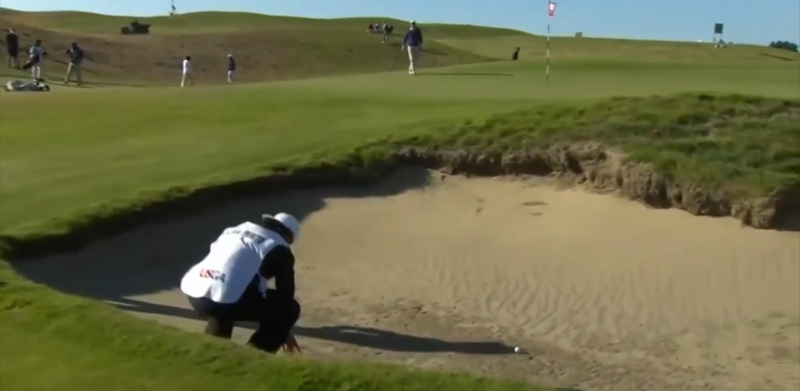 Oliva Pinto was in a greenside bunker on the 18th hole when his caddie, a local Bandon Dunes caddie Brant Brewer, decides to get down into the bunker and test the sand with his hand! A clear breach of the rules for which the penalty in match play is loss of hole.
Rule 12.2b states that a golfer or caddie must not deliberately touch sand in the bunker with a hand, club, rake or other object to test the condition of the sand to learn information for the next stroke.
Strafaci did not see the incident but his eagle-eyed father did and he reported it to the referee.
"As soon as I get back there, the referee comes up and asks my caddie what happened, and I'm completely shocked," Oliva Pinto said after the match.
"I'm just trying to get this shot near and try and make an up-and-down and win the match. He touched the sand or something, and that's a penalty.
"He didn't say anything. At this point, it doesn't really matter. What happened, happened. He can say anything, but it won't change what happened."
Hats off to the man for taking the loss so well but he must be seething as it was not even a marginal call but a blatant breaking of the rules!


TAGS: News, Rule Of Golf, US Amateur, 2020
---
And another thing...