News
Sep 7th, 2016
Roger Maltbie reunited with winner's cheque for $40,000.00!!!
Lost since 1975!
Words: Tim Southwell Photography: Getty Images
There's nothing better than winning a golf tournament and going out on the tiles with your pals to celebrate. I imagine...
Anyway that's exactly what Roger Maltbie did on July 20th 1975 after he won the Pleasant Valley Classic at the Pleasant Valley Country Club in Massachusetts. A great time was had by all apparently but when Maltbie woke up the next day he couldn't find his winner's cheque.
In those days they gave you normal sized cheques which were pretty easy to misplace compared to the bus-sized billboards they give you these days.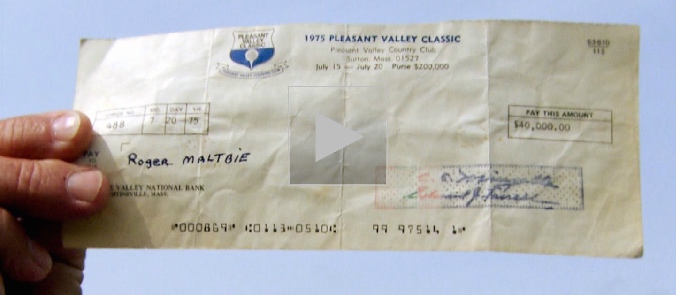 "I don't know how long I sat there," says Maltbie of that fateful weekend, "but it took a little while until I realized I won the day before. I was going to get a newspaper and read about how cool I am. Then I reached into my pockets and I'm like, 'Oh, s—. Something bad's happened here.'"
It turns out the man Johnny Miller affectionately calls "Rog" had "misplaced" the cheque and was convinced he'd never see it again.
All was not lost as the PGA took pity and wrote him out another cheque but it really isn't the same is it? (Isn't it? – Ed)
Luckily for Rog, the owner of the bar where he lost the cheque found the missing cheque soon after and let Maltbie know. (Just where is this story going?! – Ed). They agreed that since he already had the cash, the bar would frame and display it along with their other golf memorabilia. After the bar shut down, the cheque was returned back to Pleasant Valley Country Club.
Related:
Beef interviewed by sock puppet – duets rap song