News
Apr 9th, 2018
Drug Cheats Least Likely to be in Golf, Say 90% of Fans
Words: GolfPunk
From former Tour de France champion Bradley Wiggins crossing an "ethical line" with the use of a powerful drug to prepare for races, to claims a quarter of English Football League players were not drug tested by UK Anti- Doping (UKAD) last season. Doping in sport is a reoccurring and divisive topic. But what about golf?
Golfsupport.com sought to uncover how fans feel about performance enhancing drugs in sports, by analysing findings reported by YouGov – including the opinions of a weighted sample of 1,652 respondents.
When asked, 'Would you say the following sports do have a problem with performance enhancing drugs?', Golf Support found fans believe those in Athletics (69%), Weightlifting (57%) and Cycling (54%) are most likely to compete with the assistance of performance enhancing drugs. Tennis and Swimming also hold high responses, at 35% and 33% respectively; proving savvy fans to be most suspicious of cheating in these fields.
At the other end of the scale, sports fans believe sports players in Rugby (20%), Cricket (13%) and Golf – with an exceedingly low 10% - to be least likely to abuse drugs in sport.
Who is responsible for drug abuse? The athletes themselves, according to 39% of respondents. Closely followed by the coach and team (32%) and the country the athletes represent – at 9%.
It may come as no surprise that Russia (76%) was coined the country most likely to drug cheat, with the USA (45%), China (39%) and Britain (32%) next in line.
Kenya (29%), France (23%) and Australia – with 19%, were identified as the most "honest" countries, least likely to cheat with performance enhancing drugs. Ironic, seeing as the Australian cricket team's cheating and "sticky-tape lies" hit the headlines just last month; though drugs were not a factor.
58% of fans state they do care if athletes use performance enhancing drugs to compete; while 32% do not care.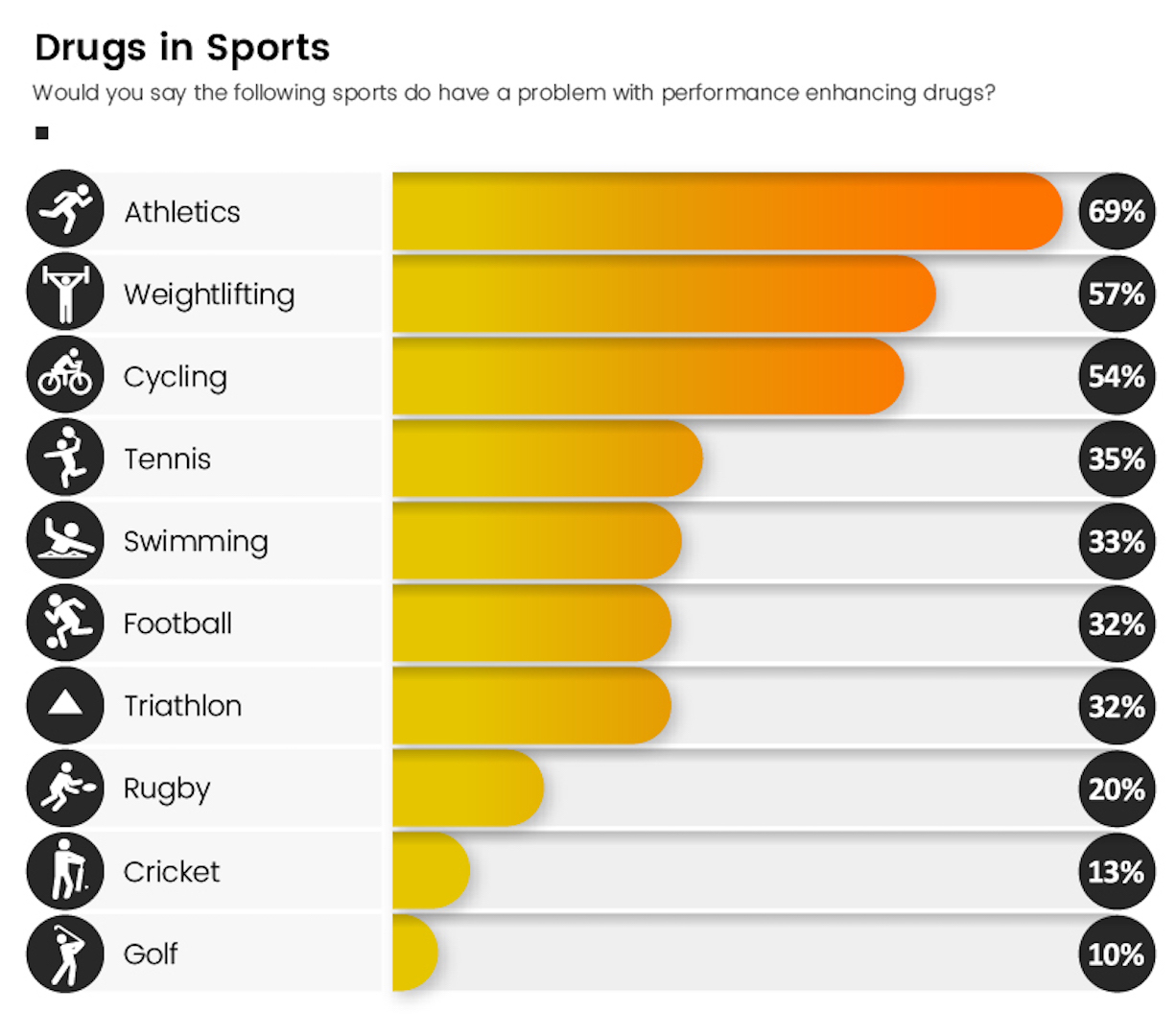 You might also like:
GolfPunk Magazine Issue 2: Read FREE here!! Masters Special PLUS WIN an amazing golf break at the legendary Kulm Hotel in St.Moritz PLUS a 4-Ball at Europe's best new course, Monte Rei