News
Oct 1st, 2015
Day One At The Dunhill
Walker Pups takes the lead
Words: Conor Froud Photography: Getty Images
Day 1 Review of the Alfred Dunhill Links Open 
It's that time of year again when a high quality European Field makes the trip up to Scotland for the slightly obscure tournament setup of the Alfred Dunhill Links Championships which takes place at three different Golf Courses over a period of four days.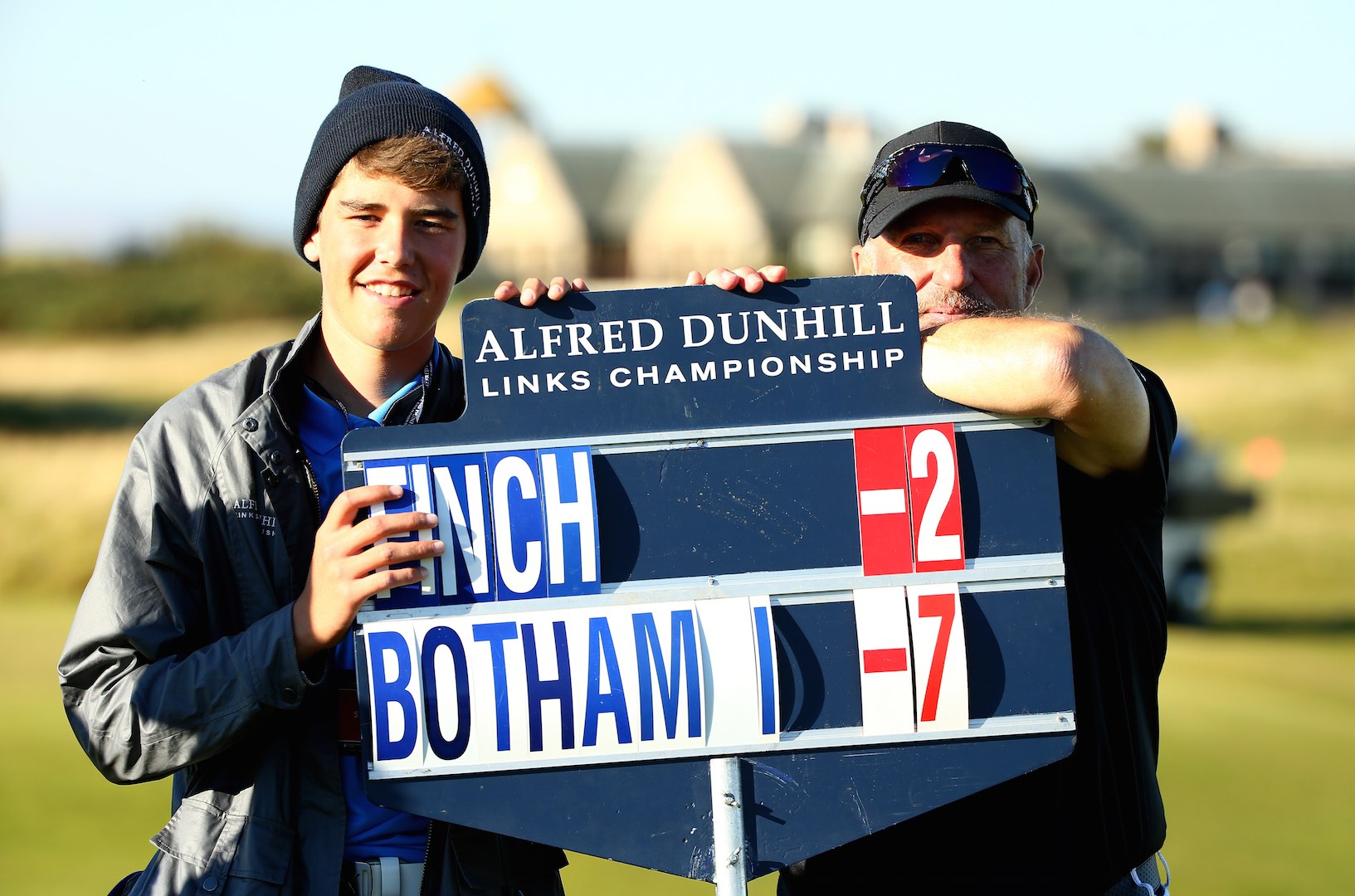 "I'm with Beefy!"
We were treated to not one but a pair of leaders after Round One. The first was the Sweede Christopher Broburg who shot a faultless eight under par round of 64 around the Old Course at St Andrews. His round included 8 birdies and not one dropped shot to leave him in a great position after his first round however he is yet to win on the European Tour so he will be desperate to buck the trend at St Andrews on Sunday.
Walker Pups A Go-Go!! Paul Dunne leads his charges to the top of the Dunhill Leaderboard
Joining him at the top of the leader board was Englishman Jimmy Mullen. His 64 was much more exciting, mixing eight birdies and an eagle in with two bogeys to shoot the lowest round at Kingsbarns Golf Course on the day. After only just turning professional it was a sensational day for the 21-year-old who won all four of his matches v the USA at the Walker Cup earlier this year. 
'So Canizares gets Johan Cruyff and we get some bloody cricketer?!" News that Alvaros Quiros is paired with Alan Lamb doesn't go down well.... 
If his first day of being a professional is anything to go by English golf fans will be purring in anticipation of what this sensational talent could become over the next few years of Professional Golf.
Kingsbarns offered the lowest scoring of the day with Irish Open Champion Soren Kjeldson, Anthony Wall and British Open Star Amateur Paul Dunne all shooting seven under par on the Links Course. 
Soren also had a faultless day at the office and after coming home in just 31 shots he will be full of confidence going in to Round 2 despite having arguably the easiest Golf Course to play on his first day. 
However, don't be too quick to count out European Stars Martin Kaymer and Graeme McDowell who both shot four under par rounds of 68 on the brutal Carnoustie which can destroy even the finest golfer's cards. With their wealth of experience and international talent, these two stars may be able to take advantage of the more forgiving courses over the next few days and make inroads on our shock leaders of the day. 
"I was in The Godfather, you know... which one isn't important..."
After such a thrilling first day of golf it shows the European Tour still can attract the games biggest stars like former World Number 1's Lee Westwood and Luke Donald as well as American young Starlet Brooks Kopeka. Played across brilliant courses at an exciting time of year with the end of season finale's coming up, its clear this Alfred Dunhill Links Championship is a tournament you just have to watch.
You can look away all you like, mate, but you're still wearing those trousers.
With a prize fund of US$5 million, the championship incorporates two separate competitions - an individual professional tournament for the world's leading golfers and a team event in which the professionals are paired with some of the most celebrated amateur golfers which creates a unique atmosphere.
Leaders in the Team Championship were Moritz Lampert & Christer Lihammar on 13-under, one shot ahead of Jared Harvey & Michael Zamkow and Dunne and talented young 16-year-old Scottish golfer Keith Bowman. A further shot back was Marcus Fraser and another brilliant young local golfer, Sandy Scott, 17, who was only invited to play in the Championship 48 hours earlier.
Among the celebrity amateurs playing are film stars Andy Garcia and Hugh Grant, rock 'legends' Don Felder, Ronan Keating and Huey Lewis and many great sporting idols including Sir Ian Botham and Sir Steve Redgrave, who have both played in all 15 Alfred Dunhill Links Championships, cricketers Kevin Pietersen and Shane Warne, Irish rugby star Brian O'Driscoll, record-breaking jump jockey A.P.McCoy, star international footballers Michael Ballack, Johan Cruyff, Alessandro del Piero, Ruud Gullit and Andriy Shevchenko, and popular Wimbledon hero Tim Henman.
TAGS: Dunhill 2015, John Daly Golf Swing, News, 2015