News
Apr 6th, 2018
Day one at the 2018 Masters: the GolfPunk wrap
Spieth leads as Garcia implodes with a 13
Words: James King
Day One of perhaps the most eagerly anticipated Masters is now in the books, and it was always going to be a challenge for this tournament to live up to the extraordinary hype surrounding it.
From Tiger threatening to disappoint, through Sergio having what can only be described as a Masters Meltdown, to Jordan dominating, here are the key talking points from Day One of The Masters 2018.
Oh No, Sergio:
We all knew it was going to be a tall task for Sergio to defend his Masters title. Having finally broken his Major duck, no one would begrudge Sergio simply turning up, serving a paella at the Champions dinner and taking a pretty leisurely stroll whilst smelling the Azaleas and basking in the adoration of Augusta's patrons.
Unfortunately, everything fell apart after the paella.
5 balls in the water, and a record breaking 8 over 13 at the 15th mean that it's looking like Sergio will join Danny Willett as the second Masters champion to miss the cut since 2014. Tomorrow is, of course, another day, but at +9 and second to last in the tournament, it's going to take something quite spectacular for Sergio to be here in anything more than a ceremonial capacity over the weekend.
https://twitter.com/CBSSports/status/981975391941246977?ref_src=twsrc%5Etfw&ref_url=http%3A%2F%2Fwww.golfpunkhq.com%2Fnews%2Farticle%2Fnightmare-for-sergio-garcia-at-the-2018-masters-
Tiger Meows:
It's not quite been the rip roaring return to Augusta for Tiger that everyone was praying for. Not a disaster, by any means, but let's just say he's not really easing himself back into Major competition. He's had to work really hard for his 73 today, leaving himself at +1 for the day.
The driver continues to be the biggest issue in the bag, with the big block right being the main miss. Worryingly, however, it's not just the driver that appears squiffy. In the run up to this event his iron play has looked pretty sublime. A miss short and right resulting in a dip in Rae's Creek and a little too much time in Augusta's immaculately manicured bunkers don't bode well for the rest of the weekend.
But, again, it's only day one. And he's Tiger Woods. So hope springs eternal.
Tony Finau Locates a Solid Round:
Tony Finau hits the ball a mile. That shouldn't be surprising, he's a big lad. There is, however, something of the oversized Bambi about him. He's all limbs, and there's something about his loping gait that instills every step with the slight threat of a tumble.
And yesterday, tumble he did. Granted, he'd just hit a hole in one in the par 3 competition, and we certainly would never begrudge a man an exuberant celebration in such circumstances, but as he lolloped backwards towards the hole he caught his ankle, and dislocated the thing. It was pretty graphic. Particularly the moment when he popped it back into place.
https://twitter.com/cjzero/status/981627311660335104?ref_src=twsrc%5Etfw&ref_url=http%3A%2F%2Fwww.bunkered.co.uk%2Fgolf-news%2Ftony-finau-dislocates-ankle-after-ace&tfw_creator=BunkeredOnline&tfw_site=BunkeredOnline
A lesser man might have withdrawn, but Tony's made of sterner stuff. He played, and played well, carding a 3 under 68.
Jordan Dominates: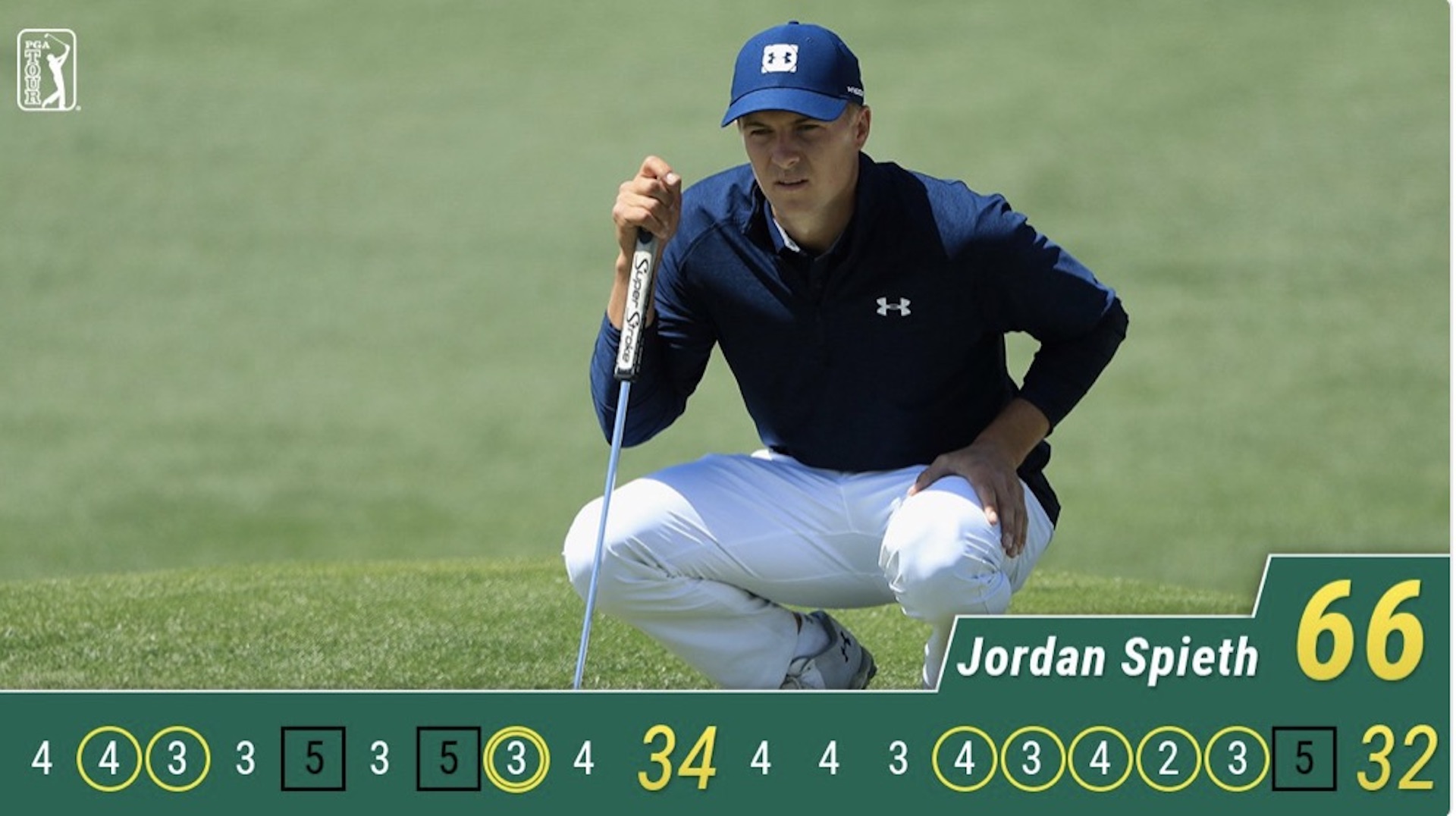 With all the thrilling stories circling this years' Masters. Jordan Spieth has flown somewhat under the radar. Which is slightly ridiculous, given his simply astounding record here.
Jordan, it seems, doesn't like to be forgotten. He's looked superb all day, and his short game, particularly his putting, which has abandoned him for much of the last year, looks back on point. A Spieth win may not write the biggest headlines at the end of the weekend, but if he continues to play like this it might be pretty inevitable.
Rory's lurking at 3 under. But Jordan's looking very strong.