News
Feb 28th, 2016
101 Mistakes all golfers make
And how to fix them - we review Jon Sherman's new book
Words: John Dean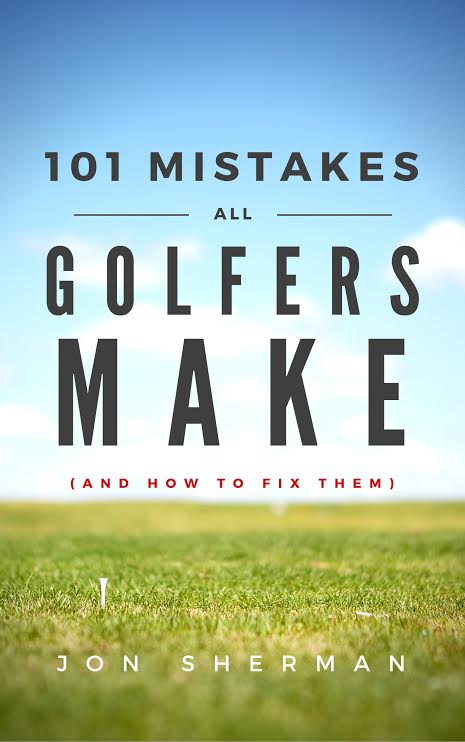 Jon Sherman is not afraid to sock it to us. He's identified 101 mistakes we all apparently make, and then offers solutions to each. How do we begin?
Jon starts his book with a quote from jack Nicklaus, which just about sums up how to play golf well: "Success depends almost entirely on how effectively you learn to manage the game's two ultimate adversaries: the course and yourself."
You got us at Jack, Jon. We all know how hard golf is, but the point of Jon's book is to provide a long-term guide to addressing the multiple issues that we have to address everyday we get out on the golf course.
It's also written from a player's perspective; someone who has broken 100, 90, 80, and even 70. He's not a golf pro, which is probably a good thing, as he can address our various golfing demeanors from a player perspective, rather than that of a Pro.
Now this is not to dis the PGA Pros – far from it. It's about offering a different perspective, and addressing some of the issues that you won't necessarily be talking to your Pro about, such as worrying about what your playing partners are thinking, or your failure to 'smell the roses.'
There are a quite a few mistakes that Jon identifies that we all know, but tend to ignore. Not investing enough in your short game being one of them. Yes, we all know this. And what do we do about it? Normally zip. We all know we are guilty as charged.
It's no harm to be reminded though, and in a way that is what this book is all about.
It's a book to dip in and out of, and keep near the pillow. Jon's not suggesting that we imbibe all his learnings over twenty years, and then walk out and crack 70. Far from it. All he is suggesting is that if we take on board three or four of his suggestions we will become better players.
We like this approach. We're bored senseless with 'How to cure your slice', which graces the front cover of golf magazines worldwide every bloody month.
Whilst we like to accentuate the positives, rather than dwell on the negatives, this personally published book is ultimately about getting more pleasure and satisfaction from your round. It's not a big telling off.
TAGS: 101 Mistakes That Golfers Make, 101 Mistakes That Golfers Make And How To Fix Them, 101 Mistakes That Golfers Make Jon Sherman, News, 2016