LPGA Tour
Nov 20th, 2020
Popov out front in Florida
AIG Women's Open champion leads by two at Pelican Women's Championship
Photography: Getty Images / LPGA
For the first time in her LPGA Tour career, Sophia Popov is the outright first-round leader. The 2020 AIG Women's Open champion set a career-low opening-round of 64 at Pelican Golf Club this afternoon and holds a two-stroke advantage in the inaugural Pelican Women's Championship presented by DEX Imaging and Konica Minolta.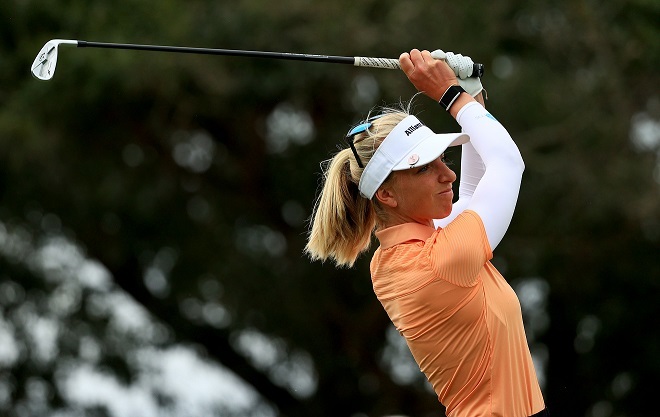 In close pursuit is Ashleigh Buhai after a 4-under par 66, who finished strongly with three birdies in her last four holes. Popov fired a bogey-free, six-under-par 29 on the front nine, which included five straight birdies from the fifth tee.
"I think the way it usually happens is that you're not thinking, and I think that's what was happening," Popov said laughingly. "The putter was pretty hot and I wanted to keep giving myself chances. I felt comfortable on the greens. I wasn't really thinking about the streak, but looking back I saw my scorecard on the leaderboard and was like, 'Wow, that's even better than I anticipated.'"
With gusts exceeding 20 mph in round one and Pelican Golf Club's large undulating greens, Popov was transported back to her victory three months ago at Royal Troon Golf Club.
"I like playing in the wind. I was looking forward to a windy week, and I think it brings the best out of my game," said Popov.
"I think it makes you be a little more creative around the greens. With them being so big, there are many different shots you can hit. I really enjoy that and I think that is where I compare it to the Women's Open, where you're kind of putting from off the green quite a bit. Just used the wind to my advantage instead of fighting it all day. I think I did a good job of that."
In a tie for third is the most recent LPGA Tour champion, Ally McDonald, who won the LPGA Drive On Championship—Reynolds Lake Oconee last month and 2020 KPMG Women's PGA Championship winner Sei Young Kim. Both players opened with a three-under-par round of 67.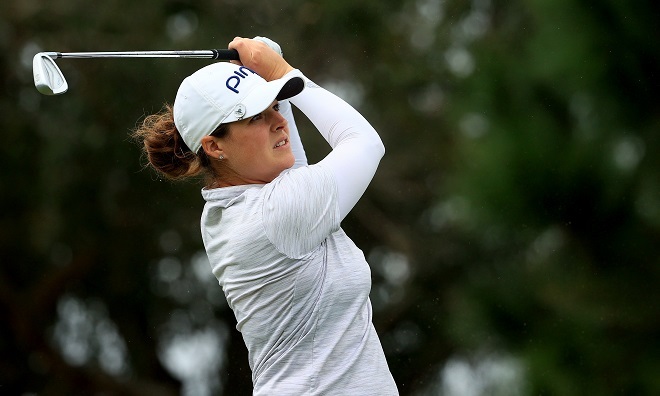 "Honestly, my ball striking wasn't that great, so I felt like my timing was just a little off," said McDonald, who found her way to four birdies.
"My misses were so that I had really good opportunities to get up and down. The putter is what kept me in it today and a solid round going. Hopefully, I can swing it just a little bit better tomorrow."
This is the first start for Kim since capturing the KPMG Women's PGA Championship crown in early October. Following her win at Aronimink Golf Club in Newtown Square, Pa., Kim returned to her native Republic of Korea.
Kim spent two weeks in quarantine before enjoying some celebrations with friends and family, before returning to Dallas to prepare for the Pelican Women's Championship.
"Right after KPMG I went back to Korea and my whole family came to the airport. When I see my mom and dad, I was almost crying. It was very emotional," said Kim.
A total of eight players are tied for fifth after 18 holes including five-time LPGA Tour winner Minjee Lee and Brooke Henderson of Canada. Meanwhile, Yu Liu was disqualified for bizarrely failing to sign her scorecard.
A few weeks ago, Jodi Ewart Shadoff sprained her sacroiliac joint while unplugging a charger from the wall. "Not even a fun story," said the Englishwoman.
Ahead of the Pelican Women's Championship presented by DEX Imaging and Konica Minolta, she took three weeks off to heal and eased back into practice form while doing physical therapy.
"This is the first time I've walked 18 holes since the KPMG [Women's PGA Championship]," said Ewart Shadoff, who recorded a first-round 68 on Thursday at Pelican Golf Club.
"Just started with short game and then kind of gradually hit one more club every day and worked myself up. I didn't try to rush back or anything. I've probably been practicing for the last two weeks or so."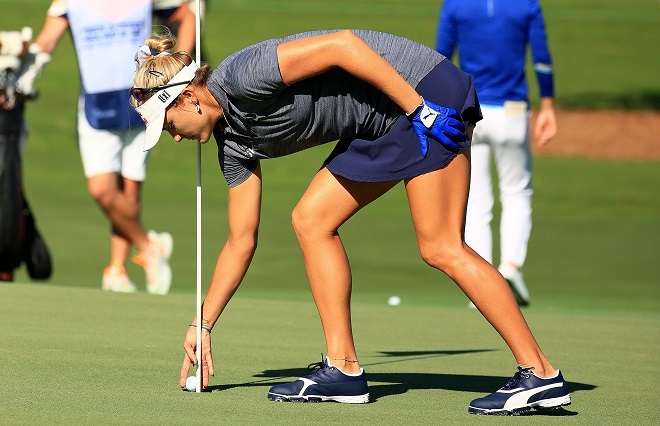 Meanwhile eleven-time LPGA Tour champion and three-time Solheim Cup Team USA member, Lexi Thompson made the 10th hole-in-one of the 2020 LPGA Tour season as she found the bottom of the cup at the 3rd hole with a 9-iron from 165 yards.
"Hit a full 9-iron and it was kind of flagged right off the face," said Thompson, who carded a 1-over par 36 on the front nine which included the ace. "I kind of went off [the reaction from] a guy behind the green and he put his hands up. I couldn't tell if it went in or not. Even though there was only about 10 or so people that saw it, still a good feeling for me."
For that ace, CME Group will donate $20,000 to St. Jude Children's Research Hospital, which is leading the way the world understands, treats and defeats childhood cancer and other life-threatening diseases. The 2020 season has now seen 10 aces for a total of $200,000 donated to St. Jude Children's Research Hospital.
"Having two in the last year and [to help in] donating that much money to St. Jude's Hospital means the world to me," Thompson said. "It's not only helping my scorecard, but it is helping the world and these kids. We're not just athletes who play well in our sport; we want to give back. I think it's a great idea of what they're doing."
Thompson ultimately shot an even-par 70 on the day and is tied for 22nd.
---
And another thing...