LPGA Tour
May 30th, 2021
Popov flying the flag for Europe in Las Vegas
International quartet will battle it out for LPGA Match-Play title
Photography: Getty Images
The inaugural Bank of Hope LPGA Match-Play Hosted by Shadow Creek is down to four players, vying for the LPGA Tour's first match-play title since 2017.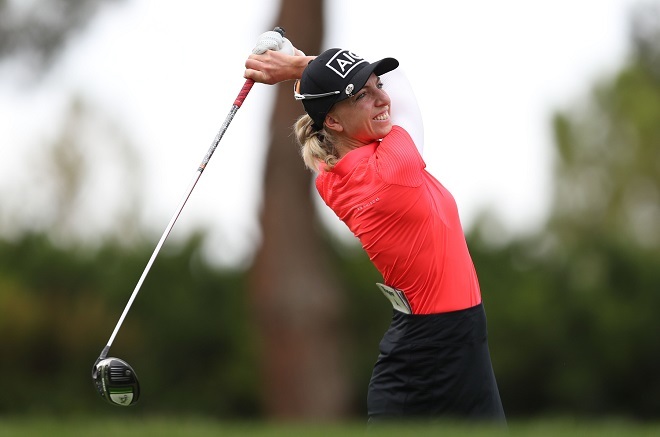 American Ally Ewing will take on Thailand's Ariya Jutanugarn in Sunday's first semifinal match, while China's Shanshan Feng, who won her quarterfinal match with a 50-foot birdie on the first playoff hole, will face off with Germany's Sophia Popov.
The four players survived three days of group play and two knock-out matches on the extremely difficult Shadow Creek layout. They also pushed through five days of blazing Las Vegas sun and heat, with daily midday temperatures hovering around 100.
QUARTERFINALS RECAPSAlly Ewing (20) def. Danielle Kang (5), 1 up
Ewing's quarterfinal 1-up victory over Danielle Kang was a back-and-forth affair from start to finish. Kang had not trailed at any point in the competition and with a 2-up lead through three holes, it looked like the Shadow Creek member might roll again to victory.
But Ewing, her 2019 Team USA Solheim Cup teammate, made birdie on the 3rd and holed out from a bunker for eagle at the 4th to square the match.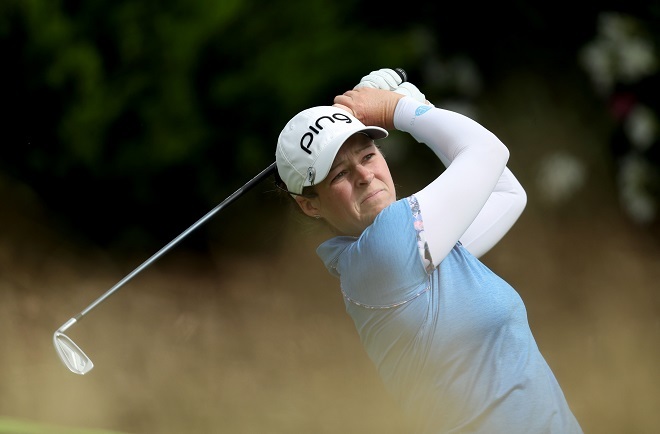 "That kind of settled me down," said Ewing of that moment on No. 4. "Obviously from there on out it was a lot of trading back and forth of birdies."
Kang took 1-up advantages twice more during the match, but Ewing never let her get too far ahead. Ewing's birdie at No. 14 gave her the lead for the first time, also marking the first time all week that Kang had trailed.
After Kang birdied the par-3 17th to again tie the match, Ewing's chip from the front rough at the 18th rolled to within five feet for the birdie that earned her a spot in the final four.
"I knew if I gave Danielle any open door, she would capitalize as she did all day," said Ewing, who needed 19 holes to beat Jenny Coleman in the morning round. "Thankfully I rolled that putt in and sealed it."
The match provided arguably two of the finest performances of the week. Ewing carded seven birdies and one eagle in the match (with match-play concessions) while Kang had six birdies of her own and went bogey-free. In a de-facto host role this week as an MGM Ambassador and Shadow Creek member, Kang was the odds-on favourite to take the tournament title.
It's a tough loss to swallow, but Kang pointed to the duo's strong play as a reason to be proud of how her week ended.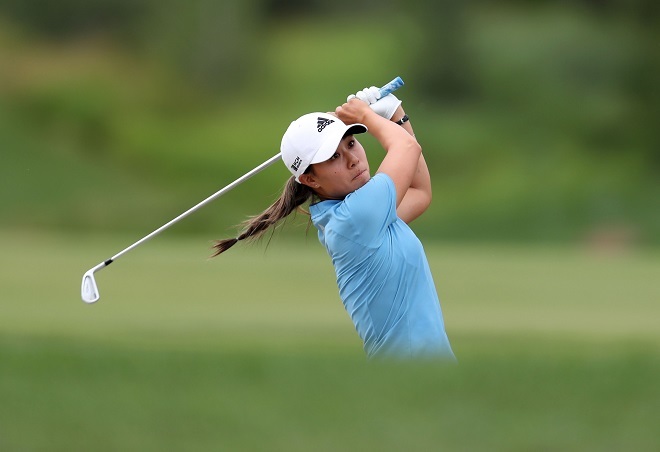 "I'm really excited about where my golf game is headed. I definitely took a little detour for the last few months, and about a week ago, I felt like everything is starting to come together," said Kang. "It showed this week. I played well today and Ally played really well, so it wasn't like she gave it away or I gave it away. She won the match. I hope I get to go head-to-head with her again."
Ariya Jutanugarn (16) def. Minjee Lee (8), 5&4
Ariya Jutanugarn struggled with the heat in Saturday afternoon's quarterfinal round, but certainly not with her game in a 5&4 win over Minjee Lee. Jutanugarn, the runner-up at the 2017 Lorena Ochoa Match Play, won the first hole with a birdie and cruised home from there. She reeled off four consecutive wins from the 7th tee to go 5 up through 10 holes, an insurmountable lead.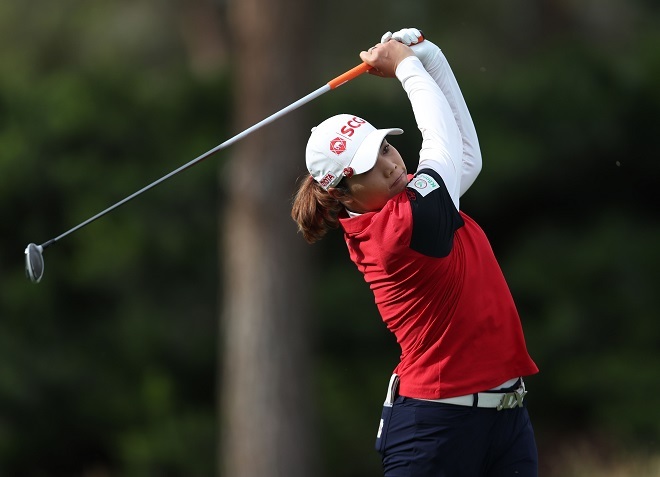 Visibly drained after two rounds in the difficult weather conditions, Jutanugarn laughed when told she made the win look easy.
"It's not easy at all, and especially the course and playing against Minjee Lee. She is one of the best players on Tour," said Jutanugarn, who reached the quarterfinals with a 4&3 win over Anna Nordqvist in the Round of
16.
"It's match play. Sometimes you have a really good day and you lost the match, or sometimes you play okay and you win the match. It's match play, so we never know."
Sophia Popov (15) def. Patty Tavatanakit (7), 3&2
Sophia Popov is on to the semifinals at the Bank of Hope LPGA Match-Play Hosted by Shadow Creek cheered on by her "lucky charms."
The 2020 AIG Women's Open darling never trailed in her quarterfinal match against fellow major champion Patty Tavatanakit, only surrendering one hole en route to a 3&2 victory.
"I'm very close to my family. My brother [Alex] is here with his wife and my three nieces, two of them are old enough to understand what's going on at 3 [Liviana] and 5 [Annalise]," said Popov. "They're pretty much what I play for. They're everything to me.
"It's the first time they came and watched me, so it has been pretty nice. They're my lucky charms. I know they really want to go to the pool now, but I really want them with me," Popov added, following her Round of 16 win over Inbee Park this morning.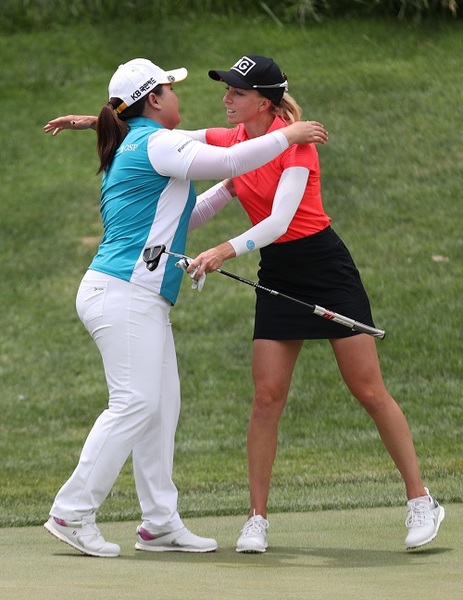 This afternoon, Popov won the 2nd with a birdie, and secured par to win the 9th and 10th to open her widest lead at 3 up. It was smooth sailing from there.
"The afternoon was stress-free, for the most part. Patty was playing really solid. I was playing really well. I didn't leave any openings, didn't make any bogeys until No. 15," Popov said.
"I was putting for birdie almost all day, and I could have made more. I think for me it was very stress-free.
"Definitely happy that I didn't have to go through the whole 18 and more like the first round again. I think maybe also that quick transition [between matches] helped. You almost just continue playing and I think that might have helped a little bit."
Shanshan Feng (19) def. Eun-Hee Ji (43), 19th hole
Forty-one holes in a day is a lot of golf for anyone. Shanshan Feng now knows that first hand.
"Such a long day," she said. "I never played 41 holes in my life. Never. I think 36 was the most, like for a U.S. Open qualifier. Yeah, 41 was kind of painful."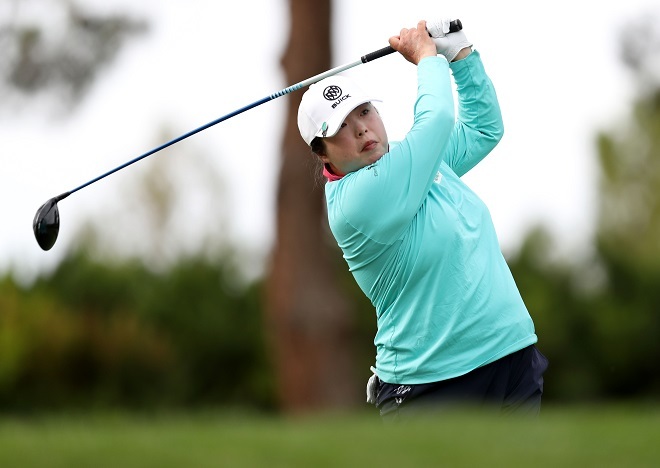 It was especially gratifying for the 10-time LPGA champion to advance to the Bank of Hope LPGA Match-Play Hosted by Shadow Creek semifinals after such an exhausting Saturday. Feng ended her quarterfinals match against Eun-Hee Ji with a 50-foot birdie putt on No. 10, the first hole of a sudden-death playoff after the two were tied following 18 holes.
"I'm very happy that the putt finally fell in the hole on that 10th hole there," said Feng. "To be honest, there were quite a few times when I was on the course, I was like, 'You know what, you have tried your best already. Yeah, maybe you don't have to give it your 100%. If you make any mistakes, it's acceptable.
"So I thought about this and I was like, 'I'm getting close. Don't give up and fight until the end.'"
Feng made the turn with a 1-up lead and added to it thanks to a birdie on the 11th hole. But it was Ji collecting wins on the 12th and 15th to ultimately force extra holes.
"Both of us played really well. The first three rounds, I'd say that I actually won many holes with par, but actually today playing with Eun-Hee, I had to make birdies to try to win the holes," Feng said.
"I really respect what Eun- Hee has done for her career, and I'm happy that I got Brittany [in the morning match] and Eun-Hee. They were both very, very nice and very good players. They really inspired me."
ROUND-OF-16 RECAPS
Danielle Kang (5) def. Bronte Law (44), 2 up
In a match-up for formidable match-play competitors, local favorite Danielle Kang survived a late charge from Bronte Law, winning the final two holes for a 2-up victory. Kang, who has yet to trail at any point this week, held a 2-up lead through 11 holes, but bogeyed No. 12 to drop to 1 up. Law tied the match with a birdie at No. 14 but handed the lead back to Kang with a bogey at No. 17. Kang then reached the difficult par-5 18th in two and took the victory with a two-putt birdie.
"We both played pretty well on the front nine. She definitely outplayed me in the back nine, but I just think I got away with a lot of things. I technically hit it in the water on 15 and bounced out, and I just told myself, Members bounce," said Kang. "I just told myself that's the momentum shift, because I needed that. I should have lost that hole but ended up tying it. Made a clutch putt there."
Ally Ewing (20) def. Jenny Coleman (61), 19th hole
Ally Ewing stepped to the 18th tee trailing by one to Jenny Coleman, knowing that she had to win the hole to force a sudden-death playoff. After taking an aggressive line with driver off the tee, the Mississippi native nestled her birdie putt in to 4 feet and won the hole when Coleman missed her par attempt. On the first playoff hole, Ewing took the win with a par, bringing Coleman's breakthrough Las Vegas dream week to a close.
"Jenny has obviously been playing great golf. It was a great match. Came down to the end. I had to win hole 18 to even get an extra hole out of it," said Ewing. "Even though my feet are already feel tired, I'm ready to play more golf."
Minjee Lee (8) def. Mel Reid (24), 5&4
Make it three matches in three days that Minjee Lee hasn't played beyond the 15th hole. The Australian beat Mel Reid of England by a 5&4 final on Saturday morning to advance to the Bank of Hope LPGA Match-Play Hosted by Shadow Creek quarterfinals.
A five-time winner on the LPGA Tour, Lee opened her Round-of 16 match with a birdie and never looked back, winning three more holes with birdies and taking a resounding win over Reid, a formidable match-play opponent.
"I holed a pretty length putt on the first hole, so that was a nice start for me," said Lee. "Then I made a string of really good par saves, so had the momentum going. I was able to capitalize on my opportunities and just a solid morning."
Ariya Jutanugarn (16) def. Anna Nordqvist (32), 4&3
Thai sensation Ariya Jutanugarn remains undefeated at the inaugural Bank of Hope LPGA Match-Play hosted by Shadow Creek. The 2021 Honda LPGA Thailand winner faced an early deficit against Anna Nordqvist when the Swede found par on the par-5 4th. She got it back and then some from holes 6-10, collecting four wins to jump 2 up.
A closing stretch of birdie-eagle-birdie on holes 13, 14 and 15 sealed the deal for Jutanugarn.
"No. 4, I hit pretty good tee shot. End up under the tree, so I had to hit out of that and make bogey. It's kind of like okay for me because I miss and after that I start to make some putts, make a few birdies," said Jutanugarn. "I feel good. A bit tired but feeling good. I'm pretty sure I have to rest more [before the quarterfinals] because I didn't sleep well last night."
Eun-Hee Ji (43) def. Jenny Shin (38), 19th hole
It took 19 holes but Eun-Hee Ji got the job done in the Bank of Hope LPGA Match-Play Hosted by Shadow Creek Round of 16. She defeated Jenny Shin with a par on No. 10, the first hole of a sudden-death playoff.
"I hit it pretty well from the tee shot, so I knew I'm going to hit it well on the hole," said Ji. "She missed the fairway on the drive, so [I knew] if I make the par I could win. I just kept thinking about that."
Ji made the turn with a 1-up lead and added to it with par at No. 10. Then starting on No. 12, Shin won four of the next five holes to take a 2-up advantage. A par and birdie on the final two holes by Ji forced extra frames.
"She putted pretty well. I couldn't make putts on other holes but the last two holes and she missed short putt," Ji said. "At the last hole, I hit it really great, my third shot onto the green to make it happen."
Shanshan Feng (19) def Brittany Altomare (30), 22nd hole
After 18 holes of regulation that saw neither player take more than a 1-up advantage, Shanshan Feng took advantage of a fluffed chip from Brittany Altomare, winning the match on the 22nd hole.
Feng led by one for most of the front nine, with Altomare pulling into a tie with a birdie at the 9th and ahead with a par at the 11th. The Virginia native went to the 18th with that 1-up advantage, but her bogey sent the match to extra holes.
After swapping pars on the first three sudden-death holes, Altomare mishit a chip from the rough at the par-3 13th, giving Feng the marathon victory.
"I think that was my best round out of the first rounds, to be honest," said Feng. "Brittany was a very good competitor and also is playing partner in the group, and we really had fun and both played really well. I was just a little more lucky at the end."
Patty Tavatanakit (7) def. Nasa Hataoka (10), 6&4
Reigning ANA Inspiration winner Patty Tavatanakit took the fastest win of Saturday's Round of 16, only needing 14 holes to eliminate Nasa Hataoka, 6 and 4. After winning the first hole with a birdie, Tavatanakit earned a 2- up lead through two holes after Hataoka made bogey. She went up 6 up with a birdie at No. 12 and while her bogey at No. 13 kept Hataoka alive for one more hole, Tavatanakit took the match victory with birdie at No. 14.
"The first couple days I was struggling with ball striking. You have to hit it good here. I feel like I got adjusted to that pretty well. Just kind of seeing my shot way better the past two rounds," said Tavatanakit. "If anything, I also read the greens a little better and have the right speed for the appropriate amount of breaks, so that helped a lot for the last two rounds. I was able to make some birdie putts, and I didn't really make much the first two rounds. To be able to have that adjustment and walking into the weekend and playing again today, it's a good feeling."
Sophia Popov (15) def. Inbee Park (2), 20th hole
Sophia Popov and Inbee Park have competed in the same group at several events this year, most recently in the second round of the 2021 HSBC Women's World Championship. Park got the best of Popov before but at the Bank of Hope LPGA Match-Play Hosted by Shadow Creek, it was Popov's moment.
"It's honestly a nice reprieve because I've played with her a few times now over the last few months and she has been kicking my butt," said Popov. "I kind of had it. It was my time this time."
In regulation, the 2020 AIG Women's Open champion stepped onto the 18th tee needing to win the hole to force a sudden-death playoff. She accomplished that objective in style, putting her approach in close and leaving her with a conceded eagle.
"Going back to No. 16 we were all square, and I hit a great shot on No. 17 that I thought was perfect and ended up short; made bogey and I'm 1 down," Popov explained of the final stretch. "I had a good feeling about my game [going to 18]. I smoked my drive down there, which is great. That was step one.
"Then I had 152 [yards] to the pin, perfect 9-iron distance for me. Landed a couple short, it came up the ridge
and back down. It was good, so probably the ideal scenario."
It took two extra holes but a birdie on the par-4 11th was too good for Park and sealed a berth in the quarter finals for Popov.
"We had a great match the whole day. She was just being her, playing super solid. Every good birdie look she had she made, and I knew that was going to be the case," said Popov. "I just had to hang in there. I was hitting it great all day. If anything, I missed a couple putts that could have gone in, so I knew I was right there.
"Then I hit my second shot in the bunker on 10 and I said, 'If you can get up and down here, you're good with your wedges so you have a chance on 11.' Yeah, stuffed it on 11 and I made that to win the match."
---
And another thing...