LPGA Tour
May 16th, 2023
Jin Young Ko Wins Cognizant Founders Cup
Ko beats Minjee Lee in playoff
Photography: Getty Images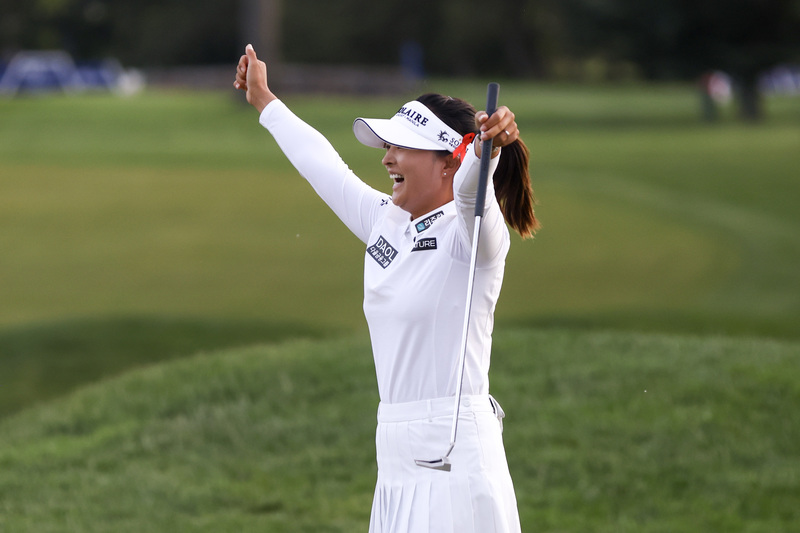 Sunday's showdown between Jin Young Ko and Minjee Lee was the stuff the LPGA founders could have only dreamed of.
Ko, a two-time major champion and former Rolex Women's World Golf Rankings No. 1, came from four strokes back to begin the day to challenge Lee, the defending champion, for the coveted title.
Ko drained an improbable birdie putt on the 72nd hole that would ultimately force a one-hole playoff with Lee, who relinquished the three-stroke lead with which she started the day.
Ko ultimately sealed her victory on the first extra hole to become a three-time winner of the Cognizant Founders Cup, which features one of the largest purses outside the majors at $3 million.
"It's great honor. I thank all the past Founders today, so I really thank to everybody to make that amazing tour," Ko said while standing on the 18th green on Sunday.
"Tournaments getting more higher [purses] than six years ago, so I really thank to like those who support this tour and the all the volunteers and all the staffs."
The thrilling conclusion in New Jersey also capped off a busy five-week stretch of events in which four of the five tournaments were determined by a playoff.
The five-week swing started back in April with the LOTTE Championship presented by Hoakalei, which was won by rookie Grace Kim, who outlasted a three person playoff with Yu Liu and Yu Jin Sung to become the third Rolex First-Time Winner of the season with her victory in Hawaii.
Next, the Tour made its debut at the Club at Carlton Woods which hosted the season's first major, The Chevron Championship. Once more, the outcome was determined by extra holes with Lilia Vu defeating Angel Yin to capture the season's first major title.
Then, at the JM Eagle LA Championship presented by Plastpro, major champion Hannah Green won for the first time in four years, defeating Aditi Ashok and Xiyu Lin in a playoff.
The following week, the Tour made its debut at TPC Harding Park where the Hanwha LIFEPLUS International Crown made a much-anticipated return to the schedule. It was a chance for the top eight countries, as determined by the Rolex Rankings, to square off in a team competition that pitted the top four ranked players from each country against each other. Ultimately, it was the team from Thailand that prevailed, winning the title for the first time in the event's history.
And finally, on Sunday, the five-week stretch concluded with Ko's playoff victory in New Jersey, where she joined Vu as the only other two-time winner of the 2023 season.
This week, players get a well-deserved break as the Tour takes a one-week hiatus before embarking on another busy stretch in the buildup to the season's next major championship.
---
And another thing...