LPGA Tour
Sep 17th, 2021
Ciganda shares lead at the Cambia Portland Classic
Solheim star in a three-way tie after round one
Photography: Getty Images
On a picture-perfect fall day in Portland, three players shot to the top of the leaderboard after the first round of the 2021 Cambia Portland Classic. Fresh off playing for the victorious European team at the Solheim Cup two weeks ago, Spain's Carlota Ciganda continued her winning ways, shooting an opening-round 68 to join Pajaree Anannarukarn and Gemma Dryburgh for the lead at Oregon Golf Club, playing in the first non-major LPGA Tour event since the first week in August.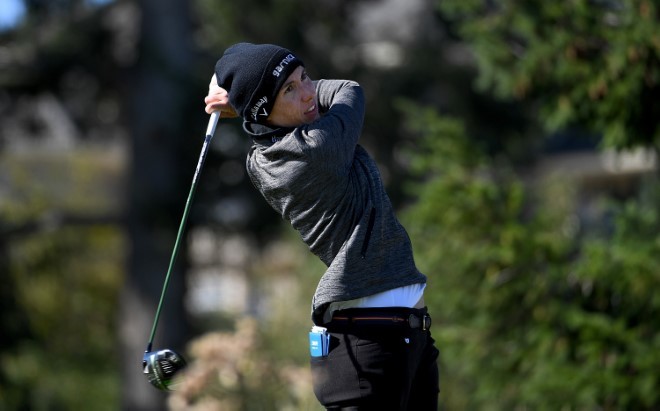 Ciganda's 68, which tied the best opening round of her eight appearances in Portland, featured seven birdies to go with one bogey and one double bogey. She admitted to still feeling fatigued from the week in Toledo, but after a week of rest at home in Phoenix, she was ready to get back on the course.
"I only played here on Tuesday, no Pro-Am, so I think it was nice to have the day off yesterday as well. No golf on the course," said Ciganda, who is winless since taking two victories in 2016. "I feel good. Trying to take that momentum from the Solheim and have that here, hit good shots, and try my best."
Prior to today, Dryburgh had not hit a ball in competition in three weeks, last teeing it up at the AIG Women's Open. Buoyed by a hole out for eagle on No. 7, the Scottish player holds a first-round lead for the second time this season, joining the ISPS Handa World Invitational in August.
"Just hit a little gap wedge. Hit it pretty perfect," said Dryburgh of her shot on the seventh hole. "Actually I thought it was going long when I saw it on the green, but it just landed perfectly just short of the pin and rolled right in like a little putt, so it was perfect."
While Dryburgh was the first-round leader in Northern Ireland, it was Anannarukarn who ultimately took the win. She again finds herself in contention in a chilly climate, battling through a blustery afternoon with five birdies and one bogey on Thursday.
"I definitely learned a lot from today. I miss some fairways out there. I try to probably be more focused and concentrate on my tee shots," said Anannarukarn, who has been in Portland for three weeks visiting a friend and enjoying the break from competition. "Hopefully will hit some better drive tomorrow and give myself some really good opportunities out there."
Six players are tied for fourth at three-under, including Rolex Rankings No. 2 Jin Young Ko, who is playing for the first time since representing Korea at the Olympics in August. Two-time Cambia Portland Classic winner Brooke Henderson is one of five players tied for 10th at two-under, a group that includes 2020 Portland runner-up Ashleigh Buhai and 57-year-old Laura Davies.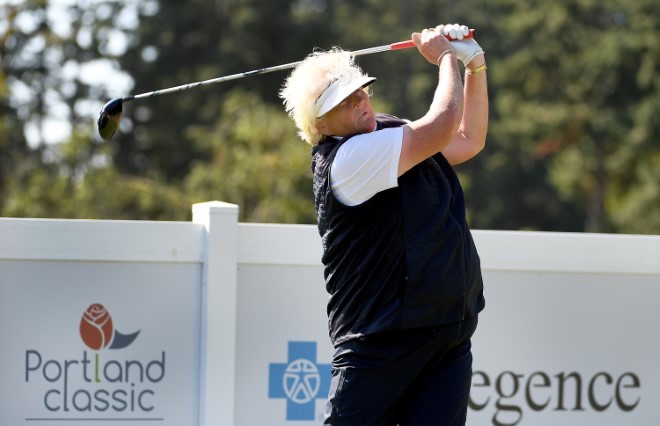 "I must admit in the practice the other day I found it really exhausting, but when you're playing and trying to hit good shots, you don't really notice the hills," said Davies, who carded four birdies and two bogeys on Thursday.
"Maybe if you're not playing so well you notice the hills, but today because I was hitting it good, it was just a lovely even keel and pace of play was really good."
Davies was joined on Thursday by long-time Tour player Trish Johnson, but as a caddie rather than in her usual player capacity. With a rare off-week from her own playing and broadcasting careers, Johnson agreed to loop for her fellow Englishwoman well before the competition moved to the hilly OGC.
"Maybe if we had known she might not have come because she has got tournaments to play herself," Davies said with a laugh. "I keep saying, Don't do yourself any damage. If her back is starting to feel tender she might have to give it up, but she's as stubborn as I am. She'll still be here at the end."
---
And another thing...