Ladies European Tour
Apr 15th, 2022
Sihwan Kim leads Asian Mixed Stableford Challenge
American holds eight point lead heading into the final day
Photography: Asian Tour
American Sihwan Kim produced an excellent third round to hold an eight-point lead heading into the final day at the Trust Golf Asian Mixed Stableford Challenge.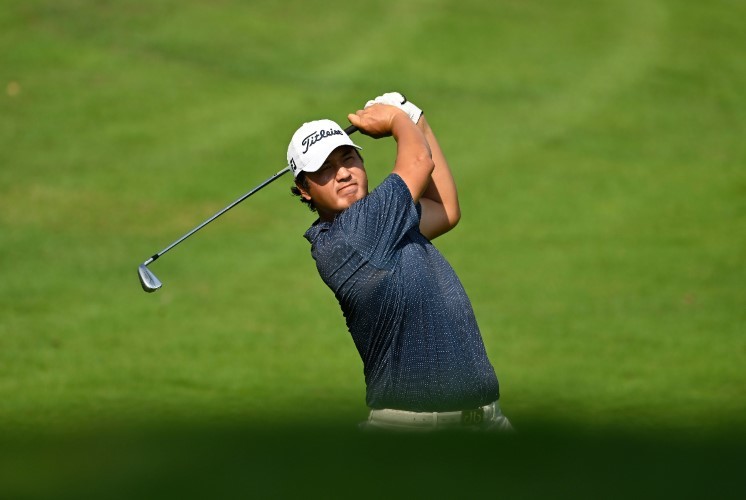 The US$750,000 event, which is co-sanctioned by the Ladies European Tour and Asian Tour, sees a Modified Stableford being used this week with points based on the number of strokes taken at each hole: albatross 8 points, eagle 5 points, birdie 2 points, par 0 points, bogey: -1 point, double bogey or more: -3 points.
The 33-year-old led after the first round thanks to an eagle on the last but struggled on day two to be in a tied for 10th place after 36 holes.
However, the Asian Tour Order of Merit leader regained his form on day three at Siam Country Club's Waterside Course as he carded a round of 61 (-11) to score 22 points for the day and have a total of 42 points after 54 holes.
"I must be bipolar or something!" said Sihwan Kim, who made six bogeys and two birdies on day two.
"I don't know, I just felt a little tired yesterday, but I got a really good sleep and came back out and tried to figure something out on the range. Got a feeling for something, still wasn't very good off the tee. My putting has just bee on fire, I just kept it in play and putted the lights out.
"I haven't had a 10-under and 11-under in the same tournament before, that being said, it's all about putting. I think I have been reading the lines a lot better than last week when I could not read them at all, but I think I am getting used to them."
Sweden's Maja Stark sits in a share of second place on 34 points alongside Thai duo Chanettee Wannasaen and Natipong Srithong.
The two-time LET winner made a bogey at the first but then rolled in four birdies and an eagle to score 12 points and push herself further up the leaderboard.
"I didn't have a great feeling at the beginning, I started off with a bogey. My tee shot wasn't that bad, it just rolled into the rough which was really thick there and I couldn't even hit a nine-iron out," said Stark, who finished sixth in the 2021 Race to Costa del Sol.
"I hit a lay-up and duffed a chip into the bunker, and I made a bogey putt. It felt like a save so I think that made me get my momentum because it wasn't a bad bogey, it was a saved bogey, so I was pretty happy about that.
"I think I will play tomorrow like a normal stroke play. I have realised that being too aggressive doesn't really work for me at least and I have been giving every putt a chance except for hole number nine. I had a lot of missed birdie opportunities, so I think I will be just doing the same thing I did today.
"There will be a feeling of never being relaxed because an eagle and everything changes so quickly. I think I just need to be prepared that anything can happen on the leaderboard, people can score 22 points so just be ready for anything."
The 2017 PING Junior Solheim Cup player is in second place with 17-year-old Wannasaen, who held the lead after 36 holes, and she finished her round with an eagle to also be on 34 points.
"Today my gameplan wasn't as good because my approach shots weren't perfect like in yesterday's round, but the eagle on the last hole was good because it was a long putt and I made it," she said. "Tomorrow I'm just going to focus on my shot and my routine, and I will try to do my best."
While Srithong, who is also on 34 points, said: "Today my game was okay, but I had two three-putts on 13 and 14. It was still okay, I hit a lot of greens and had a lot of chances for birdies and eagles. I made six birdies today and played par-fives very well, except for number 18. Tomorrow I will still follow my game plan, and if I can play like I did yesterday I think I will have a chance to win again."
Former LPGA Tour player Budsabakorn Sukapan is in fifth place on 33 points after scoring 16 points on day three with an eagle, seven birdies and two bogeys.
She said: "Today my approach play was very good, and I was putting well too. I was aiming down the line pretty good. I was so excited about the eagle! I hit it close, and it was a short two-yard putt. That run of birdie-eagle-birdie gave me confidence, but I was also so excited with it too."
Australian Travis Smyth and Korea's Joohyung Kim are T6 with 32 points, while Kyongjun Moon of Korea is one point further back in eighth place.
Thailand's Phachara Khongwatmai and Argentina's Miguel Carballo round out the top 10 with 30 points apiece.
---
And another thing...