Ladies European Tour
May 8th, 2022
Pelaez shoots course record to lead in Madrid
Rookie professional takes three shot lead into the final round
Photography: Tristan Jones/LET
Ana Pelaez shot a course-record nine-under-par 63 on moving day at the Comunidad de Madrid Ladies Open to take a three shot lead into the final round at Jarama-RACE Golf Club in the Spanish capital.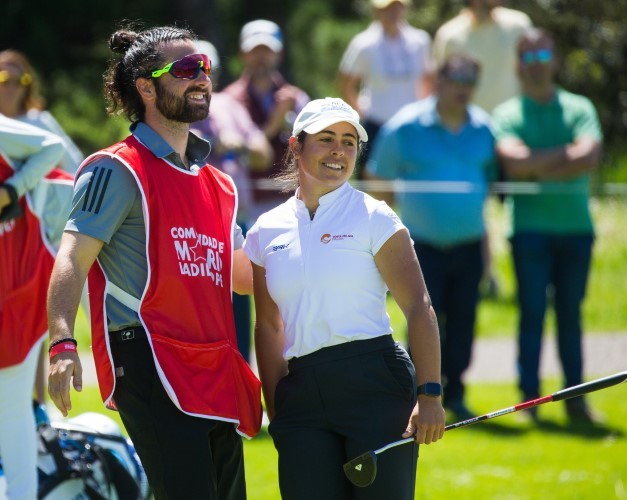 The 24-year-old from Malaga, playing in her first LET tournament as a Rookie professional on the Tour, fired nine birdies for a 54-hole total of seventeen-under-par.
"It was a great day out there today. It was also my mother's birthday and I didn't have a present for her, so I guess this round works for her. It was great. My putting was good. My shots into the greens were there. My brain was there. Everything was ideal," Pelaez said.
She relied on an invitation to get into the tournament, due to having finished outside the top 80 at Q-School. A win would set up her career, but she didn't show any sign of nerves: "I love pressure. I live for this. I cannot wait for tomorrow," she added.
"I just felt adrenaline; pure adrenaline. Sometimes it's good, but I felt so much adrenaline I had to take a deep breath and be in the moment, but it was amazing. I hope that many more people come tomorrow and support us."
Agathe Sauzon from France shot a seven-under-par 65 to stay in touch, three strokes adrift, and said: "It was a really good round, with a cool group. I played with Ana and she started to make birdies and then I started to make a few.
"I'm hitting it good and just messed up on one hole. My putting is good and I can read the greens, so it's nice. I saw today that I can shoot low so I will try my best tomorrow."
Spanish amateur Cayetana Fernandez, 17, carded a five-under-par 68 and occupies solo third place on 13-under-par. The Club de Campo player, from Madrid, said: "I'm very happy and having fun with my father as caddie. Everything is perfect. Tomorrow I'm going to have fun again. Being at home, living in my house is easier and I love this course.
"Sometimes I feel nervous but the people help me to relax. They are backing me all the time, which makes me very happy. I have a lot of friends here supporting me, so it's perfect.
"I want to win this tournament and tomorrow I will try to play my best round. I love to play with Ana. I know her, so I will have fun but try to win."
One stroke further back, Sweden's Linn Grant shot 69 and lies in fourth place, a stroke ahead of Gabriella Then, from the United States.
Then, the LET Q-School winner, won her first title on the Epson Tour at the Garden City Charity Classic in Kansas last week. She shot an eight-under-par 64 which included six birdies and a hole-in-one at the 17th where she used a 7-iron from 162 yards downhill.
"It's great to see that I'm getting closer to being in contention. I hit the ball well today and had a lot of good opportunities so I want to do it again tomorrow," said the 26-year-old from Rancho Cucamonga, California. 
"Obviously I had a good week last week on the Epson Tour and felt confident with my putter. I had good distance control with my approach shots.
"I didn't have my clubs in the first round, so I felt a little off. On the second day, when I got my clubs, it was such a happy feeling holding my putter and my wedges again that it just boosted it even more. Then I felt like I had what it takes. I got the speed of the greens better today and got used to the course."
With a level par round of 72, the halfway leader Tiia Koivisto slipped back into a share of sixth place with Pia Babnik and Manon de Roey. The Race to Costa del Sol leader Maja Stark, Linnea Strom and Leonie Harm share ninth place on nine-under-par.
The final round gets underway on Sunday at 9am local time. Follow the action live on TV, through social media and online.
---
And another thing...