Ladies European Tour
Jun 27th, 2021
Iturrioz grabs lead at Tipsport Czech Ladies Open
Spaniard carded a bogey-free round to lead by one
Photography: LET/Tristan Jones
Spain's Nuria Iturrioz carded a bogey-free round of 68 to give her the solo lead on day two of the Tipsport Czech Ladies Open.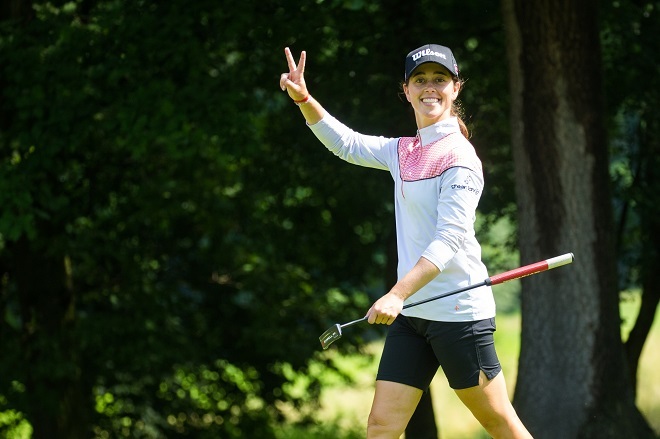 Play got underway as planned at 7.45 am at Beroun Golf Club with a few groups completing their first round before heading out to their second.
Iturrioz was one of the lucky players who managed to finish her first round before play got suspended due to darkness.
The Spaniard, who has three LET wins, followed up her opening round of 66 with a four-under-par round to put her ten-under-par for the tournament.
"The conditions today were not any easier, except for the delays. It rained last night so the course is still wet, and it was more humid this morning, but I live in Mallorca, so I am used to that," said Iturrioz.
"I hope I can make the birdies I made today, enjoy being out there and I hope to win the trophy."
Germany's Leonie Harm fired the best round of the day, shooting a six-under-par 66 to be tied for second place.
With seven birdies and one bogey on her card, Harm heads into the final round just one shot off the lead.
"I had fun out there today and it was nice to find some sunshine. I had a pretty good start, then I three-putted which is always annoying. But I am really glad I did not let myself get dragged down by that and continued making birdies and attacking the pins," said Harm.
Isabelle Boineau joined Harm later in the afternoon to share second place after shooting a four-under-par 68 today.
The French professional, who won her only LET title in 2016, had a phenomenal back nine which included five birdies.
"I had a hard time on the front nine with a bad first drive but then I managed to save pars and started making birdies on the back. I sunk in a great putt on the last, so that felt amazing," Boineau said.
Three players are another stroke back in T4 at eight-under-par including Thailand's Atthaya Thitikul and Germany's Sandra Gal, who both shot rounds of 68 for the second consecutive day.
Gal, who rolled in four birdies on the front nine, said: "I had a hot run on the first few holes and then I mellowed out towards the end. I think I got a bit tired having just a few hours of sleep last night but overall, I was consistent and made a few putts, so I was happy with it.
"I think there are just more lies on the back nine that I have to practice a little bit more after being away from the game in the last few months Now I just have to acknowledge and appreciate that I am high up on the leaderboard and continue to hit the best shots that I can in the final round."
Joining Thitikul and Gal on eight-under-par is England's Cloe Frankish, who carded a bogey-free round of 67 in the afternoon and made four consecutive birdies between holes four and seven.
Four players sit one shot further back on seven-under-par, while the cut fell at level par with 64 players making it to the final day.
---
And another thing...