Ladies European Tour
Jun 27th, 2022
Amateur Melichova wins Tipsport Czech Ladies Open
Czech player hold on for a one shot victory
Photography: Tristan Jones/LET
Czech amateur Jana Melichova triumphed at the Tipsport Czech Ladies Open securing a one-shot victory at Royal Beroun Golf Club. After rounds of 68 and 65 on the first two days, the 24-year-old produced a final round of 69 to seal the victory.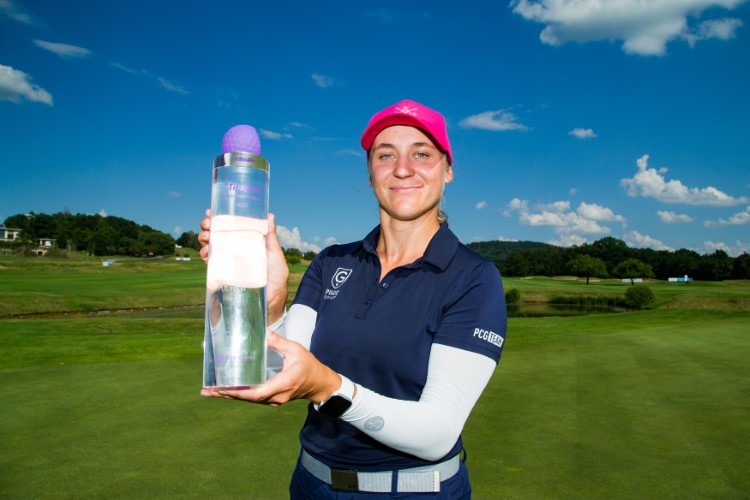 It was an excellent start to day three for Melichova who rolled in birdies on holes four, five, seven and nine to make the turn in 32 (-4).
The former Old Dominion University student then sunk another birdie on the 10th to hold a four-shot lead.
However, Melichova's lead started to disappear as she carded three consecutive bogeys. Another birdie on the 17th steadied the ship and proved to be crucial as she reached a total of fourteen-under-par to become the second Czech winner on the LET. 
"It's a dream come true," Melichova began. "I always planned to play LET and I always wanted to win a title and I succeeded today, I'm incredibly happy. 
"I was mainly nervous, but I think I handled that stress really well. I was really happy with my game and everything was perfect. Even the three bogeys in a row didn't get me down because I had people here and they were cheering for me, so I just wanted to make more birdies."
Two players finished in a tie for second place with Melichova's countrywoman Klara Spilkova and Denmark's Nicole Broch Estrup on thirteen-under-par.
It was a great finish to the week for Spilkova, who became the first Czech winner on the LET back in 2017. She carded a final round 70 (-2) which included four birdies and two bogeys to be runner-up alongside Broch Estrup. 
"I feel a bit up and down, but I feel very happy and grateful for what I have done and how it all unfolded for me this week," Spilkova said. 
"It was really nice to play in front of the home crowd, there have been a lot of people every day so I really appreciate their support. There was a lot of good energy through the week." 
Sweden's Johanna Gustavsson continued her excellent form this season with a fourth-place finish after a final round of 66 (-6).
Despite bogeys on the 2nd and 6th holes, the Swede rolled in three consecutive birdies on holes seven through to nine and added a further five birdies on the back nine. 
"Today I had a bit of a rocky start," Gustavsson admitted. "I had a few bogeys early on and I wasn't happy about that. Then I started playing better and hit a few lovely shots close to the pin and had a lot of tap-ins for birdie on the back nine, so that was nice. 
"I feel good, I'm looking forward to playing in the Majors soon and my game feels good now."
Spain's Laura Gomez Ruiz produced a final round of 65 (-7) with an eagle on the last to finish in fifth place on eleven-under-par.
Austrian amateur Emma Spitz and Spain's Luna Sobron Galmes were tied for sixth place one shot further back on ten-under.
The round of the day went to Wales' Chloe Williams, who signed for a 64 (-8), to end the tournament with a total of nine-under-par.
Four players rounded out the top ten with Spain's Elena Hualde, Finland's Ursula Wikstrom, Switzerland's Kim Metraux and Wales' Lydia Hall all tied ninth on eight-under-par. 
In the 2022 Race to Costa del Sol, Swedes Linn Grant and Maja Stark are still first and second in the rankings with 1,969.39 and 1,752.50 points, respectively. 
While Gustavsson remains third but has closed the gap to the top and now has 1,687.83 points to her name. 
Belgium's Manon De Roey, Argentina's Magdalena Simmermacher and England's Meghan MacLaren are still fourth, fifth and sixth. 
South African Lee-Anne Pace sits seventh, with Finland's Tiia Koivisto eighth, Australian Whitney Hillier in ninth and England's Georgia Hall completing the top ten. 
---
And another thing...