Ladies European Tour
Jan 24th, 2020
Muirhead takes control
Scot dominating Tour Qualifying School
Words: GolfPunk
Alison Muirhead, from Scotland who last week won the Pre-Qualifier event came alive on day two of the final stage of Ladies European Tour Qualifying School. Firing a superb six-under-par 67 around the South Course at La Manga Club in Cartagena, Spain. Muirhead now leads by five shots from overnight leader Morgane Metraux who could only post a level par 73 around the South Course and Pia Babnik of Slovenia.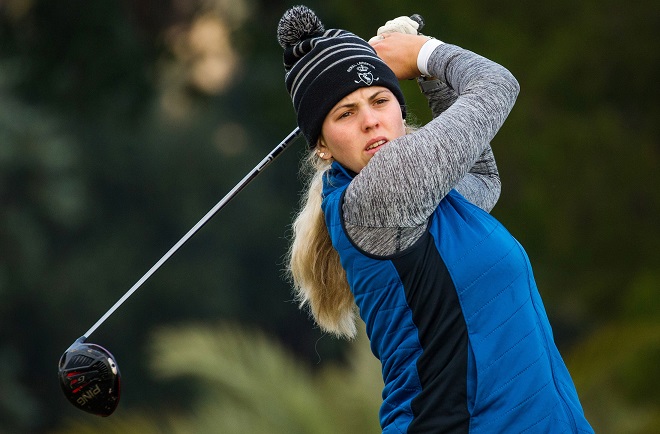 The 21-year-old from Scotland had seven birdies in her round and was delighted with her efforts.
"I am really enjoying La Manga Club. The South Course was playing really good today, it was playing long and the greens were in superb condition. They were rolling so good and I made seven birdies. My playing partners (Filippa Moork and Maria Beautell) were really nice and the sun has come out now instead of the rain. It was all enjoyable, so I can't really complain about anything!"
Morgane was happy with the round which incredibly included 18 pars – now that's what you call consistency! The 22-year-old from Switzerland, who is returning after a year off with a shoulder injury, commented:
"I was very consistent today. I struggled with my iron play at the start of my round and was pretty far from most the pins so I was happy with the two putts. After six or seven holes, I was hitting it closer but I just couldn't buy a putt today. I hit 17 greens and had 35 putts!"
16-year-old Babnik is the youngest player competing at the final stage and is still an amateur with a current handicap of +7 (crazy!). The young Slovenian star carded a two-under-par 71 around the South Course to move into a share of second place and after her round reflected:
"The courses were very well prepared today. The North and South courses are both tough courses and are very different. I am really happy to be here, am feeling great but there is still a long way to go. My goal is to play professional tournaments and to be the best."
There are currently nine players under par in Spain including Amy Boulden who posted a four-under-par 67 on the North Course and Gudrun Bjorgvinsdottir and EunJung Ji who carded a four-under-par 69 on the South Course and all finished the day on two-under-par.
After the Final Round, the top five players will be eligible for LET Membership in Category 5c which gains entry to the majority of events. Players from the 6th to the 20th position will be eligible for Membership in Category 8a which carries fewer playing opportunities.
And another thing...
Pieters leads the way In Dubai