Golf Rules
Dec 7th, 2019
Patrick Reed shame on you
I think you'll find that's cheating
Words: GolfPunk Photography: Getty Images
To say that Patrick Reed is not one of the most popular players on tour would be somewhat of an understatement. However, he has done little for his stock in trade with his blatant breaking of the rules at the Hero World Challenge. Some would say he is very lucky to get away with just a two-stroke penalty.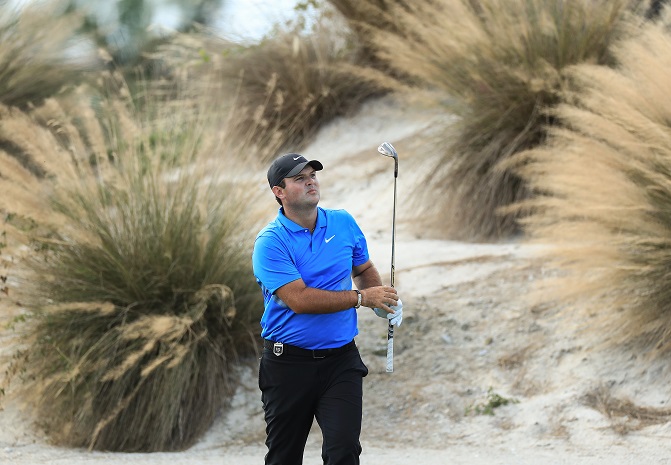 Sitting in a bad lie in a waste area at the 11th hole on Albany course in the Bahamas on Friday Reed looked to be taking practice swings with his club hovering behind the ball. However, as the television cameras then showed with each of two of his practice swings he removed sand from behind the ball.
Take a look at the television coverage.
https://www.youtube.com/watch?v=sM7UJrsUr5g
This is what one calls in the game improving ones lie and it's against the rules as young Patrick must surely know. The moment he brushed some sand out of the way with his first practice swing he should have called a two-stroke penalty on himself. The American not only chose not to call the penalty but decided to take another scoop of sand away.
The guy might as well have placed his size ten and half, wide fitting, (we googled it!) golf shoe behind the ball to flatten the sand as his actions were almost as blatant.
https://twitter.com/TOURMISS/status/1203067267992477701
Reed's explanation after the round is far from convincing. As in the case recently with Billy Mayfair we cannot believe he did not know what he was doing and we can only draw one conclusion. He cheated and should have been disqualified from the event.
Many fellow pros tweeted their disbelief as what Reed had done including that shrinking violet Eddie Pepperell whose thoughts we will leave as the final word!
https://twitter.com/PepperellEddie/status/1203232675802288130
And another thing...
Oh Billy Billy Billy - Disqualification is not enough!