Golf Bedlam
Oct 13th, 2020
20 Pandemic rules for the driving range
Pet Peeves in this COVID world of ours
Words: Andy Dolich Photography: Kaleb Tapp
For all of us who believe that someday during our time on earth we will actually be able to play golf as we have seen on TV, we can always work on our sweet swings at the local ball launching pad aka The Driving Range- TDR. I sped off to my local DR after the PGA Championship at Harding Park won in exciting fashion by Cal's Collin Morikawa.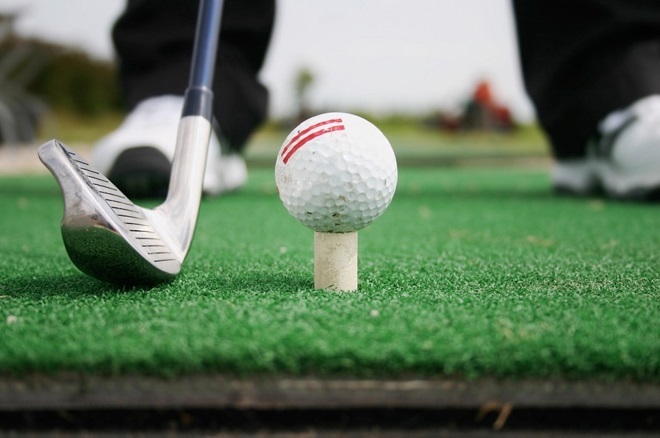 There were no mats available and there was a masked waiting line of many to get in. I have a long list of Pet Peeves in the sports world and here is my first shot.
PANDEMIC RULES OF THE ROAD AT THE DRIVING RANGE.
1.) Shut off your F-ing Phone.
2.) Leave your dog or parrot at home. Yes, I have seen Polly perched on a golf bag.
3.) If you hit balls at 45-degree angles to the right or left go to a mat at the far end so you don't kill someone while trying to make them believe someone else hit the shot.
4.) If you pop the ball straight up because your rubber tee is 8 inches tall, cut it in half, ask for a 2 incher or just go home.
5.) Don't yell, "I just bombed that 300 yards." You didn't unless your driving range is on an airport runway slanting down or you are in Nepal at Everest base camp.
DRIVING RANGE TRICK SHOT SPECIAL
6.) Don't offer to give others at the range tips unless you can present a PGA teaching certification card. Your swing makes Charles Barkley's spasms look like Fred Couples swing from heaven.
7.) If your little golfers are trying to learn the fantastic game, get them lessons. If they are running around screaming and about to be comatosed by some yahoo's backswing politely instruct them to go over way behind the tee, sit down and shut up!
8.) Anyone with two extra-large buckets should be avoided like a Pandemic.
9.) If you wear or use more than six swing improvement gadgets during your time on the range, it is already way too late.
10.) If you come dressed as if you just played in the PGA at Harding your stitched logo $450 sweater isn't fooling anyone!
HOW TO PRACTICE PROPERLY AT THE DRIVING RANGE
11. A digital rangefinder- You need that to find the range?
12. Using any of these: Spread Stick range Whip Trainer, Medium Impact ball, Golf Swing Sonic X10 Plane Swing Power Slider (only $699, operators are standing by) SKLZ Gold Flex Golf Swing Trainer. If none of these work, take the Pill (single shot training ball) or better take a double shot of Sauza Tequila Swing Trainer at the 19th hole.
13. Chatting up those next to you who don't want to talk.
14. Golf shoes at the range, the only thing worse is Flip Flops or bare feet.
15. Using your cell phone on a tripod recording your swing. Just hit the erase button before it goes viral.
16. Avoid anyone stretching on their mat for 10 minutes or more.
17. Running out a few yards to pick up a few more balls, Call 911.
18. Still hitting when the ball retrieving tractor is 6 yards in front of you. That could take out an eye, yours!
19. Saying that you are "Dialed In" loud enough for others to hear. What compass direction are you confused with.
20. Stay far away from the person who forgets to put the bucket under the ball dispenser.
FORE!
Stay safe, sane and mask and stay one mat over!
---
And another thing...