Ladies European Tour
Oct 15th, 2021
Team Strom lead Aramco Team Series
As Sophia Popov goes low in New York
An amateur golfer's 15-foot birdie putt on 18 gave Ladies European Tour stars Linnea Strom (SWE), Jenny Haglund (SWE) and Lucie Malchirand (FRA) a two-shot lead after the opening day at the Aramco Team Series – New York.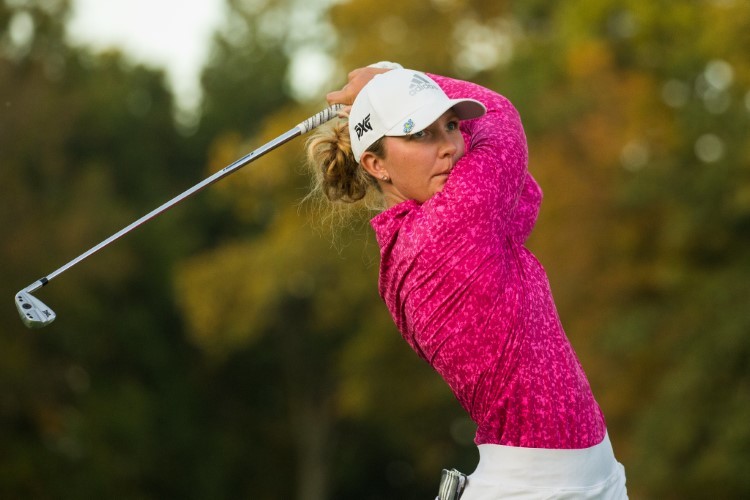 The fourball was the final group out at leafy Glen Oaks on Long Island but carded a Day One low eighteen-under-par to sit top of the tree after a bogey-free team round and some on-green heroics by Cho Minn Thant, the team's amateur player, whose net-eagle on the 18th followed a 30ft putt drained for the same score two holes earlier.
In doing so, Team Strom overtook the team captained by 2019 Women's British Open champion, Sophia Popov, and Team Bronte Law, who sit one further back on fifteen-under.
"We complemented each other really well today," said Team Strom, who will be off first on Friday – and whose captain, Linnea, was playing on her birthday. "We didn't have to count one bogey today, which is so important in this format. Our amateur also played so well – he was hitting bombs and was so impressive!"
"It's very special to be able to play a pro event with an amateur," added Linnea. "We kept going and pushing each other and all picked-up birdies across the round. Hopefully, the team and I will pick up a late birthday present on Saturday!"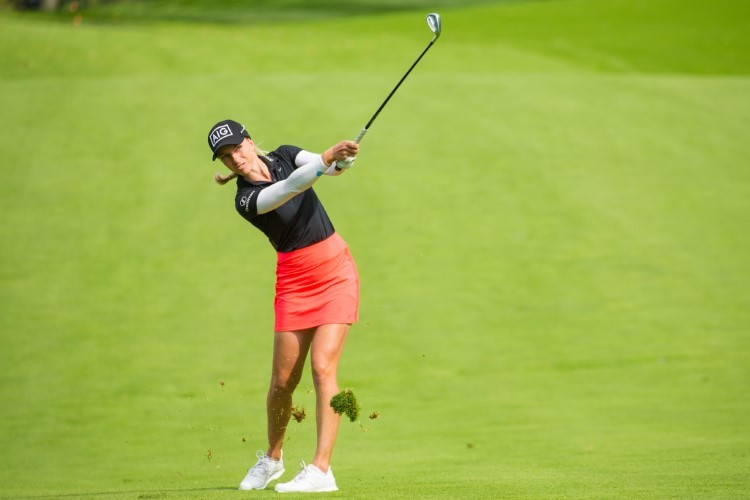 Sophia Popov's seven-under-par opening round propelled her team into second place, with her bogey-free 65 enough to bank the German a three-shot lead in the tournament's individual format.
"I had a solid round," said Popov, whose team-mates are Magdalena Simmermacher of Argentina, England's Hayley Davis and amateur golfer, Cody Crowell.
"I think maybe after having a slow start for me the girls came in and we just made birdies on different holes, which was really good and ultimately the key. We did a very good job of contributing on different holes."
Popov continued: "I really like this format. It's honestly been really good for me just to focus on something different. I love team events. The Solheim Cup was obviously huge for me, and this is very much like that. I told my team-mates I'm all in for the team this week. If I do well individually then obviously that's nice but the team element has definitely been mentally freeing me up." A lightning back nine saw Team Bronte Law storm up the leaderboard into third place, with the all-British trio of Law, Scotland's Kelsey MacDonald and Amy Boulden of Wales – plus Glen Oaks Club president, Jordan Zeigler, the team's amateur – shooting a combined fifteen-under.
Law said: "We played great as a team. If someone had a birdie on one hole, someone would step up on another and make a birdie – and that's the best thing for this sort of format, spreading out the birdies. We also had a great amateur and we're just hoping to do the same again tomorrow.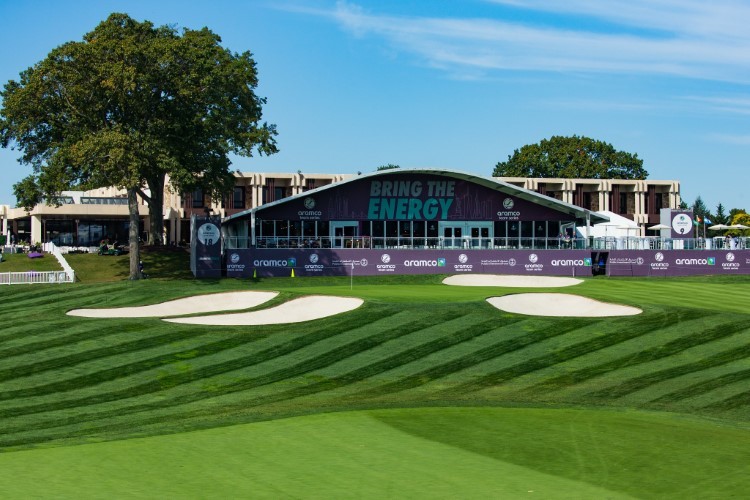 "Amy, Kelsey and I all grew up playing together, so when I picked Kelsey then found out we had Amy on our team I was ecstatic. It's a great, fun format that allows us to play with players we know and get on so well with."
Team Jessica Korda which features Karolin Lampert (GER) and Lina Boqvist (SWE) also relied on some magic from their amateur team-mate – six-handicapper Alexandra O'Laughlin – to sit pretty in fourth spot.
Denver-born O'Laughlin – who carded two gross birdies and an eagle – said: "My junior golf-self and my adult-self was freaking out when I found out I'd be playing three rounds with Jessica Korda in a pro golf tournament, so to be able to show up and prove myself for this team is just a privilege.
"Not only do you get to play with one professional golfer in the Aramco Team Series, you get to play with three. There is nothing like that. It is just incredible and I can't wait for tomorrow."
Six players sit three behind Sophia Popov in the tournament's individual format, including Law, three-time Major-winner Anna Nordqvist and Danielle Kang of the USA.
"I hit the ball really well today," said Kang, herself also a Major champion. "I've been striking out of this world for the last few tournaments, but my putter's been cold for a while now and I'm just trying to figure out what that is."
On the unique format of the Aramco Team Series – where three professionals play with an amateur, and all pros compete both as teams and for the lowest individual score – Kang added: "It was a lot of fun out there. I've never played this format but I like playing in a team where birdies mean you get fist-bumps, which I love!
"Aramco has started something really cool for the LET, so I was excited to come here and see how it was panning out. It's bringing in the viewership and getting ladies golf the attention it deserves, so I'm really thankful for Aramco for giving us this stage."
The Aramco Team Series – New York continues over Friday and Saturday at Glen Oaks Club, Long Island. Tickets are free, with fans simply having to register at
www.aramcoteamseries.com
to attend.
---
And another thing...