Golf Bedlam
Feb 16th, 2020
It can happen to the best
Palmer takes six in a bunker and Tiger four putts
Words: GolfPunk Photography: Twitter PGA Tour
We've all been there in that bunker slashing away trying to get that damn ball up and out as you see your chances in the competition dissolve in front of your eyes. At the Genesis Invitational on Saturday Ryan Palmer had a similar horrific moment which made us amateurs feel not so bad. Tiger Woods also had his nightmare on the greens which included a four-putt!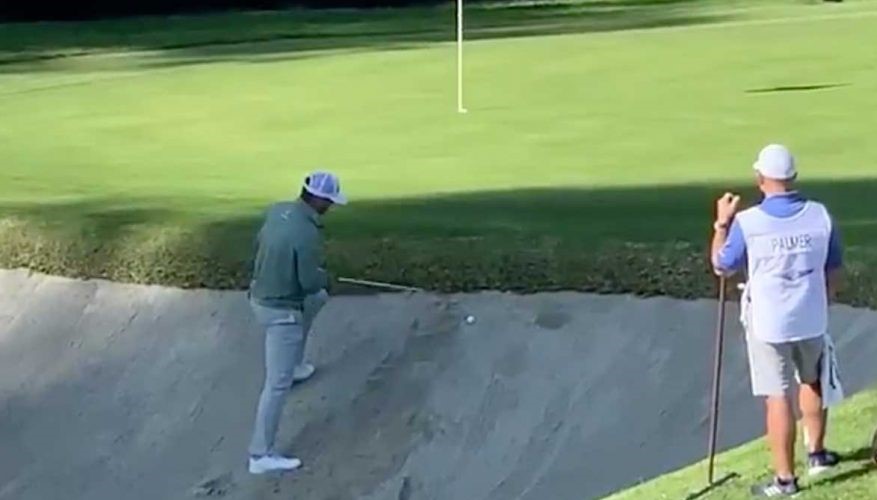 Palmer missed the green at the par-three 14th finding a greenside bunker. It was a tricky bunker shot but not that difficult for a professional and more than half the players who had finished in the same bunker had got up and down for par. Something about the shot was not to Palmer's liking as proceeded to make an unholy mess of it.  
You can watch for yourself, but It went something like this:
Shot 1, splash shot fell short and stayed in the bunker up the face
Shot 2, failed to clear the lip and rolled back into the bunker
Shot 3, fell short yet again and sadly this time plugged at the top of the face of the bunker
Shot 4, struggling to get a stance a slight half-hearted effort hit the face and rolled back into a footprint
Shot 5, was bladed into the face
Shot 6, splashed out successfully to some twelve feet to sympathetic cheers from the crowd.
https://twitter.com/__DNice/status/1228755155824177152
Palmer missed the putt and would sign for a rather unsightly nine which plummeted him down the leaderboard.
Meanwhile, Tiger Woods was having a day to forget as his chance of setting the record for PGA wins evaporated on moving day. The 13th hole summed it up as Tiger missed a twenty-foot birdie effort and then proceeded to take three more putts to walk off the green with an ugly double bogey six.
https://twitter.com/PGATOUR/status/1228749599541809153
Woods is not playing next week's WGC-Mexico Championship, and it is unclear whether he will play again ahead of the Masters, where he will be defending his Green Jacket and attempting to match Jack Nicklaus's record six  victories at Augusta.
"I feel stiff, but I have weeks like that, especially in the cold mornings like it was the other day," the 15-times major champion told reporters after shooting a five-over-par 76.
And another thing...