Fashion
Apr 30th, 2022
Duca del Cosma signs Daan Huizing
Brand inks 3-year deal with Dutch DP World Tour player
Italian fashion brand Duca del Cosma has agreed on an exclusive 3-year contract with DP World Tour player Daan Huizing, under which the popular Dutch golfer will officially wear Duca del Cosma shoes and clothing from 1st May 2022.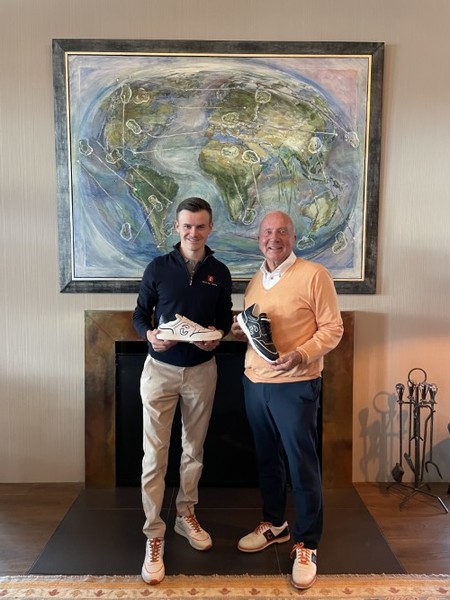 The official signing of the contract will take place during the forthcoming Dutch Open at the Bernardus Golf Course on Friday 27 May, with Huizing being joined by company owner Frank van Wezel on the Duca del Cosma stand in the spectator village.
Huizing qualified for the DP World Tour this season after winning the 2021 Irish Challenge event and finishing 20th in last season's Road to Mallorca Order of Merit with a top ranking for driving accuracy. Previously on the Challenge Tour, he won the Northern Ireland Open and the Kharkov Superior Cup in 2013.
He will now appear wearing the new sporty FLYER shoe from Duca del Cosma, with a waterproof sock system incorporating a recyclable microfibre and Aqua stop lining, plus a recyclable insole insert and heel and toe-cap support using recycled cork.
"I am very impressed with the quality and comfort of Duca del Cosma products and confident that we can help each other grow with this collaboration," said Huizing, who has tested Duca del Cosma shoes and clothing extensively over recent months. "The brand is very professional and adapts quickly to new developments, so I'm happy to have Duca del Cosma in my team and look forward to winning with them at the highest level," he added.
Frank van Wezel commented: "We think we have secured a future DP World Tour winner in Daan, with whom we share common standards and values that form the basis of a successful collaboration. Just like us, Daan is also looking for perfection and he will use his tournament experience to further innovate our product range. I'm looking forward to taking Duca del Cosma to an even higher level with Daan in our team," he added.
As an amateur, Huizing won 12 national and international titles and topped the Scratch Players' World Amateur ranking in 2012 before turning professional in October that year. Within a year, he had won two titles on the Challenge Tour and gained promotion to the European Tour. He dropped back to the Challenge Tour in 2015 and after six years of competing on the Challenge Tour and four tournament victories, he was promoted to the DP World Tour at the end of 2021.
Other Duca del Cosma sponsored golfers this season include Joost Luiten, Pasqualle Coffa, Aydan Verdonk, Kelly Tan, Michaela Finn, Charlotte Thompson, Deon Germishuys and Shergo al Kurdi.
---
And another thing...