European Tour
Sep 29th, 2019
ALFRED DUNHILL LINKS CHAMPIONSHIP FINAL
Perez wins but McIlroy complains that European Tour is too easy!?!?
Words: GolfPunk Photography: Getty Images
Victor Perez became the first French winner of the Alfred Dunhill Links Championship after one of the most exciting finishes in the history of the event, winning by one shot from England's Matthew Southgate at St Andrews. Whilst, at the same time, Rory McIlroy, finishing tied for 26th place complains to the BBC that the European Tour is too easy.
Perez, the Frenchman who has been living with his girlfriend in Dundee for the last year said "It was a great win for me, and it's showed me that I can do it. Now the question is how much can I replicate that moving forward?"
"Obviously living in Dundee makes it more special. I think there were a number of reasons why I came here. I think that the culture of golf in Scotland should make almost every golfer want to come here, if you're in Continental Europe. The people here love golf, it's all about golf, it's just the passion for the game."
For 18 holes Southgate and Perez had slugged their way around the Old Course, but in the end, as so often in big championships at St Andrews, it came down to the 17th, the Road Hole, where Southgate had a bogey five to Perez's four which opened up a decisive one-shot gap.
Earlier the par five 14th hole had been equally significant when Southgate had a bogey six to Perez's birdie four for a two-shot swing, which brought the Frenchman back into the contest.
Perez eventually finished with 70 to Southgate's 71 for a 22-under-par total for his first European Tour win. It takes him to 20th in The Race to Dubai and into the top 70 in the world rankings.
For Southgate even to get into the position he did marks a personal milestone, having fought back from cancer in 2015. He said: "It's been a horrible season for me, and this has sorted that right out and got us right back to The Race to Dubai and that's the goal for me. I think I've proven to the world this week that when I do switch it on, I can mix it with the best and I've beaten a hell of a lot of good players this week."
https://www.youtube.com/watch?v=CZZWMkElNlY
The Alfred Dunhill Links Championship celebrates links golf at its finest and is played over the Old Course St Andrews, Carnoustie and Kingsbarns. With a prize fund of US$5 million, it incorporates two separate competitions an individual tournament for the leading professionals and a team championship in which the pro's are paired with amateur golfers.
Tommy Fleetwood put together one of the best rounds of the day with a 64 to finish on 19-under-par, but he had left it too late to catch Perez. However, he and amateur partner Ogden Phipps edged out Rory and Gerry McIlroy to claim the Team Championship.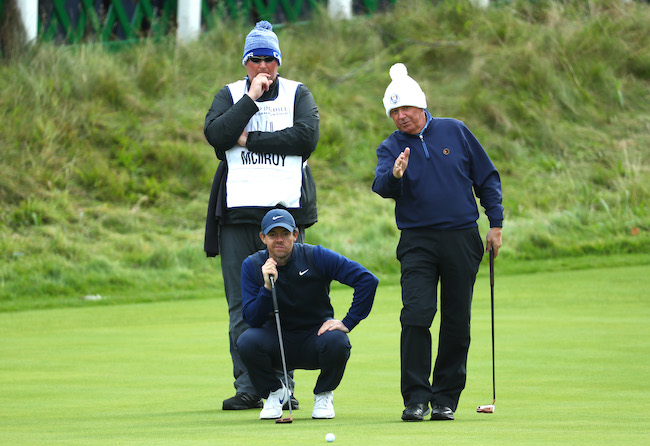 With rounds of 62 and 61 respectively, both teams ended on 39-under-par for the tournament meaning that Fleetwood's brilliant individual score of 64 decided it ahead of McIlroy's final round of 67.  Playing two groups behind Fleetwood and American businessman Phipps, the McIlroys were matching their rivals shot for shot as, having teed off the 10th, they were making their runs for Team Championship glory downwind on the Old Course's front nine.
And it all came down to whether either Rory or his dad Gerry could fashion an eagle two on the almost-driveable 352-yard par four 9th to get them to 40-under par. Hitting first, Rory came up ten yards short of the green and Gerry, who plays off a three handicap and was driving from the amateurs' forward tee, almost made the putting surface with a terrific 300-yard blow.  Rory's chip came up just short, for a tap-in birdie, while Gerry's long putt was just an inch wide of the hole before coming to rest seven feet past the flag.
McIlroy paid tribute to his father who turns 60 next week, saying: "We shot 61, 62, 61 on the last three days. My dad played great, and we gave it a really good run. Dad's golf has been incredible this week. He's had four or five net eagles and he's only been getting three strokes as an amateur. He's played really, really well."
However, Rory who finished tied for 26th in the individual competition has been "venting" according to his Instagram. Earlier he had said he was "sick of coming back over to the European Tour and shooting 15 under par and finishing 30th.  I don't think the courses are set up hard enough. There are no penalties for bad shots. It's tough when you come back when it's like that, I don't think good golf is rewarded as well as it could be."
"It happened at the Scottish Open as well. I finished 13, 14 under for the week and finished 30th again. It's not a good test." Continued Rory, "I think, if the European Tour want to put forward a really good product, the golf course and the set-ups need to be tougher."
Now whilst we don't disagree with Rory overall and have a number of thoughts about how them in charge can make the game more competitive.  We do however, feel it might be a bit more credible if he waited till he won one of these "easy" events before raising it.  After all if you finish 26th here and 30th at Scottish Open there were plenty of guys ahead of you that thought it was a lot easier.  Just saying….  
For the final leaderboard click HERE.
And another thing...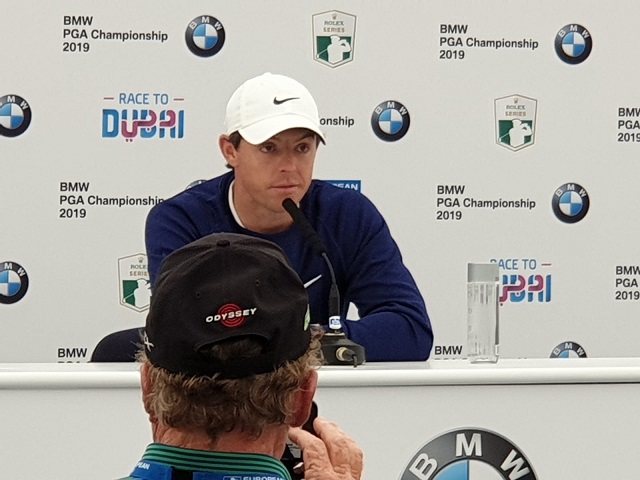 TAGS: Alfred Dunhill Links Championship, Matthew Southgate, Victor Perez, Kingsbarns Golf Links, Carnoustie, St Andrews, European Tour Golf, Rory McIlroy, European Tour, 2019