Equipment
Oct 23rd, 2020
Theragun bringing benefits to the golfer
Percussive massage therapy assisting the likes of Collin Morikawa
Words: GolfPunk Photography: Therabody
In 2007 Dr Jason Wersland was involved in a traumatic motorcycle accident. The accident left him in debilitating muscle and nerve pain, and nothing he tried seemed to help. His search for a device to help with his pain led to the birth of the Theragun®.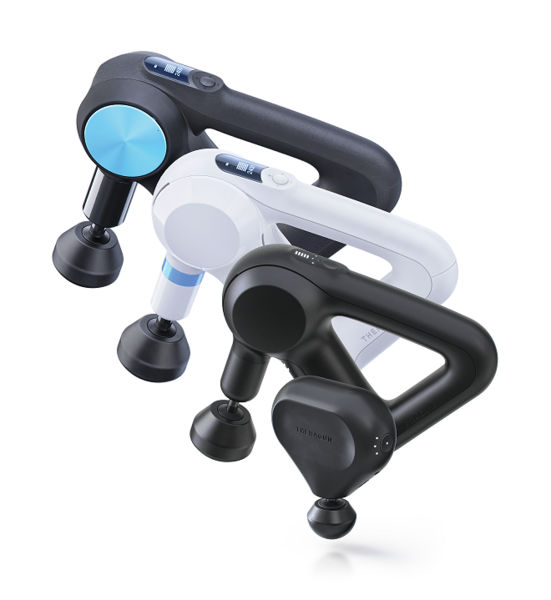 Dr Jason was looking for an effective natural solution, and he couldn't find one that he could use on himself in the sea of technological devices at his chiropractic office. After eight years of development and five different prototypes, in 2016, Theragun introduced the G1, its first product.
In just four years, Theragun has become the world leader in percussive therapy. It's gained the trust of over 250 sports teams worldwide and countless physical therapists, trainers, chiropractors, celebrities, athletes, and everyday people in over 50 countries.
"After I had a rare bone cancer, Theragun totally changed my life and my ability to manage my pain."
- Olivia Fox, Actress & Cancer Survivor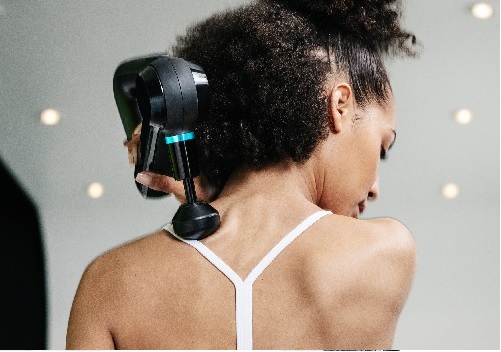 Theragun Percussive Therapy has helped people manage their muscle tension in ways not possible with other devices or techniques. The devices are a natural solution to muscle tension and an alternative to pain medication and their many harmful side effects.
The 4th generation percussive therapy devices are the manifestation of the Theragun evolution and now seamlessly integrate with the Therabody app experience, making them Smart Percussive Therapy devices.
GOLFPUNK IS TRYING OUT THE THERAGUN
Theragun in Golf
Collin Morikawa was first introduced to the career-impacting benefits of Theragun as a top player at UC Berkeley. Morikawa first began using Theragun as part of the Cal collegiate golf team, which used Theragun as part of the team's formal fitness routine. As a pro, Morikawa has continued to use Theragun in his daily routine as an integral part of injury prevention, stretching and recovery activation.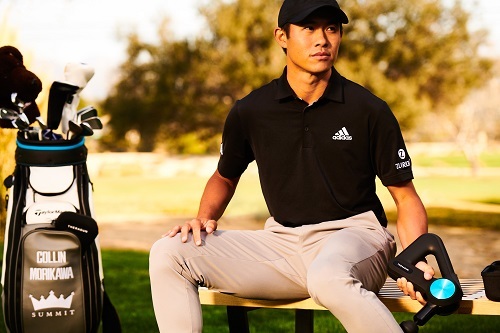 "I use Theragun religiously. In the locker room, I have the G3PRO and on the golf course, I bring the newly launched Theragun mini with me. I love using the Theragun mini because I can take it anywhere and use it at any time — even during a tournament." says Morikawa.
Pros and regular golfers alike will greatly benefit from integrating Theragun's percussive massage therapy devices as an essential part of fitness routines, aiding in range of motion, swing speed, faster recovery and injury prevention, including the healing and prevention of golfers' elbow.
With the use of the newly launched Therabody mobile app, users are able to select golf-specific routines that will help every golfer learn how to integrate Theragun as part of their golf warm-up, muscle activation during the game and after for recovery.
Therabody owners of Theragun have also created TheraOne™, a line of USDA Certified Organic CBD products derived from our proprietary, high-potency hemp strain. We think about your wellness journey holistically and are always developing new ways to provide the very best products, services, and personalized care.
THE SCIENCE
DEFINING THERAGUN PERCUSSIVE THERAPY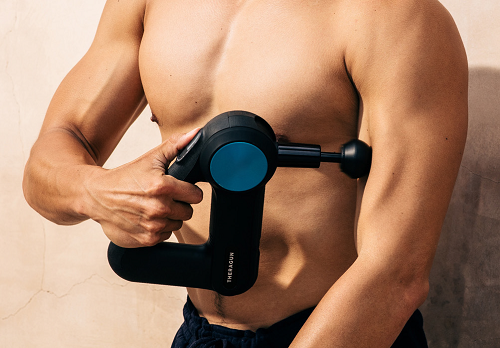 Theragun Percussive Therapy is massage reinvented™ with the devices scientifically calibrated with a 16mm amplitude to reach deep into muscles and stimulate heat and blood flow, helping to bring oxygen in and waste products out, improving the health and function of the muscles.
Percussive therapy works 60% deeper than consumer-grade vibration massagers by using a unique scientifically-calibrated combination of depth, speed, and force. The speed and frequency with which Theragun Percussive Therapy devices go on and then come off of the body keep your brain from acclimating to the stimulation.
The therapeutic effects are maximized each time the device makes contact with the body. The continuous stimulation distracts the brain away from the pain while also delivering deep, effective treatment more comfortable than manual therapy.
UNRIVALED POWER. REMARKABLY QUIET™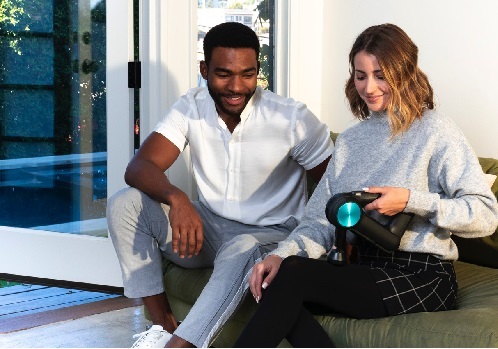 It was an engineering challenge to produce a device that maintained a combination of amplitude, speed, and torque and yet be as quiet as a regular massager. because no brushless motor could generate the power to maintain our unique depth and strength while operating as quietly as we needed. In 2018, Theragun started working on our it's proprietary brushless motor using QuietForce Technology so that our customers no longer needed to choose between power and quietness.
Theragun's 4th generation devices still treat your muscles 60% deeper than consumer-grade vibration massagers while now blending into the background thanks to the dramatic reduction in sound.
The Theragun DifferenceAMPLITUDE
The 16 mm amplitude allows our Theragun devices to treat deep within the muscle to release tension.
FREQUENCY
The 2400 percussion per minute (40 per second) speed allows our devices to override the pain signals to your brain, making the treatment experience more comfortable than manual muscle therapy.
TORQUE
The devices can withstand up to an additional 60 pounds of applied pressure—without stalling—for deep treatment to the areas that need it.
THERAGUN PERCUSSIVE THERAPY HELPS WITH:
Increasing blood flow
Decreasing lactic acid
Improving range of motion
Hydrating tissue
Preventing adhesions
Faster warm-up
Faster recovery
Increasing flexibility
Decreasing inflammation
Improving posture
Decreasing muscle soreness
Enhancing sleep quality
"I have arthritis so bad that sometimes I can't walk. The Theragun is the only thing I've ever used that actually helps me walk without pain."
- John Byron, Retiree & Father
THE THERAGUN TRIANGLE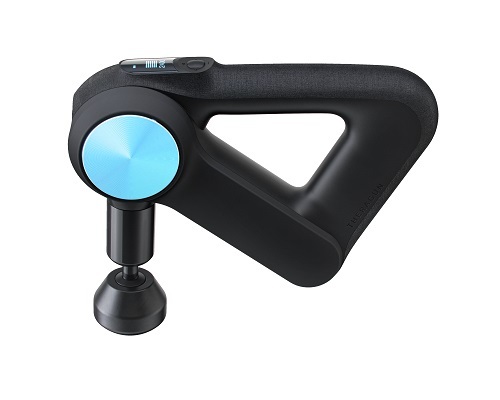 Dr Jason's experience as a chiropractor informed his decision to design the Theragun with ergonomics as a priority. The patented Theragun Triangle multi-grip design was carefully engineered and physician-calibrated to prevent strain and tension while using the device.
Unlike other devices, The Theragun features four grips to eliminate strain on forearms, wrists, and hands, and it's designed to "float" over the body with no added pressure. Perfectly weighted balance allows for easy use by professionals and everyday people alike, with little stress or pressure on the body.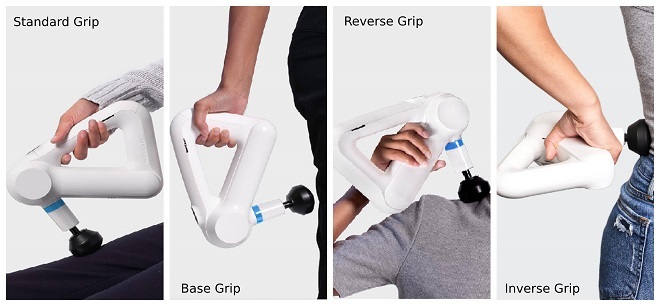 THE THERAGUNTOOL BOX
Every attachment has a unique firmness and shape to ensure the right treatment in the right area. Each of our attachments, with the exception of the Supersoft replaceable attachments, is made with non-porous closed-cell foam which doesn't absorb lotion, sweat, or oils.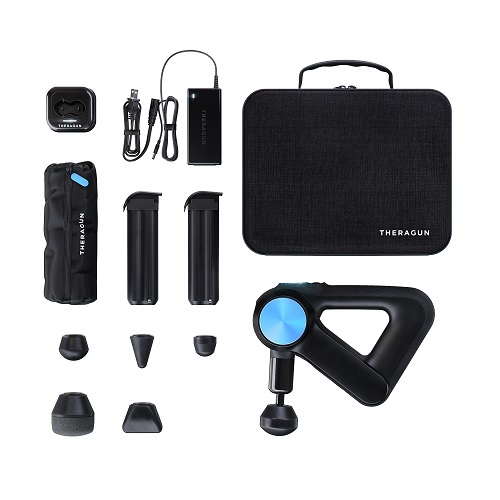 This makes our attachments easy to clean with disinfecting wipes and leads to a more hygienic user experience. Our patented attachment mechanism makes switching between attachments easy so that you can get the custom treatment you need when you need it.
CREATED FOR YOU, VALIDATED BY SCIENCEThe Therabody app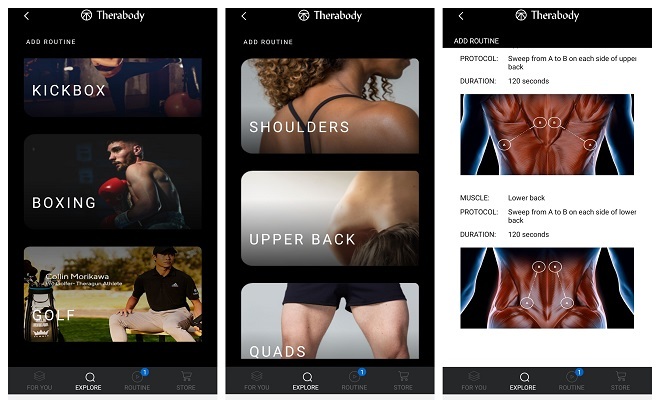 The Therabody app integrates with Apple Health, Google Fit, and Samsung Health to learn from your activity and deliver personalized suggestions around how to use your Theragun products to benefit your muscles and optimize your daily experiences.
The Therabody app takes a proactive and holistic approach to whole body wellness by offering guided wellness routines before, during, and after activity. Each guided wellness routine was personally created by Dr Jason, and while he can only be in one place at one time, the app provides each person that uses it with a "private appointment" with him when it's most convenient for them.
The Therabody app is intuitively designed and easy to use. Every feature of the app can be easily explored with a simple "one thumb" swipe, allowing you to seamlessly control the app while using your percussive therapy device. It features speed control within a range of 1750-2400 percussions per minute and provides feedback on applied force, so your body can communicate directly with you about what feels best.
Theragun's Percussive Therapy – The Generation 4 Range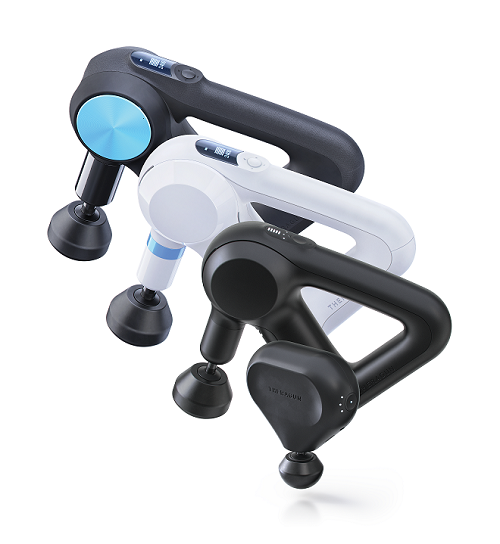 • PRO - £549 – Powerfully Quiet 
• Elite - £375 – Felt, not heard (white or black)
• Prime - £275 – Hardly any sound
• Mini - £175 – Small Device. Big Performance (white or black)
---
And another thing...