Equipment
Sep 28th, 2016
Team Europe Ryder Cup What's In The Bag
Two new putters spotted
Words: Daniel Owen Photography: Getty Images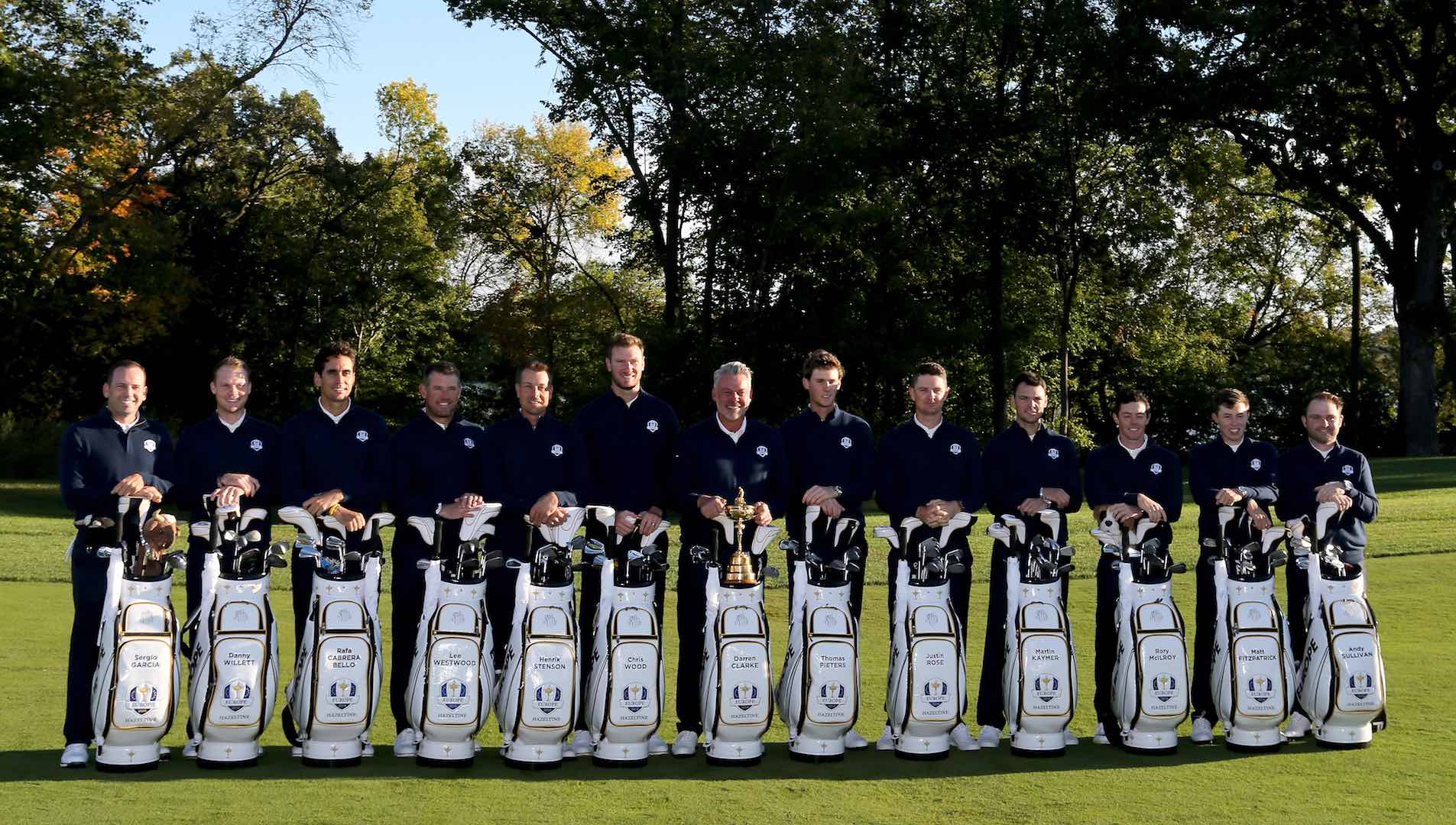 It might seem like a strange week to change equipment, but historically there have been some big club swaps at the Ryder Cup. Think Phil Mickelson when he first signed to Callaway, and Rory putting a new driver in play at the last Ryder Cup. 
For the Europeans this time around, it's all about putter changes. Obviously Rory McIlroy switched to a Titleist Scotty Cameron recently from his Nike Method, and that went and earned him over $13 million. So it can help.
Trying to capture some new putter magic this week are Lee Westwood and Sergio Garcia. Obviously both are known for switching flat sticks very often, but both have prototypes that we've not seen before.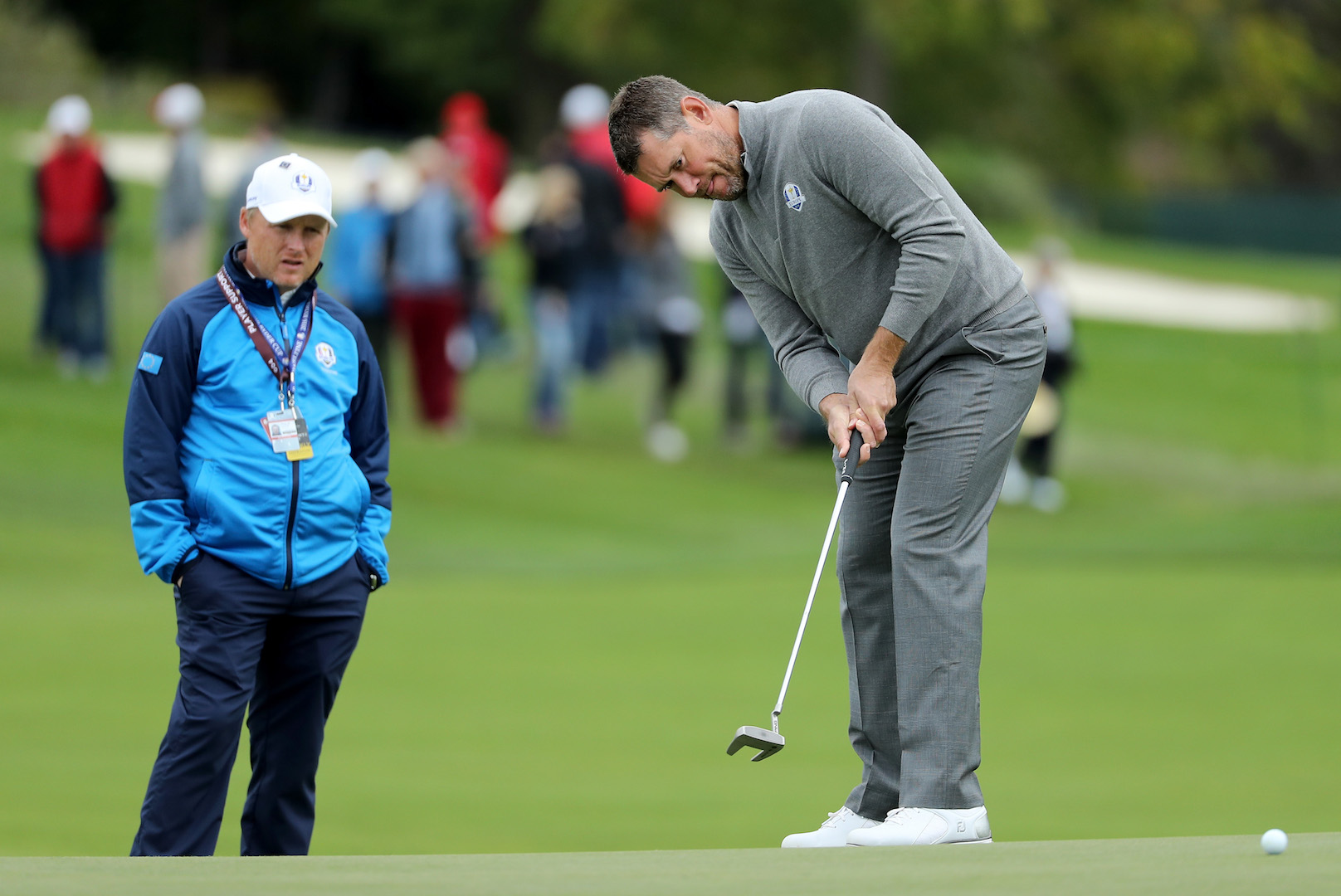 Lee Westwood has a Ping proto in the bag. We know nothing about it, other than it has a plumber's neck, and from pictures, a forked design, not too dissimilar to an Odyssey 7 or a Scotty Cameron Futura X7.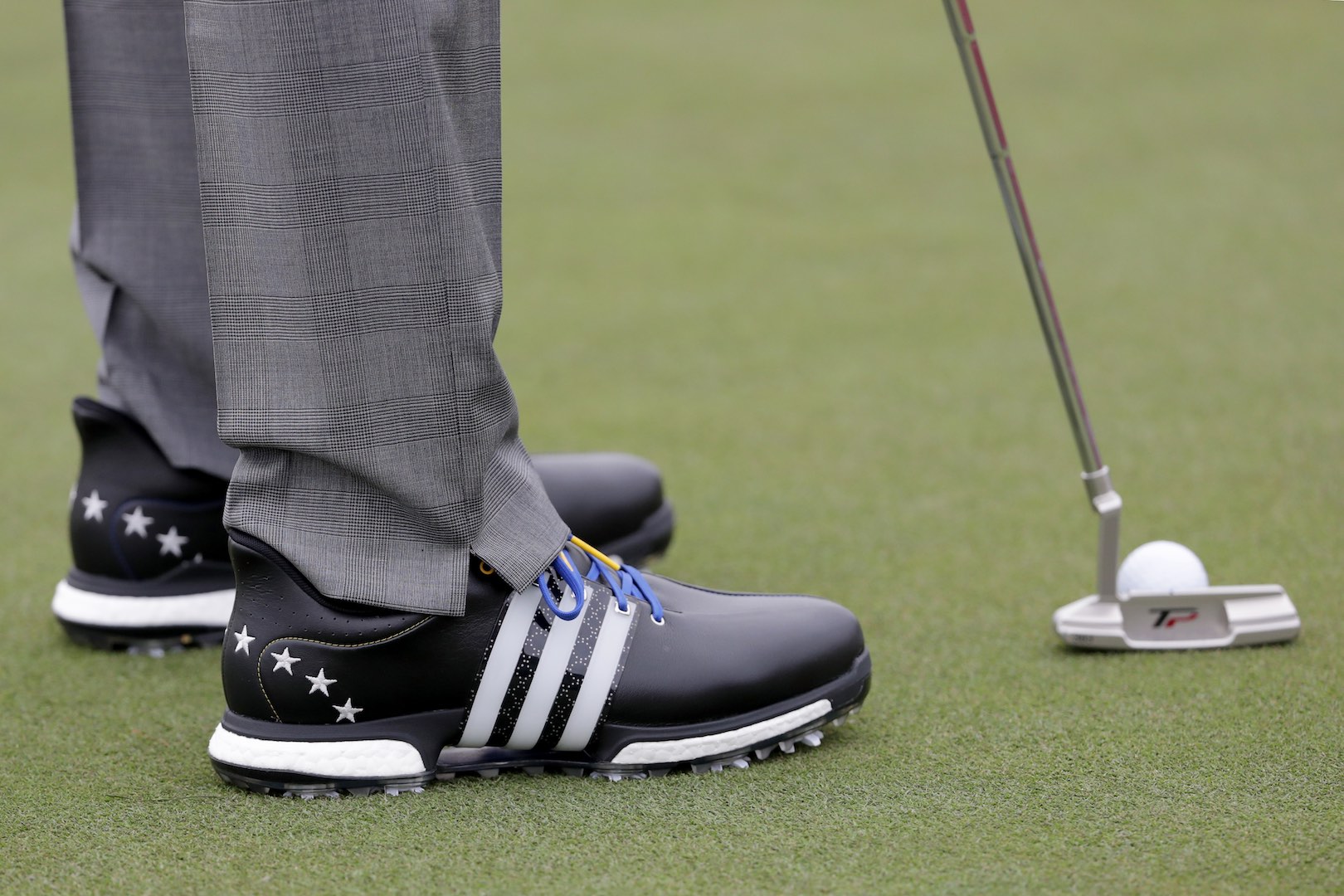 Sergio is playing a TaylorMade putter, one we've not spotted before, with a large TP logo in the cavity. It's an Anser 2 style head. According to sources at TaylorMade, "Sergio tested a new prototype putter at a recent photoshoot and was immediately drawn to it and wanted to put it into play, saying he felt it gave him a chance to play well at Hazetine so we let him take it."
Club Count
Driver: Callaway 5, TaylorMade 3, Ping 2, Titleist 1, Nike 1
Fairway Wood: Callaway 6,TaylorMade 5, Ping 4, Titleist 2, Nike 2
Hybrid/Utility: Ping 3, Callaway 2, TaylorMade 1
Irons: Ping 3, Callaway 3, TaylorMade 3, Titleist 1, Nike 1. Mizuno, 1
Wedges: TaylorMade 9, Callaway 8, Ping 6, Titleist 4, Mizuno 3, Nike 4
Putters: Odyssey 4, Ping 3, TaylorMade 2, Titleist 2, Yes! 1
Golf Ball: Titleist 6, TaylorMade 3, Callaway, 2, Nike 1
Ryder Cup WITB's
Rafael Cabrera Bello
Driver: Titleist 913D3 8.5 degrees True Temper Project X 7A3 7.0
Fairway Woods: Titleist 915F 13.5 or 15 degrees, Titleist 915 F 18 degrees True Temper Project X 10A2 7.0
Irons: Titleist 714 CB 2, Titleist 716 MB 3-PW True Temper Project X 7.0
Wedges: Titleist Vokey SM6 54-08 M-Grind, 60-04 L-Grind True Temper Project X7.0
Putter: Scotty Cameron Newport 2
Ball: Titleist Pro V1X
Matthew Fitzpatrick
Driver: Callaway Big Bertha Alpha 815 DBD 10.5 degrees Graphite Design Tour AD-MT 6X
Fairway Woods: Ping G 14.5 degrees, Ping G 20.5 degrees Aldila Tour Blue 75X
Irons: Ping i25 3-5, Ping S55 6-9 True Temper Dynamic Gold X100 Tour Issue
Wedges: Ping Tour Gorge 47SS, Titleist Vokey SM5 54-10 S-Grind, 58-07 S-Grind True Temper Dynamic Gold X100 Tour issue
Putter: Yes! Tracy II
Ball: Titleist Pro V1X
Sergio Garcia
Driver: TaylorMade M2 9.5 degrees, with Mitsubishi Rayon Kuro Kage Silver TiNi 80 X shaft
Fairway Woods: TaylorMade M1 15, 19 degrees, with Mitsubishi Rayon Kuro Kage Silver TiNi 8 X shafts
Irons: TaylorMade PSi Tour 3-PW, with Nippon N.S. Pro Modus3 130 X shafts
Wedges: TaylorMade Tour Preferred EF 52, 58 degrees, with Nippon N.S. Pro Modus3 130 X shafts
Putter: TaylorMade Monte Carlo prototype
Ball: TaylorMade Tour Preferred X
Martin Kaymer
Driver: TaylorMade M1 430 8.5 degrees Graphite Design Tour AD-DI 6X
Fairway Wood: TaylorMade SLDR TS, 14 degrees Graphite Design Tour AD-DI 7X
Hybrid: TaylorMade SLDR 17 degrees  Graphite Design Tour AD-DI Hybrid 85X
Irons: TaylorMade RSi TP 3-9 True Temper Dynamic Gold X100 Tour Issue
Wedges: TaylorMade Tour Preferred EF Tour Grind 47-09, 54-11, 58-10 True Temper Dynamic Gold X100 47, True Temper Dynamic Gold S400 Tour Issue 54,58
Putter: Ping Karsten Anser 2
Ball: TaylorMade Tour Preferred X
Rory McIlroy
Driver: Nike Vapor Fly Pro 9.5 degrees, neutral setting Mitsubishi Rayon Diamana S+ 70X
Fairway Woods: Nike Vapor Speed 15 and 19 degrees Fujikura Rombax Pro 95 X-Flex
Irons: Nike VR Pro Blades 4-9 True Temper Project X 7.0
Wedges: Nike Engage 47, 52, 56 and 59 degrees True Temper Project X 6.5
Putter: Scotty Cameron M1 Prototype
Ball: Nike RZN Tour Platinum
Thomas Pieters
Driver: Callaway XR16 9 degree Mitsubishi Diamana W60X
Fairway wood: Callaway XR 15 degree Mitsubishi Diamana W70X
Hybrid: Callaway Apex 3 20 degree Project X Black 7.0 shaft
Irons: Callaway MB1 3-9 Project X 6.5 shafts
Wedges: Callaway MD3 48, 54, 58 Project X 6,5 Shaft
Putter: Odyssey Lucky 777
Ball: Callaway Chrome Soft
Justin Rose
Driver: TaylorMade M2 8.5 degrees Mitsubishi Rayon Tensei CK White 70TX
Fairway Woods: TaylorMade M2 15, 18 degrees Matrix Ozik Black Tie 8M3 X-Flex
Irons: TaylorMade PSi Tour 3, TaylorMade Tour Preferred MB 4-9 KBS Tour C-Taper 130X
Wedges: TaylorMade Tour Preferred EF 47-09, 52-09, 56-12, 60-10 KBS Tour C-Taper 130X 47, 52 KBS Hi-Rev 135X 56, 60
Putter: TaylorMade Ghost Monaco Tour Black Prototype
Grip: Lamkin Deep Etched
Ball: TaylorMade Tour Preferred X 2016
Henrik Stenson
Driver: Callaway XR 16 9 degrees Oban Kiyoshi Tour Limited 60X 
Fairway Woods: Callaway Diablo Octane Tour 13 degrees Callaway XR Pro 18 degrees, Grafalloy Blue X-Flex
Irons: Callaway Legacy Black 3-PW Shaft: Nippon N.S. Pro Modus3 Tour 120X
Wedges: Callaway MD3 Milled 52-10 S-Grind, 58-8 C-Grind Nippon N.S. Pro Modus3 Tour 120X
Putter: Odyssey White Hot XG #7H
Ball: Titleist Pro V1
Andy Sullivan
Driver: Ping G 10  Aldila Rogue Silver Limited Edition 60TX 45.5 inches
Fairway Wood: Ping G 13.5 degrees Aldila Rogue Silver Limited Edition 70TX 
Hybrid: Ping G 17 degrees Aldila Tour Blue Hybrid 85TX 
Irons: Ping S55 3-PW Nippon N.S. Pro Modus3 Tour 120X
Wedges: Ping Glide 54-SS, 60-SS Nippon N.S. Pro Modus3 Tour 120X
Putter: Cadence TR Anser 2 Heavy
Ball: Titleist Pro V1X
Lee Westwood
Driver: Ping G30 LS Tec 10.5 degrees Aldila RIP Phenom 60TX 45.25 inches
Fairway Wood: Ping G30 14.5 degrees UST Mamiya Proforce V2 76X
Hybrid: Ping G25 17 degrees, 20 degrees Aldila Tour Green 85TX
Irons: Ping i 4-U,  two U wedges one 50 degree, one 53 degree Ping JZ with Cushin S-Flex
Wedge: Ping Gorge Tour 60 TS Ping JZ with Cushin S-Flex
Putter: Ping Prototype
Ball: Titleist Pro V1X
Danny Willett
Driver: Callaway XR 16 9 degrees Mitsubishi Rayon Diamana W-Series 60X
3 Wood: Callaway XR 16 15 degrees Mitsubishi Rayon Diamana W-Series 70X
5 Wood: Callaway XR 16 19 degrees Mitsubishi Rayon Diamana W-Series 80X
Irons: Callaway Apex UT2, 4, Callaway Apex Pro 5-9 True Temper Dynamic Gold Superlite X100
Wedges: Callaway Mack Daddy 247-11 S-Grind Callaway Mack Daddy 2 Tour Grind 54-11, 58-9 True Temper Dynamic Gold Superlite X100
Putter: Odyssey Versa #1 Wide WBW
Golf Ball: Callaway Speed Regime SR-3
Chris Wood
Driver: Callaway Great Big Bertha 9 degrees Mitsubishi Rayon Diamana D+ 60TX
3 Wood: Callaway XR 16 15 degrees Mitsubishi Rayon Diamana D+ 70TX
5 Wood: Mizuno JPX EZ 18 degrees Mitsubishi Rayon Diamana D+ 80TX
Irons: Mizuno MP 25 3-4, Mizuno MP 5 5-PW True Temper Project X Flighted 7.0
Wedges: Mizuno MP T-5 52, 56, 60 True Temper Project X Flighted 6.5
Putter: Odyssey Versa #7
Ball: Titleist Pro V1X
TAGS: Team Europe Ryder Cup, What's In The Bag's, Hazeltine, Equipment, 2016