Eds Letter
Aug 14th, 2018
Look out world, Tiger Woods is back
And what happened to 'The Big 4'?
Words: Tim Southwell
Whatever happened to all the talk of 'The Big 4/5/6' (rotate any of these six players Rory McIlroy/Dustin Johnson/Jordan Spieth/Rickie Fowler/Jason Day/Justin Thomas)?
Two words. Tiger Woods. Actually, four words: Tiger Woods & Brooks Koepka. But more of Koepka shortly.
Tiger Woods's surprising and very welcome comeback. The most famous sportsman on the planet has risen a staggering 1,173 places in the world rankings in the space of eight months.
https://www.instagram.com/p/BmTSwt_F9kZ/?hl=en&taken-by=tigerwoods
While half the golfing world was sat on its high horse snorting derision at the notion Tiger could ever 'get that good again', Tiger was quietly (at first) and then not so quietly going about the business of reestablishing himself as a genuine contender.
The leap up the rankings saw him go from 1,199th in December 2017 to 26th at the time of writing. And while we in the UK were struggling to watch any of the USPGA through the ridiculously limited 'coverage' on Facebook and app, CBS in the USA saw ratings from third round at Bellerive up by 54% compared to Saturday at Quail Hollow last year.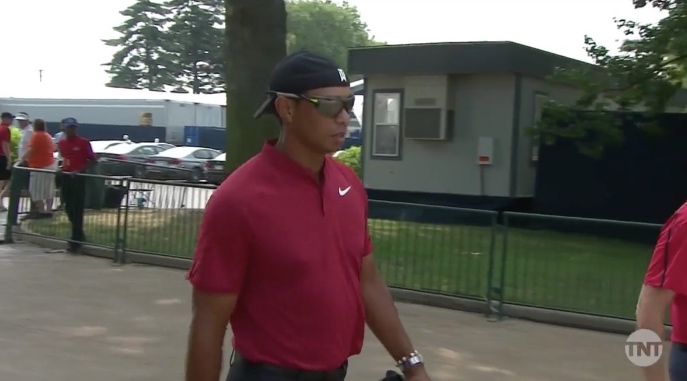 The Open Championship, which also featured Tiger competing down the stretch saw its best ratings since 2000. The Open in Portrush 2019 is virtually sold out. Coincidence? Nope. Tiger. Back. Fact.
Woods hasn't won a golf major in ten years but there is no doubt he is getting closer. And closer. 
His problems since his last major win in 2008 have been furiously documented. Infidelity. DUI arrest. Operations on his back and injuries to his legs. The naysayers waded in. 'He'll probably never even play golf again' they enthused, oblivious or impervious to the extraordinary contribution the guy has made to our great game.
Tiger has a busy schedule in the coming months, as he plays in the first two events of the FedExCup playoffs, and is also surely a shoe-in for The Ryder Cup, no matter how hard Jim Furyk tries to keep a straight face when asked about Tiger's prospects.
Expect Tiger to keep climbing the world rankings. Expect Tiger to win again soon. Expect Tiger to win majors again.
Oh, yes. And while Tiger has been debunking prejudice and making birdies, a certain Brooks Koepka has won three of his last six majors, rising to World Number 2. Dustin Johnson is more than just looking over his shoulder. In fact, the so-called Big 4-6 have, since the start of 2015, amassed a mere six out of the 20 majors on offer (Jordan Spieth with 3/Jason Day 1/Justin Thomas 1/Dustin Johnson 1/Rory 0 – though he did win two majors in 2014) 
No doubt about it, there's a new sheriff in town. And an old one who's learned some new tricks while finally remembering some very important old ones.
Bring on The Ryder Cup.