US Open
Jun 14th, 2019
You're the one hitting the ball
Spieth's "meltdown" is not on
Words: GolfPunk Photography: Getty Images
Jordan Spieth was having a decent round yesterday.
Level par for the first seven holes and all was well with the world, until the par four 8th. On a hole that requires precision and tidy positioning off the tee, Speith's tee shot hit the fairway but then rolled too far, ran out of runway and dropped over the cliff edge.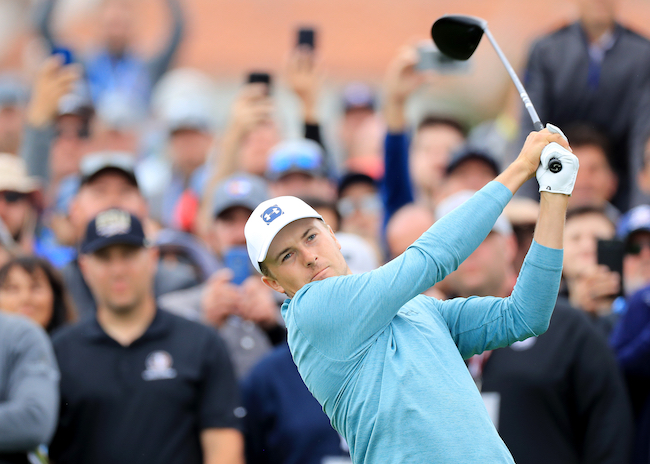 Annoying? Very! Following a penalty drop Speith then airmailed the green ending up in the thick rough behind it, nestled in a particularly uninviting spot.
Anyone would be peeved but in the world of Jordan Speith apparently it was not his fault and he was clearly heard muttering on the live coverage "two perfect shots". Turning to his caddie he repeated "Two perfect shots Michael! You got me in the water on one and over the green on the other."
https://twitter.com/DannyVietti/status/1139310664676024321
Now we get the frustration but is there is any excuse for such a public criticism of one's caddie? The caddy is more than just a bag carrier, he is a trusted advisor but he isn't wielding the sticks and everyone makes a mistake.
Spieth actually escaped with a bogey but afterwards he was hardly conciliatory when he stated "So we both agreed on that. It was clearly a 4-iron off the tee. At the same time, when you hit a couple of shots exactly where you want to, and the first one is in the water and the next one is dead over the green, I'm going to be frustrated that as a team we didn't figure out how to make sure that didn't happen."
So, Jordan, you have said it yourself, you both discussed the two shots and decided on the club. So why was it Michael's fault? Did he give you the wrong yardage? Did he tell you to hit it a bit harder? We think not and a bigger man would have just sucked it up and got on with the job.
Twitter was certainly not with you Jordan and we suggest you take a break from social media as you might not like what you see! GolfPunk agree wholeheartedly that Speith should be called out on his behaviour, as you know we are on quest to improve etiquette on the golf course and we think this should extend to how professionals look after their caddies.
Remember Jordan there's no "I" in team!
And another thing....
GolfPunk is getting Golf Fit - The Difficult Second Album