US Open
Jun 15th, 2019
That's better Jordan!
Hits a rake, but keeps his cool
Words: GolfPunk Photography: Getty Images
Jordan Spieth is very much making the headlines at Pebble Beach. An eventful second round sees him 1 under par overall after making seven birdies and five bogeys and apparently learning a lesson from Thursday by acknowledging that he is the one making the shots!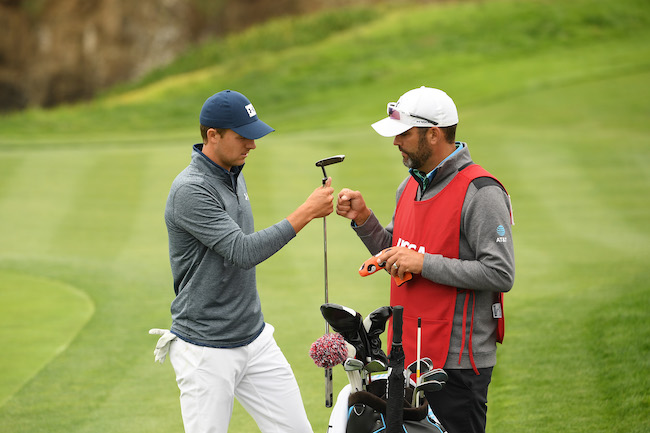 As we must all have read, on Thursday, Spieth had a mini meltdown at his caddy Michael Greller when he had a slight catastrophe at the tricky par four 8th hole. He muttered about "two perfect shots" before letting rip directly at his caddie and very much refused to back down in the press conference afterwards where he talked about failing as a team.
Well Friday saw Jordan in a more cordial mood, or perhaps some of the social media commentary made him realise his Golden Child status was in jeopardy (a nickname he apparently does NOT like by the way).
Bunkered of the tee at the second hole Speith' second shot came out low, skimmed the lip and came to a sudden stop. The reason, a rake (shock horror). We held our breath, we all know the perennial question about where should rakes go was about to be revisited and then we wondered…..had the blue touch paper been lit?
https://twitter.com/gdula13/status/1139603037926957056
It's often the fault of the caddy when it comes to rakes. Would "Team" Spieth be under the microscope again. It started as with Thursday innocuously enough with Spieth commenting "Oh, it hit the rake! Oh, there's a rake there."
Nails were chewed. What would happen next?
Greller replied, "There is a rake there". Brilliant, no getting one past these guys!
And then nothing. Spieth digs his next shot out of the rough stuff, hits fourth in to 15 feet and Spieth style holed the putt to finish another harum-scarum hole with just a bogey.
He was even manganous later on when he stated "If I had seen it, I would have moved it. I was trying to clear it higher, anyways, but you don't really see that every day." So perhaps Team Spieth is now back on track and Jordan knows he was a smidgeon out of order on Thursday, but if his event continues in this vein then expect more drama to report on tomorrow!
However, in the meantime Jordan, we salute you!
And another thing...