Travel
Mar 4th, 2017
Swiss Roll: Golf in Switzerland
A quick Alpine getaway!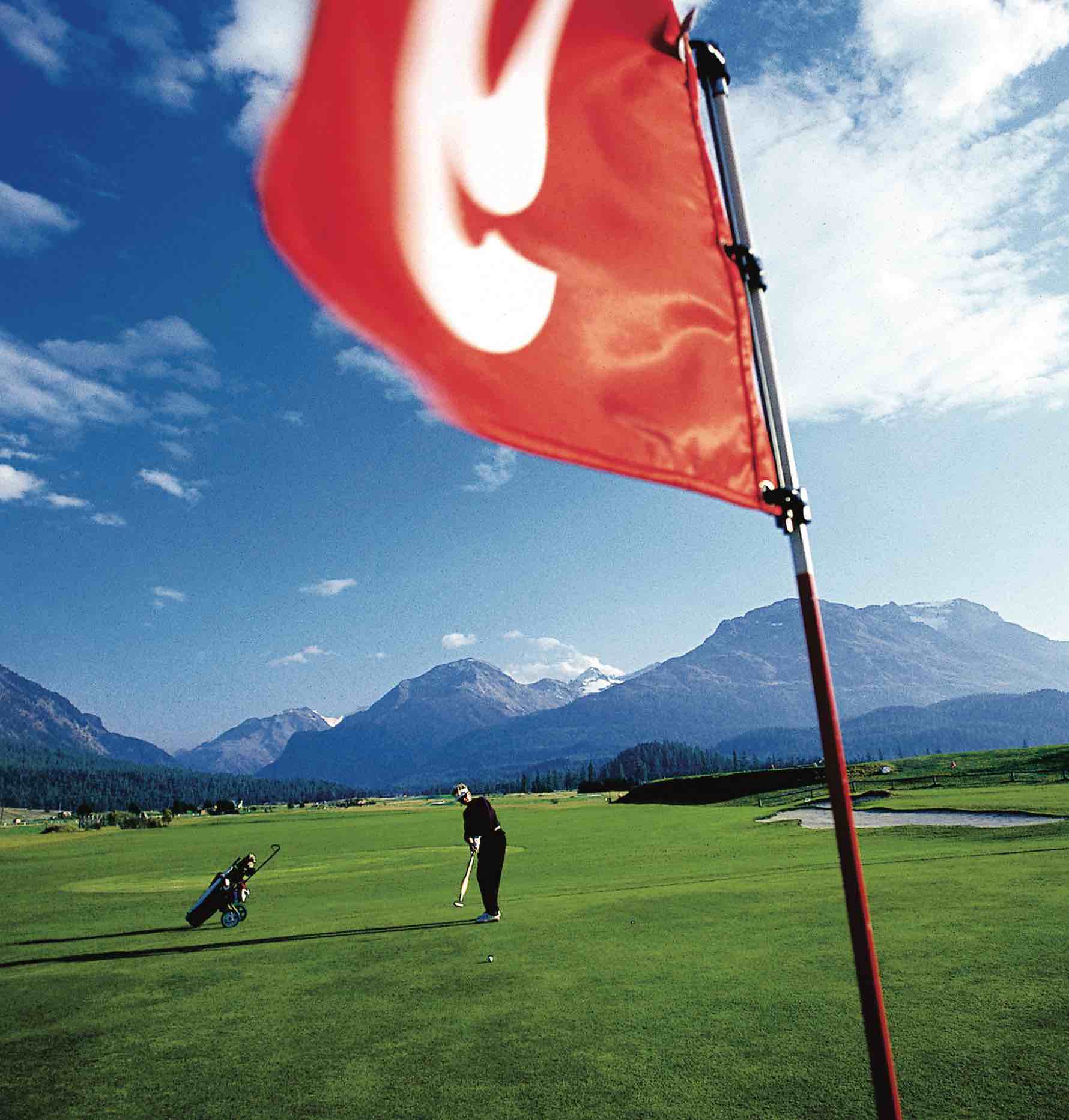 A QUICK GETAWAY
Golf in the Alps is certainly enticing, just watch out for stray St Bernards.
SWITZERLAND
The enticing appeal about Swiss golf is that it incorporates a huge cross-section of the golfing spectrum into its borders. The contrast ranges from the giddy, short-lived seasons in the Alpine regions to the balmy Mediterranean warmth on the Italian and French borders.
You can play a tricky, tree-lined parkland course, get on a train, and play an open mountain track where the altitude sends your ball 30 per cent further all in the same day.
GolfPunk sampled a fondue of some of the best courses all for your pleasure.
HOW TO GET THERE
British Airways fly to Basle Airport on a regular basis.
EasyJet also fly out to Basle. For details see
www.ba.com or www.easyjet.com.
WHERE TO STAY
EDEN ROC HOTEL
6612 Ascona,
Switzerland, Tel: +41
(0) 917857171; email: info@edenroc.ch
A magnificent merger of two existing hotels into one five-star paradise. The hotel backs onto Lake Maggiore and has its own private beach and water-ski facilities to compliment the award winning restaurants and courtyard terraces. Its Med-facing location means that it's open year round and bathed in balmy sunshine. If that doesn't distract you, the golf course is a convenient ten minutes away.
GRAND HOTEL DU GOLF
3963 CH Crans- Montana,
Switzerland, Tel: +41 27 485 42 42; email:
info@grand-hoteldu-golf.ch
This hotel grew from humble beginnings in 1906 when it was just a wooden shack on the grassy slopes of the Alps. It has since developed into a luxury haven for royalty and sports fans catering for all insatiable desires and tastes. A gigantic indoor pool is the centrepiece of the hotel and is enough to keep the family occupied while you sneak away for the serenity of the course.
WHERE TO EAT
Well, 'if in Rome' as they say, and when in Switzerland if it's not cheese or chocolate it's just not worth it. There's plenty of international cuisine to sample as well and considering that Switzerland is the most landlocked country in Europe there's a hell of a lot of seafood restaurants.
One consistent meal is the nutritious Birchermüesli, which gives you the energy for all that hiking.
WHAT TO DO
Where to begin? Traditionally a mountaineer and skier's paradise it offers you the chance to ski and golf all in the same day. If physical exertion isn't your bag then take a camera and cable car around some of the most spectacular views in Europe.
GOLF COURSES
CRANS-SUR-SIERRE
Vital Statistics:
Season runs from May to October.
Severiano course, 18 holes, par 72, 6341 yards. The Jack Nicklaus course is a testing 9-holer, par 35, 2729 yards.
Address: Golf-Club  Crans-sur-Sierre, CH-
3963Crans-sur-Sierre
Tel: +41 (0)27 485 97 9, info@golfcrans.ch
History: Famously, the home of the European Masters, the course is 110 and began as a luxury playground for the
British gentry before Seve added specialist touches in 1997.
Review: The course is relatively kind on the legs as it weaves its way around the Crans-Montana forest. Be cautious on the blind tee shots that confront you and this course really benefits accuracy over brute strength.
There are plenty of birdie opportunities over the front nine, but take advantage of them because the back nine bites back with a vengeance.
Killer Hole: There's a few spots where you have to accept bogey if you go near them. The three tiered, 60-–yard green on the third being a case in point. Killer hole has to be the grandstand finish at 18. Pinpoint accuracy required or it's a sandy, watery or forestry grave.
VERBIER GOLF CLUB
Vital Statistics:
Season is July – August.
Esserts course, 18 -holes, par
69, 4880 yards.
Address: Golf club de Verbier, 1936
Verbier CH, Tel: +41(27)771 53 14,
golf.club@verbier.ch
Review: The location of this course dictates that it is a very short layout. 1600m up in the mountains it's best to take a small bottle of oxygen and a pair of skis with you.
Little rivulets burst out the mountainside in the most unexpected of places catching what seemed like great shots. Fairways are always lush green and very spacious and the altitude makes everyone a long hitter. With a little concentration you can knock a good score round here.
Killer Hole: Verbier signs off with a daunting 205-yard par-three. A misplaced tee-shot will require a 'Touching the Void' style descent to your ball for a card-wrecking finale.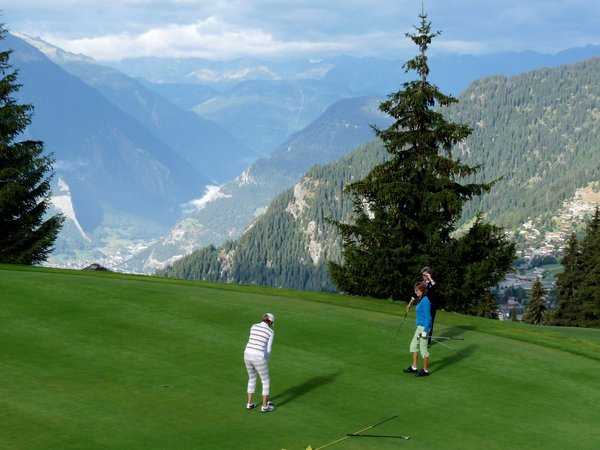 LAUSANNE GOLF CLUB
Vital Statistics:
Season is April to Nov.
An 18-hole, par 74 measures 6887 yards.
Address: Lausanne Golf Club, Route du
Golf 3, 1000 Lausanne 25 VD
Tel: +41 (21) 784 84 84
History: Firmly wedged in the woodlands between the Alps and the Jura mountains, it has been slowly maturing since being designed in 1921.
Review: During the golfing season the course is bathed in 30-degree heat, which filters through the hundred-year-old trees that surround the parkland course.
It's almost poetic. It does make for a fantastic test of golf, which exercises every part of your game. Inaccurate tee shots leave you dead behind trees and fairway irons have to be well judged to avoid the myriad of streams that intersect the course.
Killer Hole: A particular highlight is the spindly eighth hole, which requires Mastermind-like concentration to get to the fairway before plummeting down a valley to the green.
Hang time on the ball is amazing but par would be even more incredible.
Related: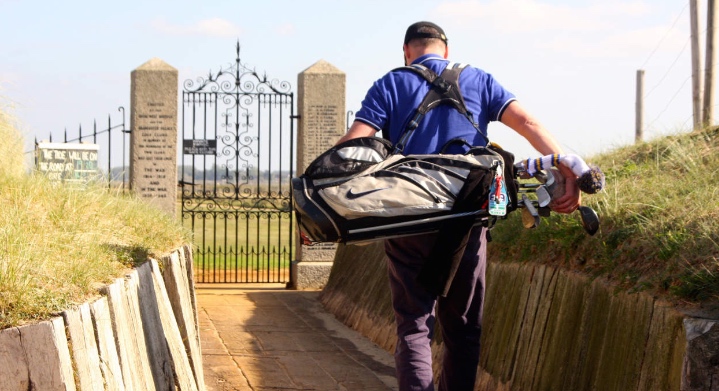 TAGS: Golf In The Alps, Crans Sur Sierra Golf, Travel, 2017, Switzerland, Lifestyle, Planet Golf, Europe