Travel
Oct 18th, 2017
GolfPunk's Golf In Jersey Special
With GolfPunk Airways!!
Words: Tim Southwell Photography: Darren Arthur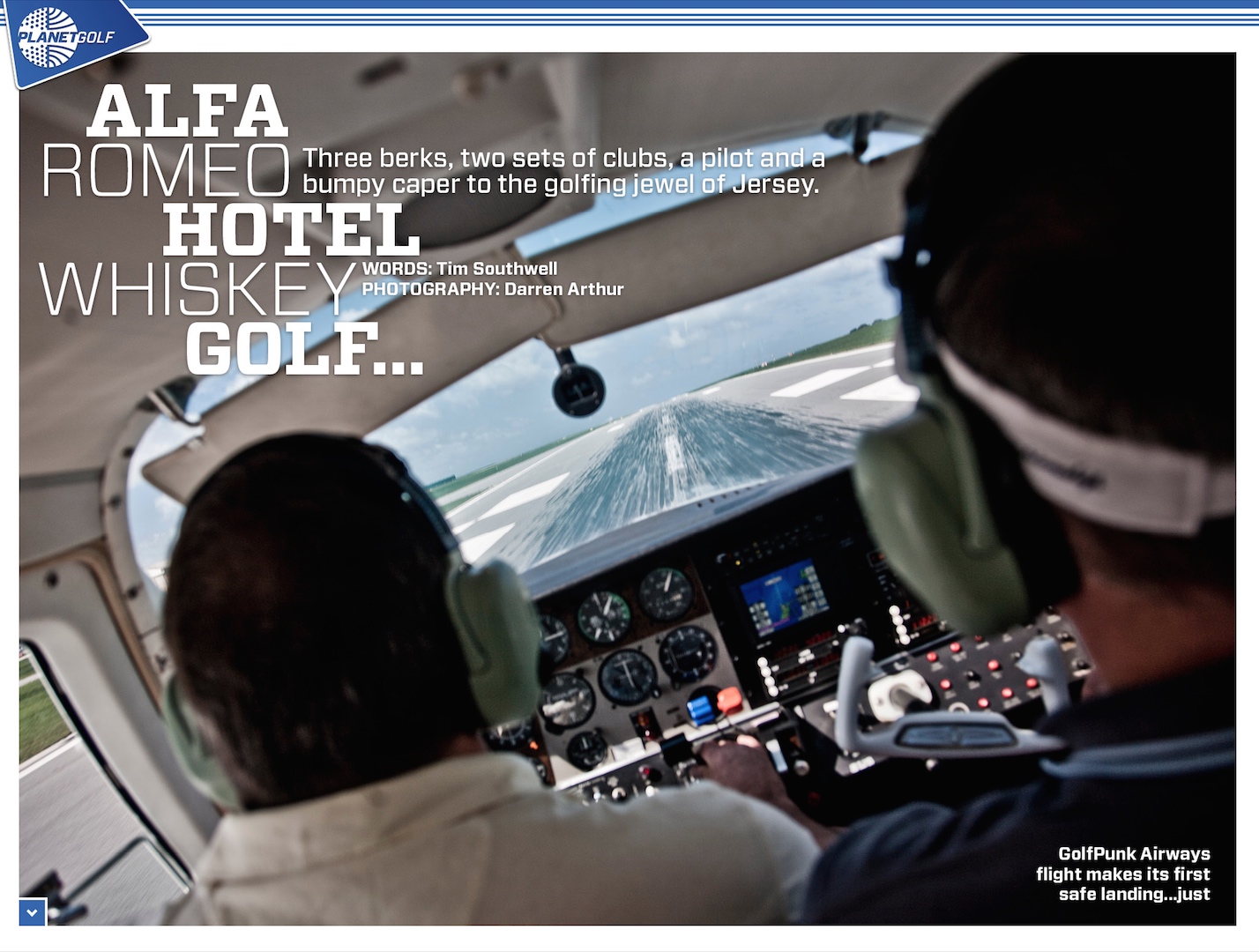 "Woooah," says Captain Chris as we approach Jersey Airport, and our small plane lurches from left to right, "this could be an interesting landing..."
Not what I wanted to hear. The fact is our Beech Craft B24R single engine, four-seater plane (furnished I might add with Connolly Hide leather and Wilton carpets), is battling through a 29-knot wind. The jet plane in front of us – a hippo in comparison – is zig-zagging in a not-too-convincing fashion as it attempts its own landing.
"Look at that," says Chris in an unnervingly enthusiastic tone, "look at the trouble he's having getting that jet down. This could be an interesting landing for us."
As I mumble something unrepeatable about Chris having already mentioned the potential 'interesting-ness' of our landing, I start thinking whether now's a good time to introduce myself to the Lord Almighty.
'Evenin', wonder if you could make the ground meet the wheels a bit quicker,' I'd begin…
Another battering by the wind knocks the bejesus out of me and I begin to think this was a silly idea.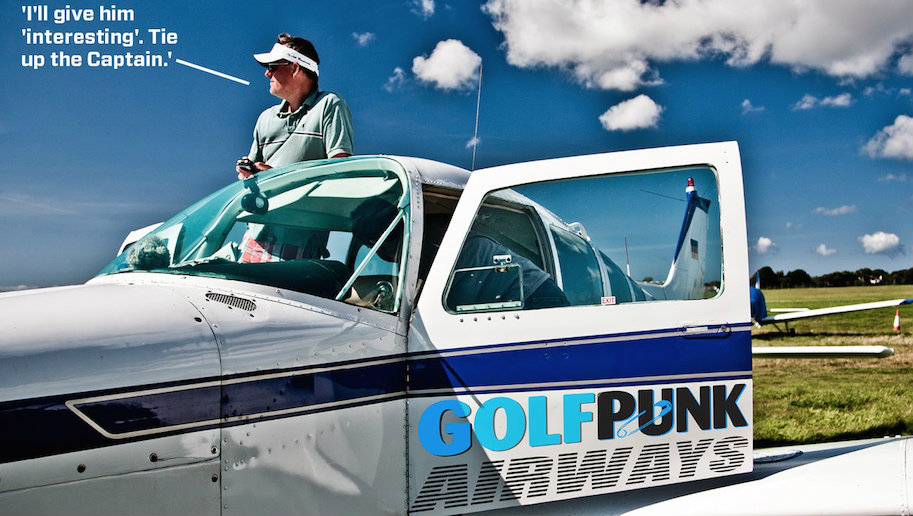 Rewind three weeks to The Witch Inn, Haywards Heath. We get chatting to Chris and discover he's a private pilot with his own plane at Shoreham Airport. Two drinks later and we'd hatched a brilliant plot to launch GolfPunk Airways. It's exactly as you imagine. Chris had just come back from Jersey and we immediately identified two unbelievable golf courses on the island, La Moye and Royal Jersey.
"I've always wanted to play those courses," says Shaun with a 'far off' look on his face.
With flight time little over an hour and the cost of aviation fuel and landing charges amounting to less than £250, it was a steal! We had to go. Even though Shaun kept nervously texting asking how many engines it had…
So here we are hurtling towards Jersey Airport. A gale at our port side but our stern pilot Chris has "seen much worse." I have utter faith in our Captain, and as we eventually touch down I nonchalantly remove my fingernails from the welts in my knees.
"Piece of piss," says Chris.
Despite the wind, it's a beautiful day in Jersey. And we're five-minutes drive from our first golf course. And I mean five-minutes. There's no waiting for your bags to be off-loaded and no queuing for customs. Literally, stamp, welcome, get in car.
We load up our brand new Ford C-MAX from Hertz and in a flash we're at the links of La Moye Golf Club. Less than two hours after leaving my house.
Adding to our excitement is the fact we're about to meet Alistair MacKenzie, Secretary of La Moye.
"What if it really was the Alistair MacKenzie," said Shaun and we imagine meeting a 120-year-old legend…
"No, I'm not that Alistair MacKenzie," he says as we shake hands. Reckon someone's asked him before.
"What's all this?" enquires Alistair MacKenzie, pointing at our pilot Chris.
"Errm, that's Chris, our pilot," says Darren.
"Not in those trousers, he's not," counters Alistair MacKenzie.
We decide not to question Alistair MacKenzie's grammar on this occasion. After all, we know what he means and if Alistair MacKenzie says Chris isn't a pilot in those trousers, we're not going to argue with him.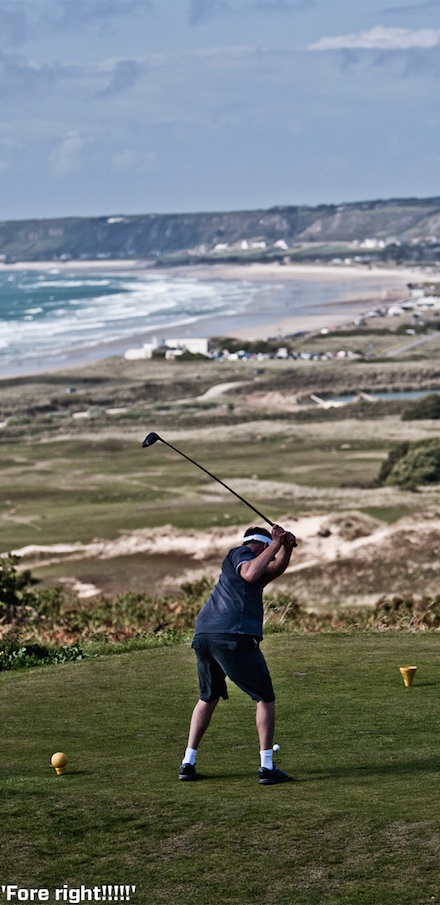 La Moye GC came about after George Boomer, a local village schoolmaster, was denied access to Royal Jersey Golf Club on the island's east coast. George decided to take matters into his own hands and built his own course on the west coast using empty tinned fruit cans, biscuit boxes and a second-hand mower.
Boomer became something of a legend and went on to teach Harry Vardon and Ted Ray no less. One of his sons, Aubrey, was a runner up to Bobby Jones in the Open and twice played in the Ryder Cup. George himself turned pro at the unlikely age of 60. Proper GolfPunk.
What's evolved since those biscuit tin days is something Mr MacKenzie proudly predicts, "we'll very much enjoy today," though we ignored his mischievous grin. "It's a bit gusty."
The flag on the first green, a 127-yard-par-three, is bending down to kiss the green. Alistair's use of the word 'gusty' suddenly strikes me as somewhat fiendish. He clearly didn't understand the trauma we'd just been through to his course.
Shaun punches a five-iron under the wind and onto the green. Very impressive in the circumstances. I promptly hit a five-iron nice and high in order to take full advantage of the conditions. I could've putted it further. Failing to learn that lesson I find myself several over par in very few holes. There are members here with handicaps of +1. Gods in my eyes.
We walked off course, lips and faces slapped silly by the salty sea air with a perverse hankering for seafood. Jersey, we're told, is famous for its fish restaurants and, after checking in at the Maison Chaussey guesthouse, we set out in search of a fine fish supper. Except that Jersey is shut on a Monday night. Well, it is after 9pm anyway. Something to do with a flower show apparently.
It gives you an idea of how parochial this island is and we eventually find a Portuguese restaurant that hasn't gone to bed yet to scoff down delicious chicken and king prawn kebabs. Breakfast on the balcony of our guesthouse the next morning was closer to what we imagined, tucking into a sexy-looking fry up overlooking the splendid Havre de Pas. That's a fantastic way to start the day.
At Royal Jersey Golf Club we are met by our friend, Andy Gray. Not that Andy Gray. Not the ex-Aston Villa & Everton footballer turned Sky Sports Anchor Man Andy Gray. Our Andy Gray, ironically enough, had just joined Sky Sports as a researcher. Right as the other version was being politely asked to leave.
Andy's father is the Island Champion. In fact he's been island Champion six times, playing off scratch. He signed Andy up for membership at Royal Jersey on the day he was born. (Priorities…). Andy eventually became a member aged 12. That's some waiting list. In fact, it's a waiting list that no longer exists, as it was closed an astonishing 20 years.
So, expect a treat here. Royal Jersey is so posh that the land it was built on was formerly used for dueling.
I played like a muppet at La Moye but at least I kept going. Today, at Royal Jersey, the golfing gods seem to have acknowledged the effort. I don't think I've played a better front nine in years over this shimmering links. Even playing with Shaun (six-handicap) and Andy Gray (five) I didn't look out of place. A run of six straight pars had me seriously contemplating turning pro. Information regarding the back nine I will save for another day. Suffice to say I've temporarily delayed my application to the European Tour.
With a few hours to kill before 'wheels up', we decided to see that other appealing aspect of Jersey. The beach. When I say 'see' I mean park ourselves down for ice cream and a tan. But we got bored. So we built our own beach golf course. Were we the first people ever to set up a par- three course on St Brelade beach? I don't know.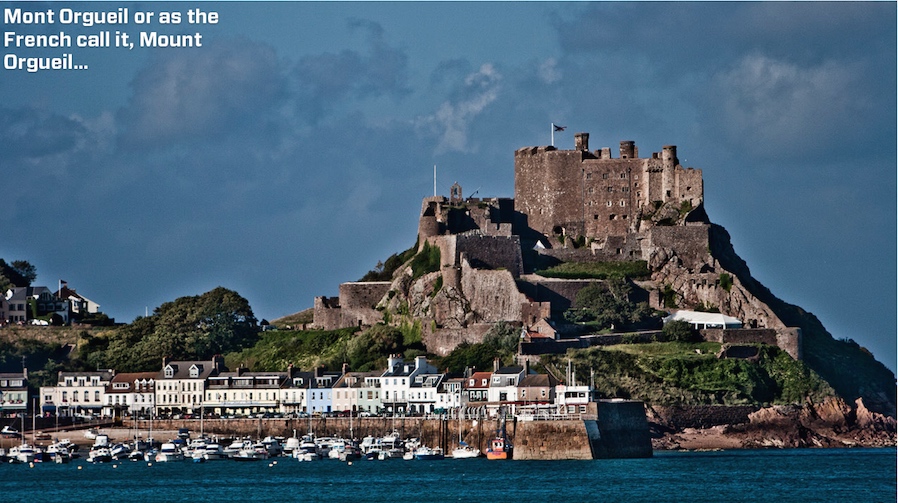 But we had a fine clubhouse on hand at The Oyster Box where we finally sampled some of those fine fish luncheons, before a quick 'sign here, stamp and take off' from Jersey Airport, flying over the front nine at Royal Jersey to doff my visor in respect.
Coming home we flew over the Isle Of Wight. Specifically over the little town of Shanklin. And even more specifically, over the pitch and putt course at Shanklin. It was right there on that third hole that I hit my first 'proper' golf shot, 38-years-ago on holiday with my family. And it was then, right then as the ball flew off the clubface and soared majestically into the sky, that I fell in love with the game of golf.
As GolfPunk Airways glides back into Shoreham Airport, images of that first proper shot come flooding back, taking their place with all those great shots I've somehow hit over the years. Those shots that mask all the woeful moments and make you certain you'll play golf for as long as your legs will carry you. I mention this sentimental story to my travelling companions. They humour me. After all, they know exactly what I mean. It's the same sentiment that – despite the shaky first landing – has Shaun grabing the map of Europe and blindly sticking a pin into it.
Blimey, I say, that'll take some getting to…
Related:
GolfPunk goes Capering in Finland!!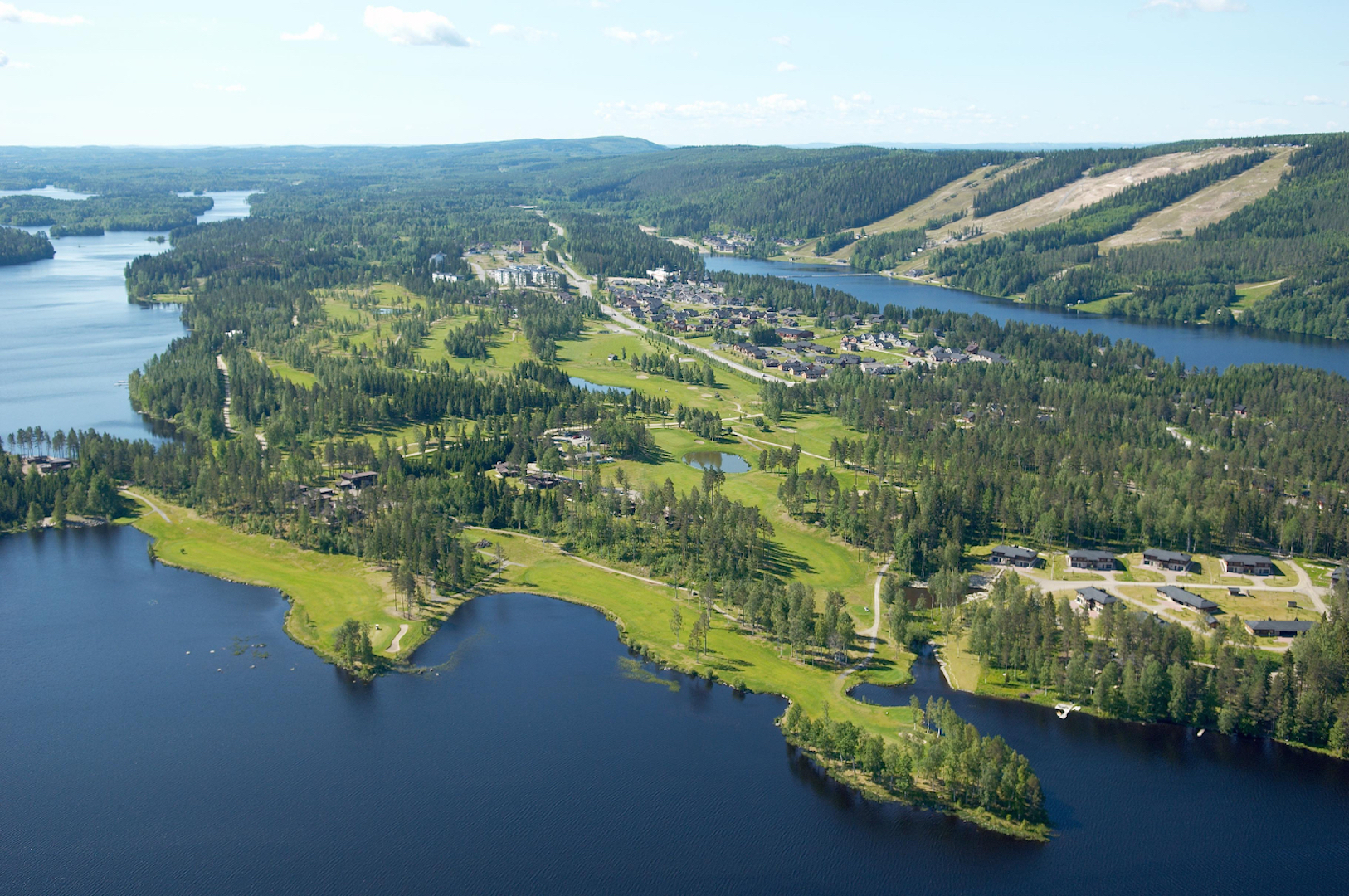 Beach Golf: The Rules
Well, there aren't any really. All you need is a beach, some sand, some golf clubs and golf balls, a flag and a buket and spade. Lovely stuff...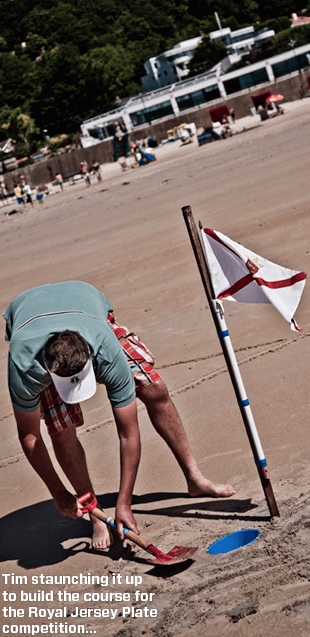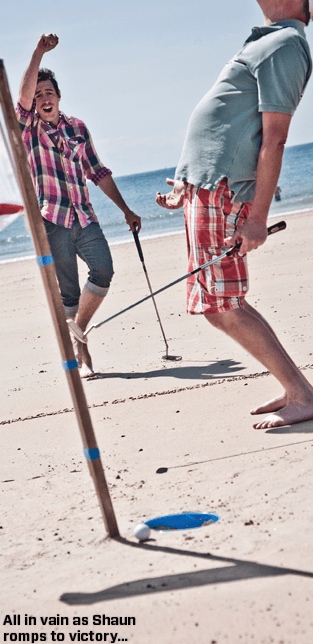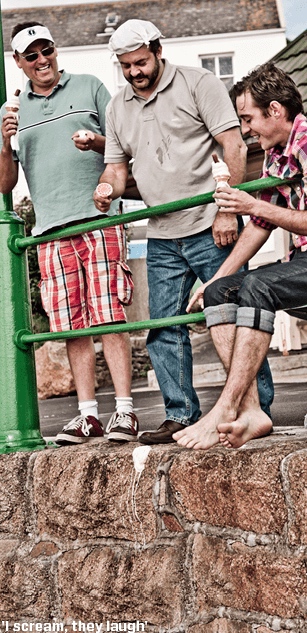 Captain Chris was everntually released and given some chips. And an ice cream which he dropped. (We suspect this might have been a polite dirty protest)...