Travel
Mar 17th, 2016
Dubai: Mo Money, Mo Problems….
Livin' the life out east...
Words: Owen Blackhurst Photography: Steve Read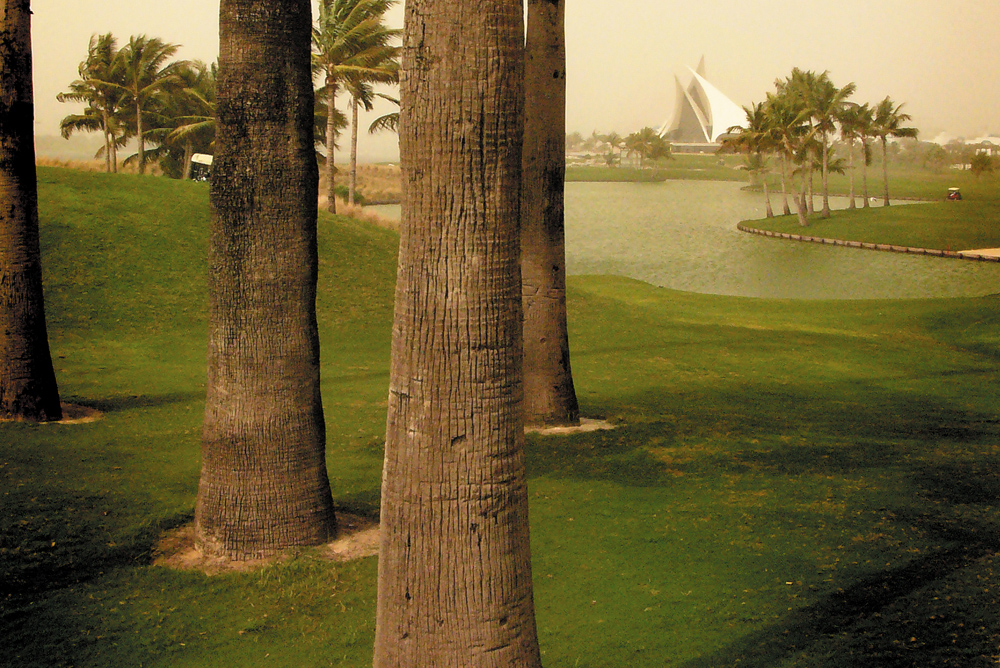 I'm sat in the lobby of the Pacific Hostel in Deira, the downtown district of Dubai, and am disgusted by what I see in front of me. And I don't mean the peeling paint, or pool of water
by the electrical unit, that is just a circumstance of poverty. There's a
 small Indian guy sat next to me, he's more than 1,500 miles from home,
 yet I doubt he knows I'm here. His tattered clothes, dirt-caked fingernails and dusty boots point to the calling cards of a construction worker. What disgusts me about this scene is at the end of his line of vision. There, on
 the wall, is a television. And on it, flood opulent images of grandiose architecture alongside the slogan, 'be part of the new, 21st Century, Arabia.' This man is undoubtedly part of the new Arabia; he's helping to build it. But the chasm is unquantifiable. And even though he crosses that chasm, day after day, with innumerable others,
 he will never, no matter how hard he works, be part of it. As his jaw slackens further – and my inflamed ire follows suit – photographer Steve exits the lift.
"Come on mate," I say, rising "I need a drink."
Unless you've been there – and in many cases even if you have been there – your image of Dubai will be similar to the one
 I held before visiting. The seven-star, all-blinging, all-prancing, Westernised Islamic hot-stop where tax is free, the sun's hat is cocked and mesmerising golf courses are ten-a-penny. And there's no doubt that exists. And had our first hotel not fallen through at the last minute – and had we not had to book a hostel because Dubai was full to the rafters – that's all I'd have told you about. But then our first hotel did fall through, and we did have to book a hostel for two nights, so it's not all I'm going to tell you about.
We're sat in the bar of the Middle East Hotel – this being an Islamic county you are only permitted to drink in hotels – and it is full of Asian construction workers and taxi-drivers.
"Two Heinekens please," I say to the waitress. As she moves towards the bar in the half-light, I can't help noticing the sadness in her movements. She cannot be a day older than 18, yet her gait and mournful expression paints a picture of someone twice that age.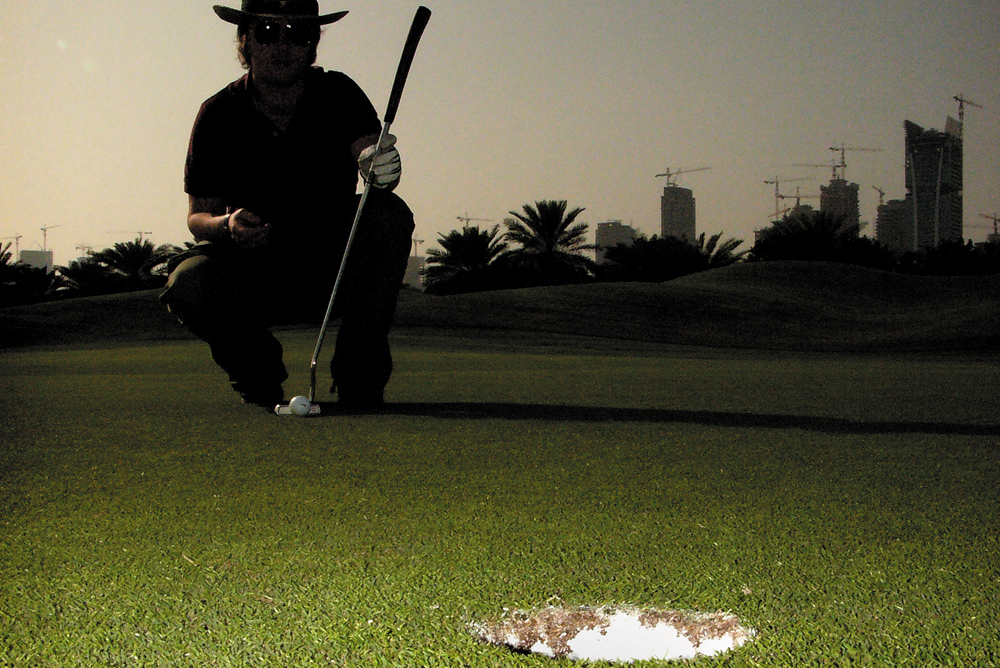 Sometime later, I catch her face out 
of the corner of my eye and am startled by the change. She's beaming, and I follow her smile to yet another television. On the screen, a music video shows scenes of a rural part of Bangladesh. And then I realise; her home must look something like that, and I'd wager it's been a long time since she's seen it without a Bhangra backing track.
"It's hideous, isn't it?" says Steve, draining his drink.
"Horrible," I reply, "let's go."
It's two days later and I'm stood in the shadow of possibly the most impressive clubhouse I've ever seen. We're at Al Badia Golf Course, I'm facing a bunker shot of extreme difficulty, but I can't stop thinking about that clubhouse. Just look at the pictures, it's like a huge-wedding hat, rendered in steel and glass. It's only just been finished, and with my raging case of the snappers along for the week, I don't fancy ploughing a ball through one of the windows.
"Just hit it," says Steve, "what's the worst that can happen?"
Luckily, I dribble one over the lip and move on. It's a fine example of a modern course, Al Badia. With enough water to send even Steve Redgrave mental, and challenging bunkers, huge waste areas, and horrifically placed greens to boot,
 I'll happily take shooting twenty-five over off the back knockers. Even if I did lose 3&2 to a grinning photographer. "Come on, stop crying" says Steve, "we'd better go and check-in."
Forty-five minutes after my trouncing, and I'm staring at a herd of golden camels. Golden camels for crying out loud, what fresh lunacy is this? We're in the forecourt of the One and Only Royal Mirage, a
 hotel, it has to be said, of spellbinding magnificence. I have no idea what it cost to build, but I wouldn't fancy it being
 on my watch. The attention to detail 
– from the marble pillars down – screams of a budget well into the millions. And with a reported 15-25% of the world's cranes in operation in Dubai – and a constant stream of immigrant workers
 to man them – you can bet seven figures was reached pretty easily. And yes, I feel uncomfortable, having experienced Dubai's darker side only days earlier, but I have 
to try and forget that for the purpose of giving you an open account of Dubai.
'Half of The European Tour stand, mouths agape, watching Tiger warm-up'
Though we're in time at the Dubai Desert Classic, we're essentially here to interview a few players and chase a few others. There's no time for watching golf, though in-between congratulating our man Rory McIlroy on his round of three-under – he's a 17-year- old amateur for god's sake - we did have a look at the range for a while.  And there we saw why Tiger wins so bloody much. OK, so his talent accounts for most of it, but when half of The European Tour stand, mouths agape, watching El Tigre go through his warm-up, you see why so many of them crumble when he sniffs blood on a Sunday. Talking of sniffing blood, we stalked a Great White Shark that day, and I can tell you this; it's not easy. Greg Norman was on and off our hook
so many times I got dizzy. In the end, his TV commitments meant it was impossible, but we'll land him. I don't know when, or where for that matter, but we'll catch him.
One huge problem that the Government are trying to address here 
is the roads. I went to Abu Dhabi last year, and Ali, the tourism officer, told
 me how they had learned from Dubai's mistakes in regards to development
 and infrastructure. Because, with the constant 'build, build, build' – and the rapid influx of cash hungry ex-pats to
fill the places – the roads simply cannot handle the numbers. You can be stuck in traffic for anywhere up to three hours if your timing is dodgy. Luckily, we took the advice of an IMG agent, and stopped off at the Montgomerie Academy course for a quick burst of floodlit pitch n' putt.
"I love your balls," screams Steve
 as he cans a twenty-footer. Not mine, you'll understand, but two German lads who took pity on us as they laughingly watched us plough nine balls into the lake. On a 55-yard hole. "What are you doing here?" they asked. "Working for a golf magazine," I replied. It's safe to assume they walked off laughing.
I'm trying to get out of the car, and bell-boys are tripping over themselves to carry our bags. But not in the tip-thirsty way it happens in America. These men are plainly scared of losing their jobs, because they know they are replaceable – the fear shines from their eyes. And I'm not angry at them, but at the culture that allows it.
Friday is the first day of the weekend in Dubai. We're drinking to forget in the hotel bar, and as I try to catch the waitor's eye for another round, I could be in Blackpool. Across the lobby, skirt flying behind her, a Caucasian girl is screaming drunken delight as three men pull her along the floor by her legs. I almost wish I was in Blackpool, I wouldn't feel so embarrassed there.
It's hard to believe that, when you drive through Dubai, this was all desert-less than 50 years ago. The rate of expansion is unbelievable, regular visitors talk of developments being finished one year, yet when they return it's been pulled down to accommodate an even grander design.
As part of the pull for Westerners, the government have shelled out a shitload of shekels to persuade the 'name' course designers to rock up and turn sand and oil into tourist money. Faldo, Norman, Woods, they're all at it. And I suppose you can't blame them, especially if the $25,000,000 that Tiger is said to be receiving is even close to accurate. I'm not sure what Monty got for putting his name to The Montgomerie, the parent course for the Academy, but if he really did put a bit of elbow grease and thought – rather than just touring around in a buggy – into his signature course, then he deserves at least a portion of what was thrown at him.
It has everything you could want
 from a golf course. Tame par-fours lull you into the killer five's. Considered
 - and hidden - undulations play havoc with your yardage, while the ubiquitous drink shimmers around every corner, especially on the short-holes. It is though, all encapsulated on the 665-yard 18th. Imagine a golf hole created by pure evil, where seemingly miniscule threads of grass intersect huge expanses of water. I'd pummelled Steve 6&5 by then, so we played it for fun. And it was, perversely. 
I can normally drill a drive in the region 
of 280 yards, and that's how far the first landing area claimed to be. Though fear, a lack of talent, and a photographer keen on gamesmanship - "watch out for that lake" – saw me lose my head, temper, and seven balls. 'Monty, you terrible...'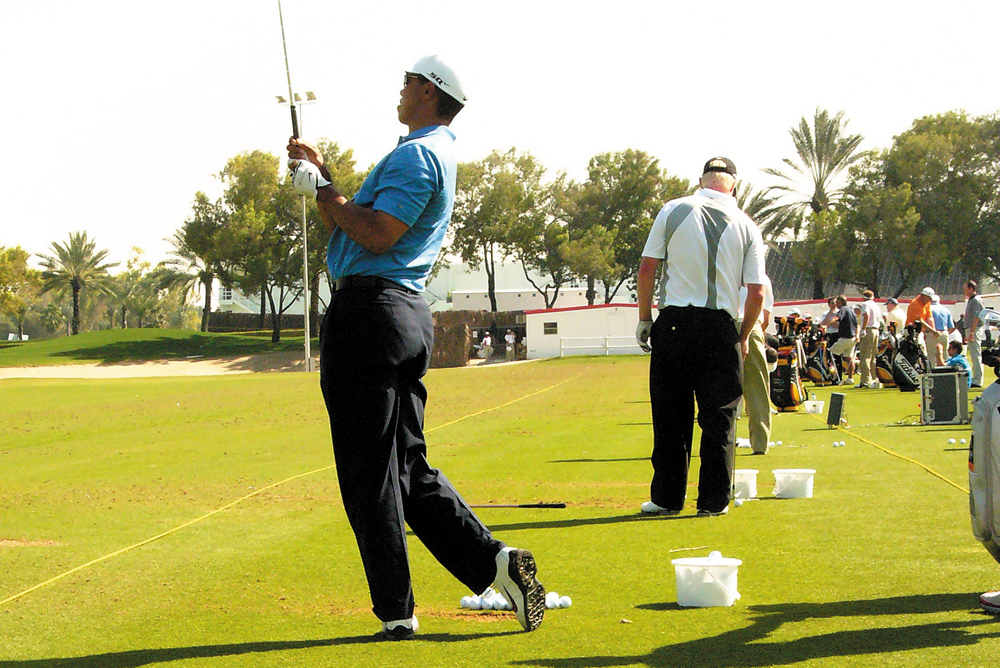 There is absolutely no doubt in my mind that, were you looking for a two-week golfing break and a ridiculously nice hotel, then Dubai is right up your Cul-de-Sac. The hotels have to be seen to be believed, each golf course is a mini-masterpiece, the sun rarely blazes at lower than seventy degrees and you can shop for designer goods at obscenely low prices. 
We're driving back through Deira to
 the airport the following morning. I've a stinking hangover, and we're talking about the ex-pats we met the night before, and whether they truly think I'm cynical, or
 are just masking their own fears - and
 lives for that matter - with bravado. It's
 as I wind down the window to smoke
 that the noise of Deira hits me. I'd almost forgotten about this; whereas London is all buses and bustle; Deira is the sound
 of a thousand faulty car-horns striving
 for superiority, it's the patter of 100,000 and more feet trying to find their own
 bit of pavement. It's the noise of the
clash of aspiration and desperation.
There's a line in the film The Usual Suspects that states: "the greatest trick the Devil ever pulled was convincing the world he didn't exist." Well here the Devil is money, and it's doing 
a fine job of convincing human
 beings that others don't exist.
TAGS: Deira Dubai, Middle East Hotel, Pacific Hostel Deira, Dubai Desert Classic, European Tour, Montgomerie Academy Course, Jumeriah Emerates Towers, Travel, 2016, Dubai, Golf Course, Golf Courses, Abu Dhabi, Lifestyle, Planet Golf